Chicago is one of the world's most popular tourist hotspots. That's why people from all over the globe visit the city every year.
Tourists who visit the hotspot do face one issue. They're not sure which airport to land in…
Which one is better? Faster? Less busy? Has more destinations? Is located closer to town?
So, if you're comparing Chicago O'Hare vs. Midway, you've come to the right place. In this article, I'll walk you through the differences between the two landing sites.
Chicago O'Hare vs. Midway Overview
Here's a quick comparison between O'Hare and Midway to get you started.
O'Hare (ORD)
Midway (MDW)
Average number of passengers
54.02 million in 2021
7.669 million in 2021
Overall size

7,200 acres (11.25 sq mi.) (29.14 sq km)
The largest airport in Chicago

775.4 acres (1.21 sq mi.) (3.14 sq km)
The second-largest airport in Chicago

Number of Runways
8 runways
5 runways
Distance from downtown Chicago
17.1 mi. (27.5 km)
10.3 mi. (16.6 km)
Number of terminals
4 terminals (3 local and 1 international)
1 terminal
Airlines served
Over 40 airlines
7 airlines
Amenities
Wide array of shops, restaurants, and health clubs
Some shops and a yoga room for relaxation
Air Traffic
O'Hare and Midway are both incredibly popular airports. They're busy throughout the year, no matter the weather.
Although, because of its size, O'Hare tends to get a lot more traffic. For instance, over 900 planes travel through the airport each day, as of June 2023.
Moving on, for Midway, the traffic is closer to 230 planes per day.
As you can see, that means O'Hare is typically about four times busier.
Destinations
When it comes to destinations, O'Hare is the clear winner. The airport has routes to 162 cities in the U.S. and over 63 international locations.
That means you can fly almost anywhere from O'Hare.
In contrast, Midway can only connect you to about 75 U.S. cities and 11 international destinations.
On top of that, O'Hare partners with over 40 airlines. Because of that, the airport can offer more frequent trips.
It serves as a major hub for United and American. Plus, Southwest Airlines started flying out of the airport in 2021.
Distance to Downtown
O'Hare and Midway are fairly close to downtown Chicago.
For starters, O'Hare is about 17 miles away from the heart of the city. As for Midway, it's around 10 miles from downtown.
While there is a slight difference in distance, it's not all that noticeable. Plus, the duration of the trip will depend on the type of transportation you use.
Luckily, both O'Hare and Midway offer a variety of methods at different price points.
L-train: 60 to 90 minutes (around $5)
Airport shuttles: 45 to 60 minutes (around $30 per person)
Supersavers: 1 to 4 hours (prices start at $19)
Private transfers: 30 to 40 minutes ($25 to $45 per person)
Taxi: 20 to 30 minutes (around $30 to 40)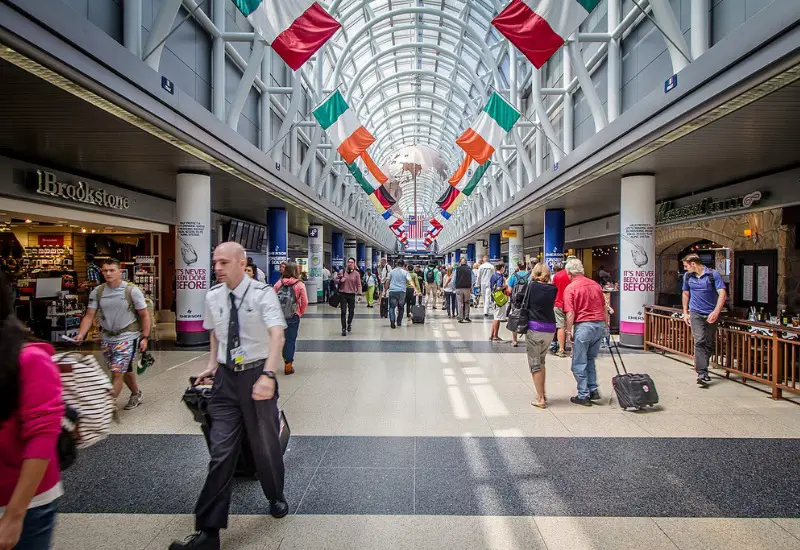 L-train: 30 to 45 minutes (around $2.25)
Airport shuttles: 45 to 60 minutes (around $30 per person)
Supersavers: 1 to 4 hours (prices start at $19)
Private transfers: 30 to 40 minutes ($25 to $45 per person)
Taxi: 18 to 25 minutes (around $35 to 40)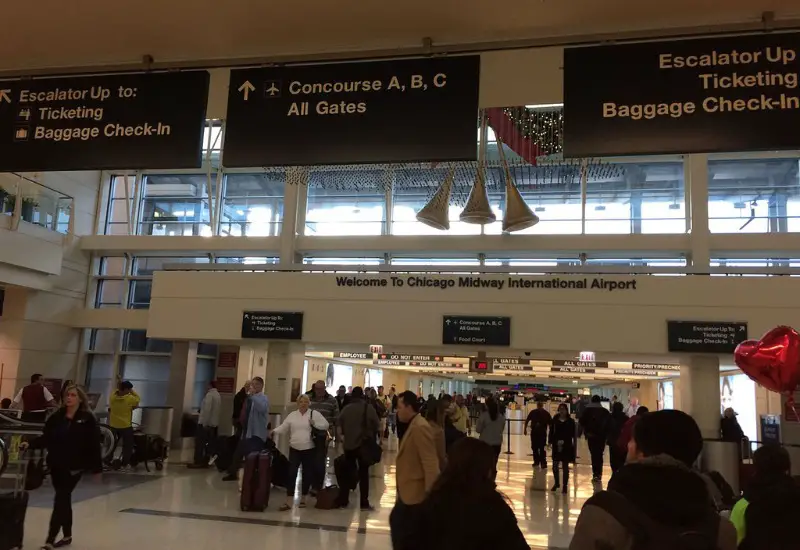 If you look at the previous data, you'll notice that the trips are all similar.
Although, if you're planning on taking the train, Midway may be the better option.
Wait Times
There's nothing worse than having to wait in line as you go through airport security. Thankfully, O'Hare does its best to keep the line moving.
On average, the TSA wait time is about 15 minutes. This is incredibly speedy considering how busy the airport can be.
Although, there's a specific period where the lines move slower than usual. If you're traveling through O'Hare on a Tuesday afternoon, the wait time is closer to 30 minutes.
Moving on, Midway also offers a swift service. On a good day, you can get through TSA in around 15 minutes.
Yet, during the early mornings and the late evenings, the airport tends to be busier. That means you may have to wait as much as 45 minutes in line.
Overall, there isn't a great difference between the wait times. However, if you're traveling with a large family, then O'Hare is the better option.
That's because it offers many more activities and amenities to keep the kids distracted.
Accessibility
O'Hare and Midway have done their best to ensure that everyone can use their facilities. That's why they offer wheelchair assistance to anyone with a mobility impairment.
Right off the bat, you'll find elevators and ramps all over the airports. Plus, there are clear signs at every turn to ensure you don't get lost.
Still, if you do get turned around, there are maps that can help you with navigation.
Although, it may be easier to walk through Midway since it's less crowded.
Other than that, they both have all-gender bathrooms, a mother's room, and even lactation pods.
To top it all off, the airports have Service Animal Relief Areas (SARA). These are designated safe spaces for your furry friends.
Yet, O'Hare does offer a few services that Midway doesn't provide. For example, the airport has diaper vending machines.
These can be lifesavers when you're traveling with a baby. Besides that, O'Hare has a traveler's aid program.
This can provide tourists with guidance, advice, and support. That way, if anything happens while you're on your trip, you'll find a professional to help.
Amenities
Since most people arrive at least a couple of hours before their flight, there's a lot of waiting time. That's why an airport's amenities are crucial.
In this section, I'll compare some of the services that each facility has to offer.
Food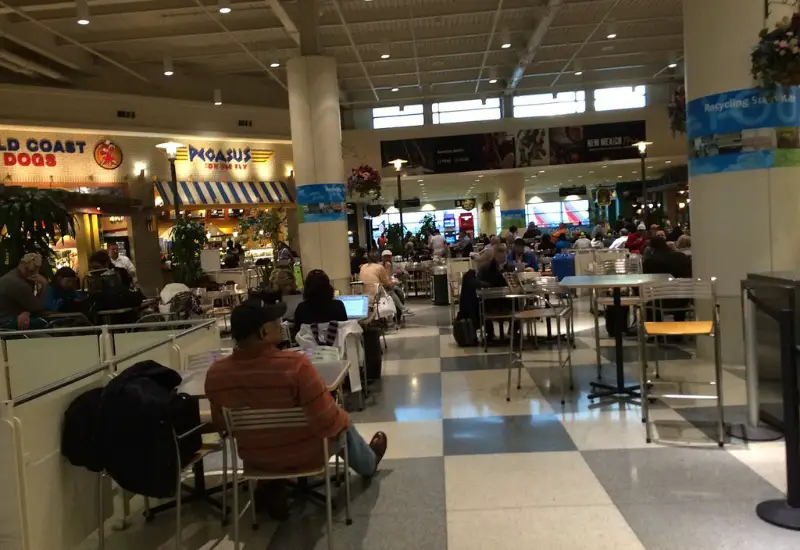 When it comes to food, both airports have a decent selection.
For starters, O'Hare is home to a wide variety of fast-food restaurants.
You can find anything from McDonald's to America's Dog.
On top of that, there are a few midscale dining restaurants. These include Wicker Park Seafood and Sushi Bar and a Chili's too.
Plus, there's a jazz bar with a small kitchen that serves delicious snacks.
Moving on, Midway also offers several food options. That includes Arami, Big Bowl, and Billy Goat Tavern.
Finally, you'll find a few vending machines scattered all over both airports.
Wi-Fi
Both O'Hare and Midway offer unlimited free Wi-Fi.
As long as you're in either airport, you can surf the web to your heart's content. This even includes the pre-security area of the facility.
In addition, the two airports contain many charging stations. If you walk by the gates or baggage claim, you'll find an outlet to use.
Each one of these stations is complete with a seating area and a nearby cafe. So, you can enjoy a cup of coffee while you wait for your devices to charge.
Workspaces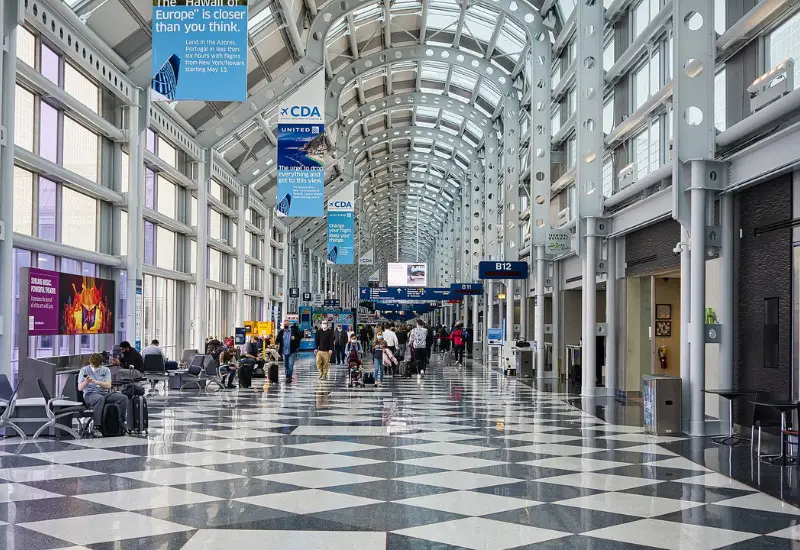 In today's world, many of us have to work on the go. Plus, we all know how crowded and noisy airports can get.
Because of that, empty, quiet spaces are crucial in an airport.
That's why O'Hare provides 13 different workstations. These include:
Eight in Terminal 1: four in Concourse B, and four in Concourse C
Three in Terminal 2: spread equally between Concourses E, F, and L
Two in Terminal 3: one in each of Concourse G and H
This means, no matter where you are in the airport, you'll find a workspace.
Sadly, Midway doesn't offer the same services.
There are no designated workstations in the airport. Although there are a few business centers just outside the facility.
For that reason, O'Hare is usually best for work trips.
Relaxation Services
Flying around the world can be stressful. You have to keep track of hundreds of little details as you walk through TSA.
This is especially true if you're traveling with children.
Because of that, O'Hare and Midway have a yoga room.
This is a quiet space where you can get away from the world for a few minutes.
Besides that, O'Hare has a health club and a family lounge to ensure passenger comfort.
Accommodations
If you don't know where you're staying in Chicago, O'Hare can help out. The airport has an on-site hotel that can cater to your needs.
It's a branch of Hilton directly across from Terminals 1, 2, and 3.
Moving on, Midway doesn't have an on-site hotel. Yet, there are a few facilities in its vicinity.
Wrapping Up
When it comes to choosing between Chicago O'Hare and Midway, the best option depends on your needs and priorities.
For those looking for extensive international travel and a variety of amenities like workstations and family lounges, O'Hare stands out as the preferred choice.
Business travelers may find O'Hare particularly appealing due to its numerous workspaces.
On the other hand, Midway, being less crowded and closer to downtown, might be the best bet for travelers seeking a quicker and more accessible experience.
Its slightly faster train ride to the city center may also appeal to budget-conscious visitors.
Similar Posts :