When it comes to bags and suitcases nobody knows more about this topic than flight attendants and pilots.
We spend so much time packing, unpacking, and hauling our cases through busy terminals, that we've become experts in air travel luggage.
I have personally destroyed what I thought was a rugged roller bag in just a few weeks, so I have learned the hard way to tell at a glance what's good or bad quality.
So, to help prevent you from making the same sort of mistake, here is a – based on pilots' opinions –  compilation of the most durable and thoughtfully designed flight bags and suitcases available.
Let's see a list of the most popular models sought after by pilots.
What's the best flight bag for private and commercial pilots?
It all depends on what you are wanting to use it for: daily VFR flying, short cross-country trips or a longer multi-day trip.
Best features:
Dimensions: 16"x10"x3"
Designed by pilots to protect your gear while flying
It has a specially designed pouch to hold an iPad or laptop
Storage for 2 headsets, iPad, cables, EFB, books/charts, toiletries, flashlight… anything that you could need for an overnighter
Stylish, lightweight and very well thought out flight bag
Best features:
Dimensions: 14"x12"x5"
Brightline bags are super versatile. You can buy them preconfigured or pick the parts to customize  your bag
Brightline B4 is built for the VFR pilot needs, it has storage for one or two headsets, an iPad, a handheld radio, and any other little tech accessories
If you don't want a backpack the B4 Swift is everything you need. There's a bigger preconfigured version Brightline Flex B7 Echo if you are looking at something with more capacity
You can remove the center section and end up with a smaller daily use bag to organize your small stuff. You have two bags for the price of one.
Super practical – great bag for any pilot!
What's the best small briefcase for a pilot?
I see more and more pilots carrying just a briefcase nowadays.
As Captain Mario Linares says: "If you are back in base each day, this type of bag is perfect".
Best features:
Dimensions: 17"x12.5"x5.5"
This Samsonite classic briefcase has lots of compartments to hold all your essentials
It's perfect for those who are looking for something compact, but with a large capacity
It's made of durable ballistic nylon
It has a handy pocket that slips over the handle of a carry-on suitcase, making it super convenient to carry 2 suitcases with one hand
Small briefcase alternatives
Alternative #1
Best features:
Dimensions: 16"x12"x5.5"
This briefcase includes a USB port to connect any device, and an RFID-blocking pocket to help protect credit cards
It also includes the rear strap that slips over the extended handle of any spinner luggage
It's made of high-quality ballistic nylon to help resist stains and abrasions
It's a solid smart bag for those who intend to carry lots of items. If you love pockets and organization, this is your briefcase. It may be a bit small on the inside but it's very, very well made.
Alternative #2
Best features:
Dimensions: 16.8"x12.2"x7.2"
This expandable leather briefcase fits a 15" laptop computer and the front and the back have small compartments to store all your accessories
Highly recommended for those who are needing a little bit more space than a standard briefcase With the expandable option, it really can fit a lot.
It also has a pocket that slips over the handle of a carry-on suitcase, making it super convenient to carry two suitcases with one hand.
Alternative #3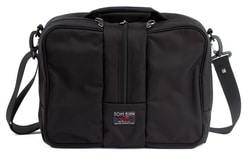 Best features:
Small, versatile bag, for the everyday items you use while flying
Made in the USA, it's ultralight, easily accessible and it has many organizational pockets, a  very well thought out design
The top back pocket with a zipper is designed to allow you to slip the bag over the handle of rolling luggage
You can choose between 2 fabrics: 400d Halcylon (a lighter weight option) or 1050d Ballistic Nylon if you want a super-tough fabric
What's the best duffle bag for a pilot?
For those pilots who are looking for a handheld everyday bag with a larger capacity, we have found a few interesting options that are recommended by almost everyone in the industry.
Best features:
Dimensions: 13"x22"x9"
This bag will become one of your favorites because of how versatile it is. It's excellent for an overnight layover or a longer stay
It has a removable section to carry a suit, shirt or dress so they don't get wrinkled.
It's made of a light, but sturdy ballistic nylon, durable and top quality material
It features a padded sleeve with room for your iPad, cables and other accessories, a special pocket for your power bank and it also has a USB connection for charging electronics while traveling
This is exactly what you need for your everyday use or for overnight trips to pack everything you need  and keep your leisure clothes/uniform organized and wrinkle-free
Duffle bags alternatives
Alternative #1
Best features:
Dimensions: 10.5"x16.5"x11.5"
Exceptional Briggs & Riley quality. This brand is known for making top-quality luggage and offers a lifetime guarantee on all their bags. So it means that if your bag is ever broken or damaged they will repair at no cost
This duffle bag is smaller than the Travelpro crew 11 but has many gusseted pockets and a roomy main compartment with a zippered mesh pocket for smaller items. It can be opened up from the top to make it easy to access important items while in the cockpit
Recommended for pilots who enjoy having their items well organized and accessible
If you need something bigger for a long layover, you can also fit this bag on the top of the Briggs & Riley Baseline Carry On Bag using the pocket on the back of the bag
Alternative #2
Best features:
Dimensions: 16"x11.5"x9"
Made of water-resistant, rugged PVC fabric
Flyboy Large Crew bag is padded on all sides and it comes with removable interior dividers  to allow you to set up the compartments the way you want or need
The interior design in grey instead of black will help you find items easily in low light conditions
In summary: this is a very well built bag with high capacity recommended for private pilots, student pilots or any commercial pilot looking for a durable bag with lots of compartments. Carry books, company manuals, headsets, iPad and you will still have room for personal items. The only downside of this bag is that it doesn't have the rear strap that fits around the handle of a roller suitcase.
What's the best backpack for a pilot?
Yes, I said backpack.
Pilots use their bags every single day, so there are pilots who prefer a backpack as a flight bag.
They are easier to carry through airports and more versatile than a normal flight bag.
Best features:
Dimensions: 17"x13"x8"
This crew executive backpack includes a USB port to connect your devices, an RFID blocking pocket to protect your credit cards and a padded large compartment for laptops with separate sleeve for tablets
It's quite big, well thought out and has a lot of storage
Very well made, with robust zippers and enough padding and high-quality ballistic nylon, it holds its shape, it doesn't collapse and it stands on its own
Another great product from Travelpro for any pilot looking for something functional and durable
Backpack alternative
Best features:
Dimensions: 17"x14"x8"
Genius design, with multiple interior and exterior pockets. It has one waterproof pocket specially designed for a bottle or an umbrella, a hidden cell phone pocket, laptop and tablet compartment, a key leash, and zippered compartments
This is a bag for those who want a top designer quality bag with plenty of useful storage
What's the best pilot rolling briefcase?
I have included only spinner bags because they move easier in every direction and they require less effort when lugging them around.
Rolling briefcases are perfect for all pilots to carry for daily work or travel, everyone should have one!
Hard case
Best features:
Dimensions: 9"x15.7"x16.9"
Rimowa is one of the leaders in luxury luggage brands. The robustness of their products is guaranteed and the style combines the best functionality and comfort
This Rimowa limited edition for Lufthansa is an almost indestructible design. Made of light and durable polycarbonate it's the favorite hard-shelled bag in Asia
It has a very well designed interior, with detachable compartments and a separate laptop pocket
Good, smooth double rollers wheeling system
It may be pricey, but it's built to last
Hard case alternative
Best features:
Dimensions: 16"x15"x8.5"
Very functional hard-side case. You can reconfigure the inside to suit your needs, it has plenty of room
Features include a removable pocket and file dividers for additional packing space, retractable top and side carry handles, an integrated TSA lock, and a removable lock.
The dual spinning wheel system ensures effortless maneuverability in every direction
It's super light, strong, durable yet very lightweight.made of polycarbonate alloy
Probably the most durable and stylish wheeled briefcase
Soft case
Best features:
Dimensions: 15.5"x9.8"x15.5"
Made of the toughest kind of ballistic nylon. It resists wear, tear, and abrasions
Very strong wheels, handles, and zippers
Best lifetime warranty: will cover you for anything that happens to this luggage no matter how many years you have owned it.
Multi-directional wheels allow you to spin and maneuver your bag easily
You'll find the handle on the outside of the bag to create more packing space and making a nice flat bottom
Expensive, but worth it if you want superior quality
Soft case alternative
Best features:
Dimensions: 16.25"x7.25"x13.25"
You will be impressed with the quality of this bag: the wheels are sturdy, it has a nice tall telescopic handle and the outside is of good quality nylon
It has plenty of pockets and zipper compartments, including a laptop compartment, big enough to fit whatever size laptop you have
There is an accordion file folder case with 3 sections inside the main compartment  which is ideal for papers and folders
Useful strap to put your luggage on the top of other  luggage
It spins really  nicely, making it easy to maneuver from gate to gate
The only con is that it doesn't have as much room for clothes compared to the Briggs bag because the handle goes inside and takes up storage space
What's the best pilot traditional wheeled case?
If you are looking for a typical pilot bag, classic, durable and elegant, you'll love these.
Best features:
Dimensions: 17.5″ x 13.5″ x 7″ inches
Made of a sturdy hard-sided frame and ballistic polyester material
Professional looking
Good for files, laptop, and accessories
Perfect size for everyday travel and to be taken inside the cockpit
Removable fully padded laptop sleeve for a 17.3 inch laptop
Best features:
Dimensions: 10.5"x18"x17"
Classic pilot case with a file divider and a removable laptop sleeve
Simple and timeless sophisticated design
Solid case, with lots of room and lots of compartments
Made out of durable ballistic nylon
Best quality and affordable price
What's the best overnight carry-on bag?
If you have a medium-long layover, you'll need to carry a wheeled carry on suitcase in addition to your pilot flight bag.
These bags are the ones used by any pilot, flight attendant or traveler for a weekend trip or a short getaway.
The toughest soft cases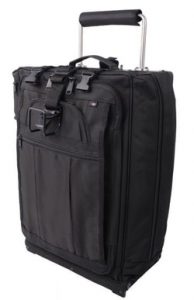 Luggageworks stealth 22″ rolling bag
Best features:
Dimensions: 22"x14"x8"
Very very popular among pilots in the US
This is really a tank, super rugged luggage
Plenty of pockets to carry everything you need and a hook to attach an additional bag
It has a solid metal frame, stainless steel retractable handle, and top quality wheels
This is the perfect choice for those needing ultra-durable luggage
The only drawback: it's a bit heavier than average
Best features:
Dimensions: 22"x13.81"x9"
More than durable, this case is indestructible (The military, police and fire departments use these), You can throw it in the water or drop it, no worries
Lifetime warranty
The best to keep your camera, laptop or valuables safe
Handles on two different sides allow for comfortable carrying
The downside is that it's a bit heavy for its size
Hard case
Best features:
Dimensions: 20"x13.5"x9.5"/6.7lbs
Spacious inside divided in two: a zipped upper lid compartment and a bottom one with straps to hold down clothes
Extremely lightweight and tough
10 year warranty
The 360º Spinner wheels make it easy to maneuver
Flexible and durable hardshell designed to absorb impact and pop back into its original shape
Reasonably priced and well-built suitcase
---
Best features:
Dimensions: 9 x 15.5 x 21.5 inches
Made of High strength Makrolon 100 % Polycarbonate, it's designed to be sturdy but also have some flexibility
Patented outside handle: Trolley bars on the outside of the bag for more space and flat packing inside the case.
4 swivel wheels allow for effortless maneuverability
80/20 lid opening: unlike standard hardside cases, Torq bags open like a traditional suitcase
Indestructible product with Briggs and Riley lifetime warranty
Soft case
Best features:
Dimensions: 23.5"x14.5"x9.5"
The most popular Travelpro design for crews Worldwide
External USB port for powering up any USB device
Made of high-quality ballistic nylon with a DuraGuard coating for stain and abrasion resistance
8 self-aligning spinner wheels
Lifetime free warranty
It expands 2 extra inches and offers a suiter to help keep your clothes wrinkle-free
 The top, side and bottom handles, make it easily carryable in any orientation
---
Best features:
Dimensions: 20.1"x14.2"x9.1"
Solid and lightweight
You have handles on every side of the bag, including the bottom, so it makes it super easy to carry
The Wheels are 2 skateboard wheels, so they very easy and cheap to replace
The front pocket has a zipper that allows easy access to the main compartments while the bag is in the overhead bin
The main compartment is divided into two halves, and it has a mesh flap for each side to separate items easily
Best buy for any pilot
Complete Buying Guide
With so many styles to choose from, deciding which one to choose can be really confusing.
So, here you'll find all you need to know to help you select the best flight bag or suitcase for you.
What to look for in a flight bag?
We asked pilots in my company about their flight bags and most of them have their own important requirements and preferences, so it's a very personal choice.
But there are a few features that are crucial to all of them:
Your flight bag must be lightweight, resistant and not too big.
Keep in mind that this bag will have super intensive use, almost every day. You'll lug it up and down flights, around the airport, city, and hotel, so it had better be light and strong.
And resistant, which means made of high-quality material. But this is subjective. Some pilots prefer a leather case, some people ballistic nylon and some prefer aluminum.
The last important feature is the size, the requirement is a small or not too big bag. At least that is more and more the tendency. For 3 obvious reasons:
Dragging heavy and bulky luggage is not what you want
The space inside the cockpit is limited
Most of the pilots don't need to carry much nowadays. Just license, passport, and iPad.
So the smaller the better.
Anyway, don't worry too much about the size, most of the luggage fit inside the cockpit.
If it's not next to the pilot's seat, you can leave it behind.
It's mostly about what's more convenient for you.
What type of pilot bag to choose?
It depends mainly on your preferences, what you need to pack (some pilots still carry a huge amount of manuals and charts) and the type of flying you do (schedules/routes you have).
For example:
If you always return back to your home base, which means that you sleep at home every night you just need a business briefcase. "Why more? " Captain Mario Linares says: "I have everything I need with me: Passport, iPad, license, keys and wallet, and iPhone. In my case, I can even pack an extra shirt or a lunchbox when I need . Very practical."
So this type of bag will suit,  short-haul or low-cost airline pilots, sport aviation pilots, flight instructors, tour pilots, etc
If you normally have short layovers or you sleep at home but you want to carry something for those just in case moments, you may need a briefcase plus a small roller case. Or just a small roller case can work.
This type of bag will suit almost everyone: Cargo pilots, short-haul, low-cost, regional and charter pilot, etc.
If you have longer layovers, then you can add a big suitcase.
This type of bag will suit the ones that are spending several nights away from home: long haul pilots, charter and corporate pilots.
What else should you consider before buying your luggage?
Check if the luggage has a luggage strap to be able to attach it to the another suitcase handle and be able to carry both together with one single hand.
That, believe me, is really convenient.
Any luggage with Four wheels obviously has a big advantage in helping you tow around the airport. They will roll smoothly and be more stable.
Large capacity. Even though most pilots want small bags, they also want the largest storage capacity. So this should also be considered.
Many compartments: After asking many people here in the industry, some of them told me they like to have separate compartments for keys, wallets, magazines, laptop or clothes. It's not really necessary but it can be decisive when choosing between two.
What to put in your flight bag?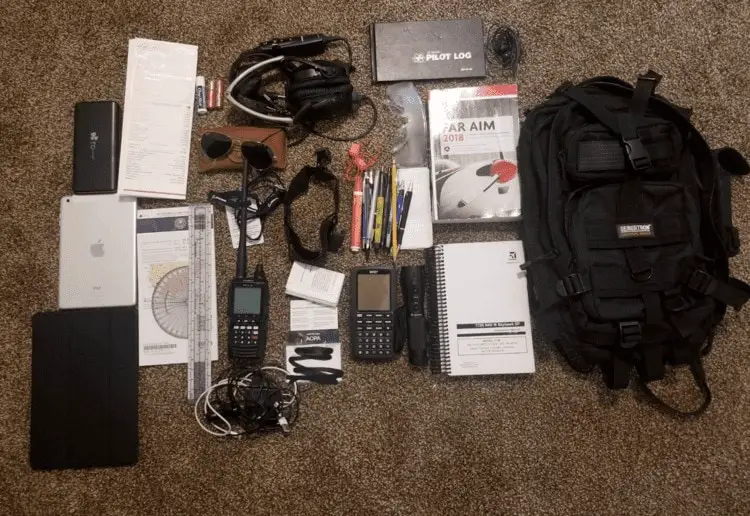 These are our top recommendations:
Documents:  Passport, airport ID, medical documents and  pilot certificate/license
Ear defenders: for your walkarounds
Alcohol wipes: To disinfect and sterilize inside the cockpit before you start flying
A torch: for your night walkarounds (provided by some companies)
Headsets: In many airlines, you'll find them as equipment on the plane
Hi-viz: normally provided by the company
Toiletry kit: deodorant, toothbrush
Pens
Calculator (most people use their phone)
Sunglasses: not polarized
Chargers & Power bank
Phone & iPad
Food & Water
Keys
Extra clothes
Wallet
Manuals: only if you don't have your iPad or tablet
Which brands do pilots prefer?
Some pilots prefer Luxury-Premium brands: Briggs & Riley or TUMI.
Some pilots prefer brands that make suitcases designed for flight crews: Travelpro, Rimowa, Luggage Works.
And others will choose the best business traveler luggage: Samsonite, Swiss Alpine, American Tourister, Delsey.
Just make sure to pick a high quality and trustable brand.
I have been using many different bags and there are really big differences between well-known luggage brands and low budget brands.
Most of the cheap brands can work for an occasional traveler but not for flight crews. They will tear or break within a few months.
Remember, the ideal flight bag is a personal preference.
It really depends on what you want.
Just think about what you need and choose the best pilot flight bag for you.
Still searching for luggage? The preferred luggage of flight attendants article might help you.