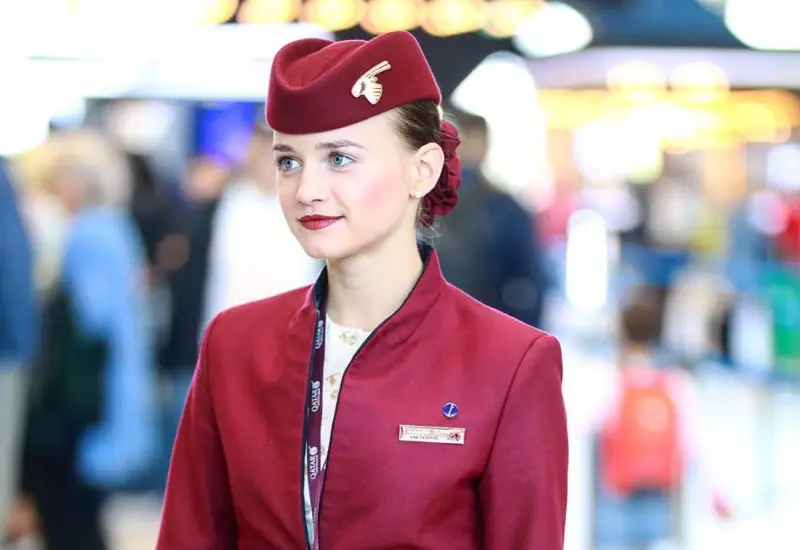 Have you ever wondered what a Qatar cabin crew schedule looks like?
For instance, do cabin crew always fly the same routes and how long do they stay in each destination?
Today, I'm going to answer the questions you may have about Qatar Airways rosters.
I've been a Qatar flight attendant for 4 years so this article will give you a glimpse of what a typical month's schedule looks like. I'm also going to explain some of the jargon that is used in these schedules.
What is a cabin crew roster?
A roster is a cabin crew's monthly schedule. Here in Middle Eastern airlines, we know about our next month's flying duties right to the end of that month.
This means that between the 22nd and 25th of the current month,  we get a much anticipated message which speeds the pulse and gladdens the heart. The next roster period has been published!
This is a detailed schedule that contains information such as destinations, flight departures, and arrivals, off days, standby duties, layover duration, and hotel information.
This means that our lives can be planned and organised in advance, which is no small thing in the hectic world of commercial aviation.
How is the roster created?
Cabin Crew schedules are created by a computerized system following a series of requests (bids) that cabin crews are permitted to make. Essentially, we are putting forward our preferences for specific destinations or layovers, and days off, etc.
That's right, we can kind of choose what flights we want to work, who we would like to fly with, or our days off, by making these bids a month in advance.
While putting together the rosters, the system tries to be as fair as possible, but it doesn't guarantee a 100% satisfaction rate. 
There is a department called Crew Rostering which can adjust or change any roster at any time, depending on operational needs, so nothing is really set in stone, but it is great to have the chance to make choices.
It's rare to fly with the same crew or to the same destinations over and over again because the system also tries to balance and create a crew with a mix of duties such as layovers, turnarounds, and standbys.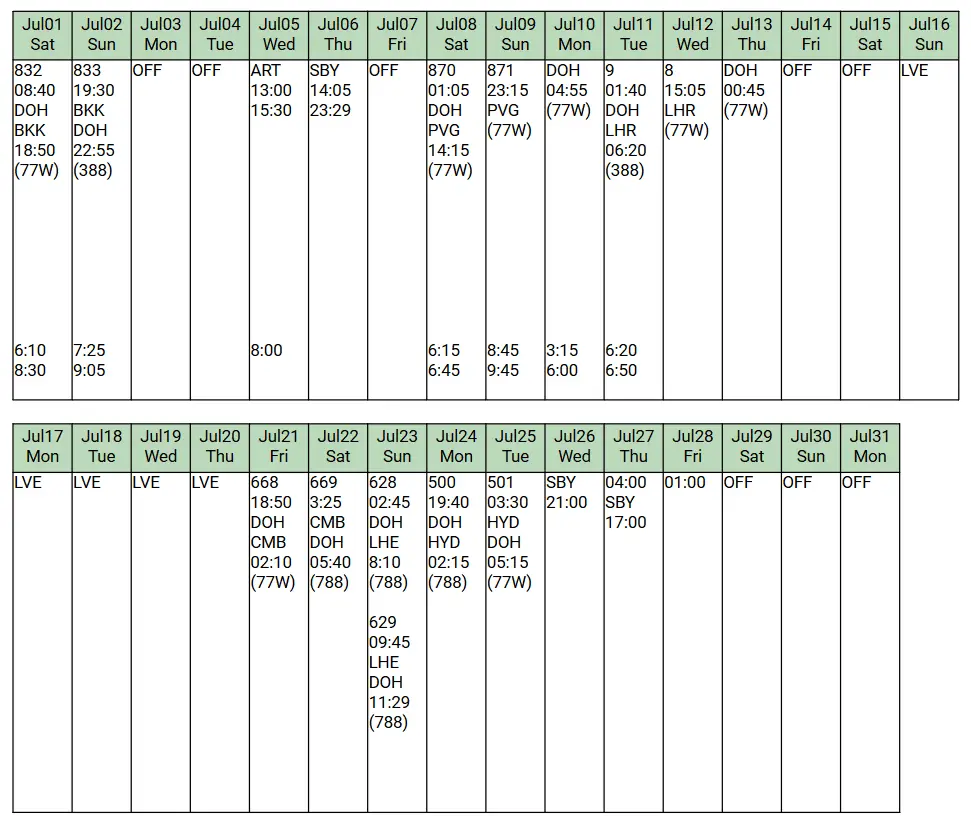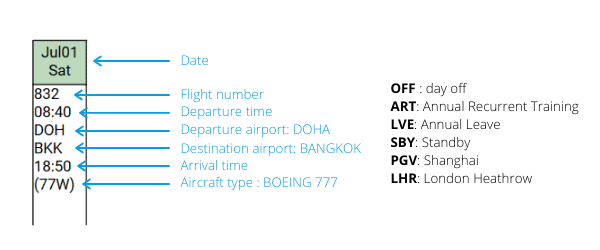 Okay, let's take a look at some of the terms used in rostering mean.
Roster Jargon Definition
Turnaround (TA)
This is a flight that goes to a specific destination and then returns to base, which is normally the case for short flights.
On these, the crew will work the flight to a destination, and, as there is no need for a layover, they work the flight back and return to sleep at their home base.
Turnarounds can range from a 40-minute flight to a 5½ hour trip.
Since the crew returns on the same day, it often results in work duties of over 12 hours, making these flights dreaded amongst the cabin crew community.
Layover
A layover – also known as rest outstation – is when cabin crew and pilots stop off and stay at the destination overnight.
How long are the cabin crew layovers at Qatar Airways?
They vary between 17hrs to 48 hrs, depending on how long a flight is, but on average, the crew stay at a specific destination for 24 hrs.
During a layover, QR pays for a 3 meal allowance (breakfast, lunch, and dinner). The crews stay in 4 or 5-star hotels, which is a real hardship, but someone has to do it.
There is plenty of time to go out and explore a destination; it just depends on your mood or inclination.
SBY-standby
This is when a cabin crew is on call. In this situation, you might have to be ready in an hour after they notify you to do a flight.
It's also called reserve and it can be either at home (SBY) or waiting in the airport at Qatar's technical building (ASBY) to get called for a flight.
The reason it's called standby is because you can be called at any moment within a specified time frame (06:00 to 12 pm) or at the last minute if there's an unforeseen event and a flight needs a replacement crew member.
A home standby lasts from 6 to 8 hours while an airport standby is 4 hours.
Rest (XX)
If you land back at base Doha after 12 am and the next day is an off day, you will get a rest day (XX) assigned on your roster.
This means that you don't have any programmed duties the next day.
OFF
A day OFF is a day that cannot be removed by crew rostering. They are usually given at your Doha base, but sometimes there are flights that are not frequent and might have a day OFF in between the layover.
How many days off do Qatar Airways cabin crew have?
It depends.
On a given month you could have 12 days off, while in others, you get 14.
The reason that you don't always get the same number is due to a lot of technical requirements and regulations which are taken into consideration by the rostering department. Things such as how many crew are on leave, what aircraft are operating certain routes, etc.
If you'd like to travel on days off, you must submit an exit permit request to the company at least 48 hrs before your intended travel and you must remember to be back on time 12hrs before your next duty.
Leave (LVE)
This code is used when cabin crew are on annual leave.
Qatar Airways provides 30 days of vacation, which can be split into blocks of 5, 10,15 days or used all together.
There are certain periods during the year which are harder to get your requested vacation days due to high travel demand.
These are summer school Holidays, Muslim holidays such as  Eid Al Fitr and Eid Al Adha and Christmas/New Year.
Airport/Destination codes
A destination is usually read by its city or airport name code.
For example, Doha is DOH, New York City-JFK, Paris-CDG, Johannesburg-JNB, Hong Kong-HKG, and Sydney-SYD.
On your roster, you'll also have codes that are the reference for a specific flight.
FAQ
Can you swap flights with other crew?
Yes, you can swap a flight with another crew.
But not only do you need to find someone that wants to swap the flight with you, in order for it to be granted by the company, both crew must have a legal rest of 12 hrs and a similar departure and arrival time.
Sometimes swaps are not approved due to technicalities.
How much do Qatar cabin crew work?
On a given month, you fly between 70 to 120 duty hours depending on the type of flights rostered.
Keep in mind that if you have Ultra Long Haul flights -ULH's – they will take up a lot of duty hours, since these are flights that are longer than 11 hours, e.g. flights like DOH-JFK or DOH-SYD.
Compared to other airlines in the Middle East, Qatar Airways cabin crew don't fly as much as their neighbors do.
Do cabin crew always fly with the same colleagues?
Most people wonder if cabin crew fly with the same colleagues over and over again and the answer is, no.
People meet each other during the briefing before a flight and may never see each other again.
What are some of the best / worst destinations people like?
As mentioned previously, cabin crew have the ability to bid- request – for flights. Amongst the top destinations that crews bid for are: Madrid, Barcelona, Maldives, Seychelles, L.A., Sao Paulo, and Bangkok just to mention a few.
Personally I loved Tbilisi, Georgi, because it's not a long flight. You arrive within 4 hours from Doha, making a stopover in Baku, Azerbaijan. Then you get 24hrs to eat traditional Georgian food, go for a walk downtown, and enjoy the fresh air. Love it!
What are some of the best / worst flights people like?
This is a relative topic, but every airline's flight attendants agree that there are some flights that are better than others.
Best: When it comes to Qatar's best, Munich, Madrid & Seychelles are high on the list. The profile of the passengers on these flights is calm because they are either going for a vacation or returning from a well-deserved rest, which makes for a  calm and pleasant environment
Worst: Ultra-long haul (ULR's) flights such as US destinations and  Australian flights can be amongst the most dreaded duties. The cabin crew work never finishes, passengers have a hard time falling asleep and it's usually mentally draining when all you want is your turn to have a rest and a bit of shuteye.
But in the end, it really doesn't matter if it's a good or bad flight, if you are working with a great crew, the time really does fly – if you'll forgive the pun.
Similar Posts: