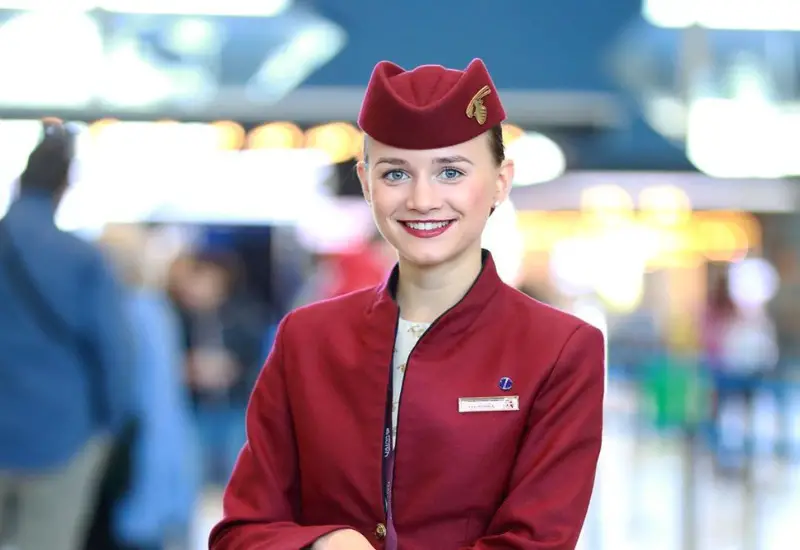 Today we're going to look at what life is really like for the cabin crew who work for Qatar Airways. I have been helped in putting this material together by my friend Kristal, who has over 4 years experience as a flight attendant with Qatar Airways.
So together, we're going to answer the questions that you may have, such as:
What is Qatar like? What is the culture of the country like? Where will I live? How much will I get paid?
Moving to Doha
Once you start this new chapter in life, you may feel a lot like you have been cut adrift.
You have left all your friends and family back home and you are now a stranger living in a strange land.
This is perfectly normal and, as Kristal says, it quickly passes.
In fact, if you didn't feel a little sad and confused at such a change in your life, then that would be bordering on the abnormal. 
But set your mind at rest, you'll soon start creating a new 'family' in Doha.
You're a flight attendant, so by your very nature, you instinctively know how to make new friends and how to fit into different social situations.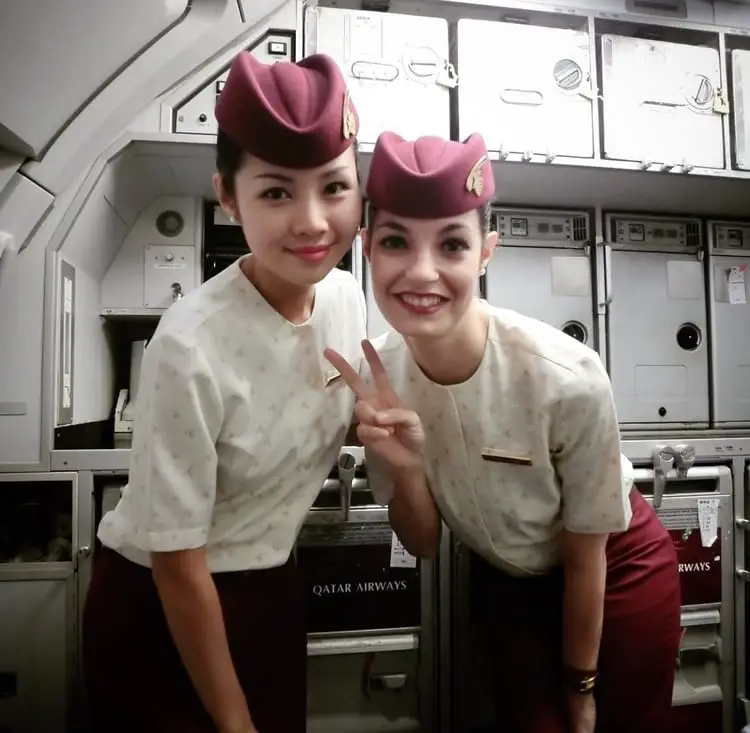 But – and here is the good bit – shortly after arriving, you'll start the 8 weeks training program and the studying for that will be so intense that there won't be time for feeling miserable.
You'll be working hard and settling into your new routine and sharing this life with new friends (the first usually being your two flatmates), so the upheaval of a few weeks ago quickly becomes just a memory.
And the seriously good news about this time of training and transition is that after you complete your six-month probationary period, you're entitled to free flight tickets, so you'll be able to hop on a plane to go and visit your family and friends.
How good is that?
Lifestyle
Doha is a small capital compared to those of many other countries, but this wonderful city is full of surprises.
Kristal's advice about this is, I believe, extremely valuable: embrace this new world, especially if you have never been to the Gulf Region before. It's a vibrant and different experience and you should enjoy it and absorb it.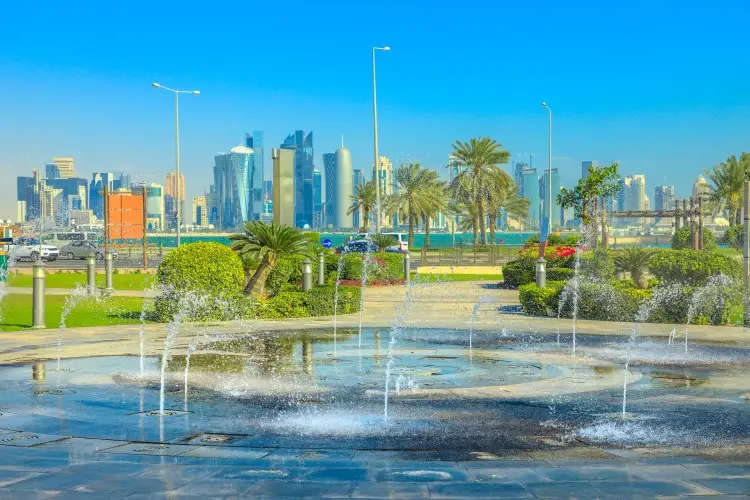 Due to its strategic location, Qatar has a large amount of people from all over the world who congregate there because of their careers or work.
It's a 'hub' city, a gathering place for the interesting and the talented.
This makes for an exciting mix of a group of people who are known collectively as Expats.
Trust me, if you enjoy people and people watching, you'll never be bored in Qatar.
There are currently over 2.8 million people living in Qatar and I have no idea how many of them are Expats. But, as you can see, the country has the population of a medium-sized city, so it's not too much to handle in terms of crowds.
Please remember that at all times.
Not in a bad way, but in a way that keeps you aware that things are done differently in Muslim countries, that there are codes you will have to follow in order not to cause offense.
This is the same for all cultures and all countries, so just go with the flow and embrace it as a part of your new life.
The things to observe are pretty simple and easy to conform with.
Here are the four that Kristal advises you to keep in mind at all times:
Dress in a conservative way – clothes that are too revealing, either by being too tight or simply by there not being enough of them, can cause offense. Use your common sense and this will never be an issue for you.
Address people respectfully. You're a flight attendant, so this one comes easily.
Don't speak badly about Muslims or their religion. Islam is a way of life for Muslims and its beliefs and practices are cherished. To belittle these or to mock them will cause the greatest offence possible. Don't do it.
I'm sure you know this already; Muslims don't drink. End of. Full stop. Period. But there are places where Expats can go to socialize and imbibe.
If you feel like dancing or going to a party, most of the hotels offer clubs and bars which you can visit. However, in order to be allowed into some places, you must become a member and they will only let you in once you have your residence I.D. card.
One of the customs that must be observed every year is the Holy Month of Ramadan.
This is the time where Muslims fast from sunrise to sunset for a period of 30 days. During Ramadan people from other religions must be extra respectful and sensitive towards those who are fasting.
You are not to drink, chew or smoke in public view during daylight hours. If you want to eat or drink you must do so in your own home or in a closed environment. Restaurants are closed during the day. People must also refrain from listening to music with the volume too high or dressing inappropriately. Become familiar with Ramadan and what it means to Muslims.
These restrictions and observances aside, people in Qatar are in general very friendly and everyone speaks English.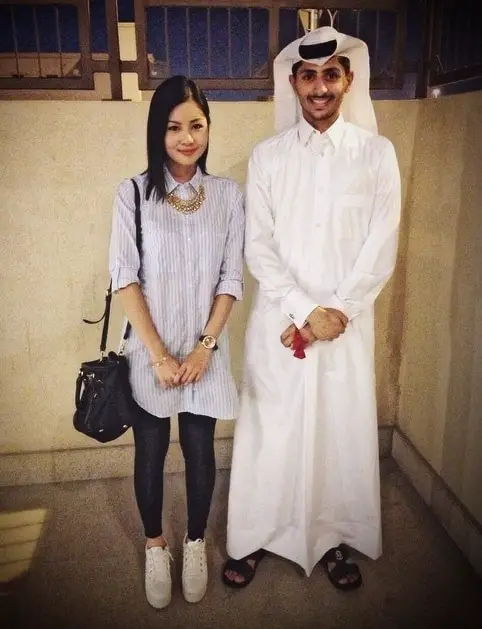 There are plenty of things to do in Doha; restaurants, malls, all the usuals.
But there are places that should be high on your list to visit and perhaps become a regular to.
Places such as Souq Waqif, which is a converted old market or "Souk" crammed with delicious Arabic restaurants, coffee shops, gift and souvenir shops, as well as ones that sell spices, traditional clothing and dates. Um, that's dates the food, not the other one.
Try Katara cultural village, the Museum of Islamic Art, take a walk through the lovely Corniche or visit the modern Qatar Museum.
Whatever your tastes may be, you will always find something to discover that will keep you interested or entertained in Doha.
Cost of Living
Okay, a heads up here – living in Qatar can be expensive.
But having said that, it does depend on your lifestyle.
When it comes to food you can either choose to have a decent meal for about $10 or have a fine dining experience for $200. Which is a pretty good range and gives you plenty of options, depending on your mood or your needs.
Groceries can be purchased in either Hypermarkets or high-end supermarkets.
One advantage of being cabin crew is that you have the opportunity to shop for your goodies in other countries and save a lot of your hard earned cash.
The most expensive thing in Doha is housing, but that's not your problem, not at all. Cabin crew don't have to pay for their accommodation or their transport to and from work.
This means a huge saving.
At the end of the day, nearly all your salary is your own for you to deal with the way you want.
You don't get that in many jobs.
Safety
Overall Qatar is a safe country.
You can walk about at any hour of the day without any problems.
Police are usually patrolling most areas and there is almost no crime.
As a woman, you have no problems at all, as long as you dress according to the country's rules which, as I said, are conservative.
I have lived in Doha for over 3 years and it is a very safe place to travel to and around.
I've never had any problems with the locals or about feeling unsafe.
Sadly, this can't be said of some other cities that I have been to on my layovers.
Your personal safety is taken very seriously by the airline. There is a 24 hour surveillance system in each building that is used for staff accommodation, plus there are security guards.
Accommodation
Qatar Airways provides its cabin crew with fully furnished, shared accommodation.
Be aware that the buildings are not gender mixed, so the gents live in one compound while the ladies stay in another.
But if you are married to another cabin crew member, they will give you an allowance to look for your own accommodation outside of that provided.
Most of the buildings are located about 20 minutes from the airport and are within the vicinity of most of downtown's shopping malls and restaurants.
There are a few ways to move around Doha, but I find that taxis are the easiest option.
You can also use public buses or even private limousines such as Uber.
While living in Qatar's housing, there are a few rules which cabin crew must follow:
Curfew
Even if you are not working the next day, you must return to your apartment before 04:00am.
Basically this means no sleeping away from your accommodation. If you do not follow this rule, your employment can be terminated.
Now this next one, some of you might find a little hard to get your heads around.
There is a rule called Minimum Rest Period under which you cannot leave your house 12 hours prior to a flight.
So during this time you are supposed to be resting and you are only allowed to leave for 90 minutes maximum.
Visitors
They are allowed from 08:00am until 22:00.
But in order to be allowed to enter, they must be resident in Qatar.
When it comes to direct family members, they are only allowed to stay at your place if they are from the same gender. If you are a female, your mother and sister, for example, can stay with you, and the same applies for male crew – your father and brother, for example.
These are the sort of cultural differences that may seem a little bizarre to us, but they are something that you will soon get used to.
Smoking policy
From the moment you sign your employment contract you have declared yourself as a non-smoker.
Therefore, there is a zero tolerance policy about smoking anywhere near company premises.
Candles, incenses and other flammable items
You are not allowed to keep any of these items inside your apartment.
Housing might conduct spot checks and if these sorts of things are found, you will be notified and asked to take corrective action.
Alcohol
It is not permitted to keep alcohol in cabin crew's housing.
Which is an easy rule to follow, because to buy alcohol in Doha you must get a permit or license and these are not issued to cabin crew.
Healthcare
Being a cabin crew member can rightly be considered as a high-risk job.
We are exposed to poor air quality, diseases and infections, hazardous noise conditions, and even low levels of radiation.
So it pays for you to stay in good health and look after yourself.
Insurance is provided by the company and usually covers healthcare both in Qatar and in your home country.
Employees do not pay for this, which makes it a very welcome employment benefit.
If you are unfortunate enough to fall sick while in Doha, you can attend the Qatar Airways Medical Centre to get checked over by the aviation doctors. They'll look at your case and either treat it internally or refer you to a local hospital. All incidents of sick leave must be validated by the airline's medical center.
Work environment
There is a saying which goes: 'Happy crew, happy passengers'.
It's a fundamental of our industry that you must have a successful team to have a successful flight.
To ensure that this happens, the company has strict rules and regulations on the way crew members should work and behave while representing the airline.
In-flight, you will find the Cabin Services Director (CSD) and the Cabin Senior (CS). Both of them are the flight supervisors and their job is to make sure that all the crew work as a team and adhere to the correct standards and procedures.
There's absolutely no denying that some flights can get hectic, but when you have sixteen or so colleagues who work in harmony, it makes it a lot easier to cope.
One of the joys of working as a flight attendant is that you get to work with people from all over the world.
I absolutely love this aspect of my job.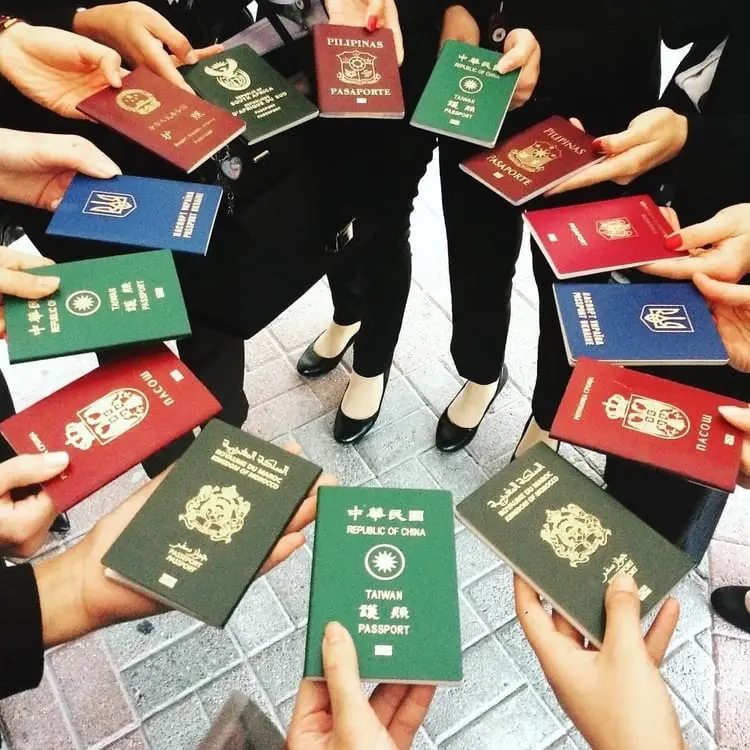 But I am acutely aware that because of this, I need to treat my friends in the sky in an open and positive way.
Okay, let's be honest here: there will be some difficult colleagues who everyone hates flying with and wants to throw out of a  window at 20,000 feet. But – and I mean this sincerely – you'll mostly find lovely crews who have a wealth of knowledge and are more than ready to help when you start flying.
Salaries
Cabin crew pay rates vary from month to month depending on how much you fly.
There is a basic salary, plus you get the flying allowance and there is a layover allowance. This is a specific rate for meals which depends on the country that you are flying to.
On average, it rounds up from $2.500 to $3.000 per month tax free.
Don't forget the free accommodation and travel perks, you need to build these into your salary calculation.
And, according to your rank, you may even get more.
For instance, if you get promoted from Economy to First and Business class and from there up to Supervisor, your salary will increase to reflect the new responsibilities that you are taking on.
On the same topic: Qatar Airways Cabin Crew Salary and Benefits
Conclusion
Overall, working for Qatar Airways and living in Doha is an opportunity and experience in which people learn a lot.
True, for some, it can be difficult, but for others it is a great school in which to learn and hone the skills of your career.
For those whom it does suit, it makes them stronger, more responsible and able to see the world in a different and more enlightened way.
If this sounds like you, then working for Qatar is an opportunity not to be missed and a journey not to be forgotten!
Similar Posts: