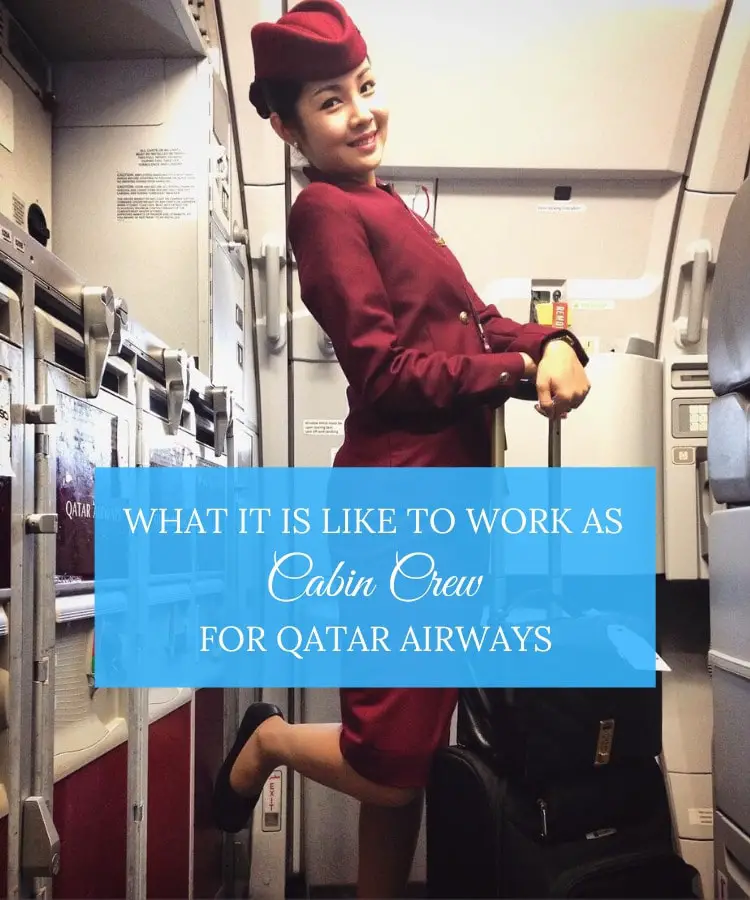 Being a cabin crew for Qatar Airways is truly an exciting job, but just like in any other, it involves a routine.
From the moment you set your alarm, to getting up in the morning and putting on your uniform, you are changing from being a civilian to becoming a cabin crew member, something that involves a very thorough schedule to follow.
I am Krystal. I have 4 years' experience with this company and I will give you an inside look on what it is a typical day in the life of a Qatar Airways cabin crew.
Preparations
Before a flight duty, you check a list posted in the lobby of your accommodation with the names of each crew member. It's a detailed paper that specifies, staff number, flight number and the pickup time from your accommodation. Make sure you read this carefully, as missing a flight is never something that you should be guilty of.
Once you know the pickup arrangements, it's time to set your alarm, especially if you're going to have a snooze so that you are fresh and ready for your duty.
Wake up time! Take a shower and freshen up, have a coffee or a caffeinated drink, and basically, do whatever rocks your boat while you're getting ready.
In my case, I love playing music while preparing, it gives me energy and puts me in a good mood before a flight.
Female cabin crew tend to take longer to get ready than our male colleagues. But hasn't this always been the way of the world? In our case,  It's mostly because of our hair and makeup. We always need to look good, and that's not just vanity speaking, it's a huge part of our job.
Wearing make-up requires a fair bit more time, effort, and precision than you might think. Not to mention the hair. The first two weeks that I had to have a perfect bun hairstyle to go work, I had to ask my roommate to do it.
I prefer to do my makeup first and leave the hair till last. But that's just me. After all that has been applied and attended do, I put on my tights and I'm all set to finish dressing in the burgundy uniform provided. A good look in the mirror –  again, not for vanity, but because one last check is never a bad thing – and I'm good to go.
Before leaving the apartment, I always, always make sure I'm carrying everything that I need for the duty: company ID, passport, hat, handbag, trolley, and suitcase. Then I head downstairs to wait for the pickup.
Transportation
Getting to and from work is taken care of by the company, so all you need to do is to be outside your building on time.
If you miss the company bus, it really can be stressful,  so I prefer to be outside at least 10 minutes before it arrives.
The vehicle goes on to pick up other crew from different buildings so they always plan the transport to be 1.5 hours before your reporting time. 
Check-In for duty
Once you arrive, you will have to scan your ID on a computer, which will log in that you are reporting for work on time.
Briefing time
This is the time when you get to meet your colleagues for the flight and discuss specific information about the destination.
Topics covered in this meeting are things like time, weather, airport name, allowances for liquids, cigarettes, food, and special passengers – such as VVIPs, royal families, medical cases, pregnant ladies, unaccompanied minors, etc.
You will also be asked safety, security, and first aid questions. It's crucial for a cabin crew to know all the procedures. I always revise the manual before each flight to go through aircraft specifics and general safety procedures, because you will be asked during pre-flight briefing.
It is in this preflight briefing that you will find out your job duties for the flight.
You will either be working in the cabin or be the galley operator, which is the cabin crew member in charge of preparing all the necessary items and carts, trays, etc. for the meal services.
Once the briefing is over, cabin crew and pilots make their way to the aircraft.
Pre-flight check
This is what you do once you arrive at the plane before the passengers' board.
You have 30 minutes or so to check the safety and service equipment in your area of responsibility, as well as to conduct a security search.
Checks are done with the help of a booklet that guides you as to the exact location and number of safety equipment items in your area.
You also check the cabin cleanliness, equipment serviceability, discrepancies or malfunctions in seats, screens, toilets, galleys, as well as the overhead compartments or any other area of the aircraft that you or a passenger might have access to.
These inspections can be done while the cleaning teams are still on board.
Once they leave the aircraft, you proceed to conduct your security check for any leftover or suspicious item that doesn't belong to the aircraft. Very important.
I know that it sounds like a lot of work in a short amount of time,  but once you get the feel of it, it's a breeze and easily accomplished.
Pre-boarding duties
Now you prepare the cabin for the passengers.
Someone sprays the aisles with air fresheners, others put out the headsets, menus and amenity kits (socks & eyeshades) if applicable.
In business class, welcome drinks are being prepared; champagne, water and a choice of juice.
Once everything is ready, the Cabin Services Director makes a call to every station to cross-check that the aircraft is ready for boarding.
Boarding
Music on, smiles activated, action! Let the show begin!
All flight attendants will be ready in their allotted positions.
Two cabin crew will be at the door welcoming passengers and checking their boarding passes and others will be assisting passengers to find their seats and a place for their luggage and generally coordinating the flow of boarding.
Cabin Securing
Now that the boarding is finished, the crew check that service items are put away and in a secured place, lavatories are locked, passengers are seated with their seatbelts on and all bags are stowed safely.
Take Off
Crew take their seats and get ready to be airborne.
This is to me the exciting part, the next adventure begins!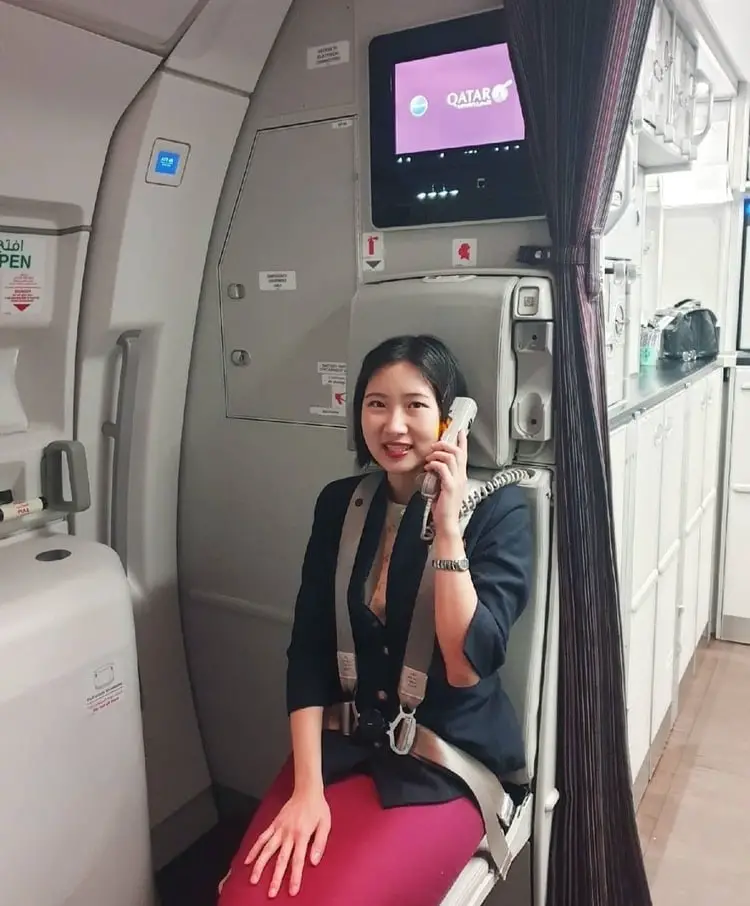 Meal Service
You have probably wondered why it takes so long to get your meal once we are in the air.
Preparation for the service usually takes around 40 minutes from the time crew are released from the jump seats.
This is because meals have to be heated for a minimum of 25 minutes.
And, as you can imagine, with hundreds of meals to prepare and with limited space, this can take a while. This is when the Galley operators are in charge of preparing the carts with drinks and food.
Special meals – which are requested in advance before the flight –  are given out before the rest. These can be preparations such as vegetarian, gluten free, diabetic, Hindu, etc.
So, with all that going on, it's little wonder that it can take anywhere from 1.5 to 3 hours until everyone is served.
After service
Ok, the hard work is over.
Now we can take turns to eat quickly while others attend ad hoc requests from passengers, check cleanliness of lavatories and cabin and do the hydration runs (cabin crew offering water and assorted non-alcoholic drinks).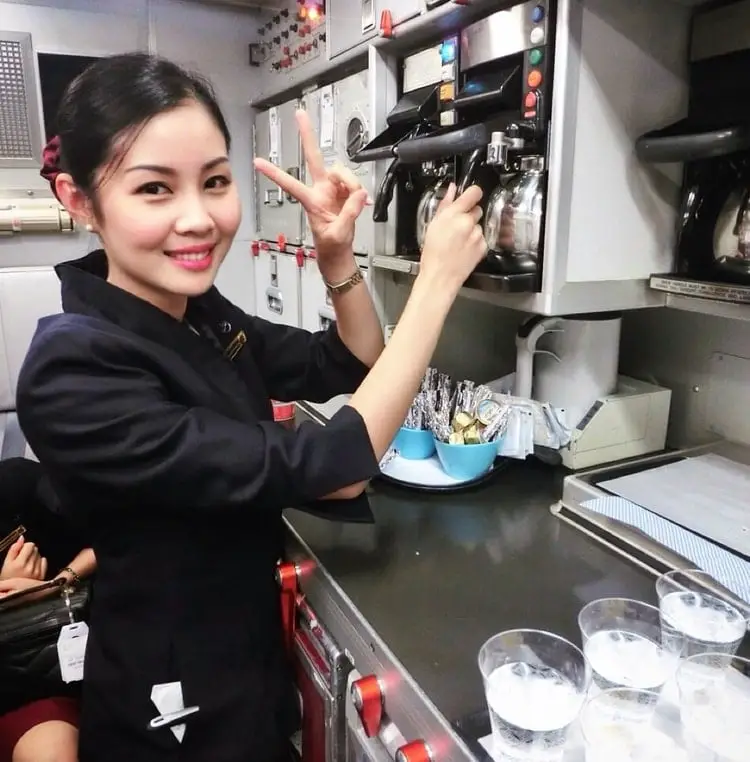 Prepare the cabin for landing
When it's almost time to land, we ensure that everything goes back in its original place, we seal containers, clear the cabin from trash and make sure bags, lavatories and passengers are secured for landing.
Landing & Disembarkation
It's time to bid passengers farewell.
Once everyone has safely disembarked, we conduct a security search to make sure that no-one has left anything suspicious on board  and we hand out any forgotten items to the ground staff.
It's hard to describe how many people forget their documents or bags. And other things that range from the interesting to the bizarre.
Airport
This is the moment of fame where eyes turn to gaze at the people who have brought them safely all this way.
The crew go to border passport control and present their ID's alongside a crew list to be cleared to pass.
Hotel check-in
Yay, you've finally got your room key!
The very first thing you do is liberate yourself from the uniform, let down your hair – literally – and wipe off your makeup.
Feet up or bed flopped onto, it's time for you to relax.
Layovers
Most of the layovers range from 24hrs to 30hrs.
The way people spend their time during this period differs. Some go out to parties, others prefer to stay in. It depends on how long you've been on the job and on your energy levels.
In my case, I go food shopping and then head back to rest.
To avoid jet lag, it's quite important to try and follow the normal sleeping patterns of the location you are now at.
This means if you reach your hotel in Sydney at 04:00 PM, for example, you should try to stay awake until night time so your body follows its circadian rhythm – your sleep/wake cycle or body clock.
Working hours
Cabin crew in Qatar know their flight schedule for the month ahead in advance.
This is because on the 23rd to 25th of each month the famous "rosters"- schedules- are published.
This schedule will let you know the dates you are flying, destinations, times your flights depart and reach and whether you have days Off or Standby (the duty where you are on call).
The amount of flights you get in 1 month varies.
On average you can work from 80 to 120 hours or sometimes more, this means about 10 flights a month.
This can be from short duties to flights of 16hrs.
Days off can range between 7 to 12, it really depends on operational needs.
Conclusion
I've always said that this job has its good and bad aspects.
It gives us the amazing opportunity to travel to countries we never imagined we would ever go to. My favorite place is Tbilisi, Georgia. It's a vibrant city packed with  history,   has  delicious food and friendly people
But the downside of all that good living combined with long hours and not a little stress is that it can affect your health. So make sure that you eat healthy and that you workout.
And even though we are always in contact with people during our working days and nights, at times we can still feel lonely and need to be near the special ones in our life.
Similar Posts: