Once you get hired at Spirit, you'll be sent off to a 4-week training to learn the ins and outs of being a flight attendant. Aside from that, you'll also find out where you'll be based.
When Spirit hires flight attendants, there may be specific bases they are looking to hire for. When I got hired, my class already knew the bases we were going to go to from the moment they offered us the job. I believe now you don't find out until the third week of training.
Getting your base can be one of the most exciting and memorable moments as a flight attendant!
Where Are Spirit Airlines Flight Attendant Bases?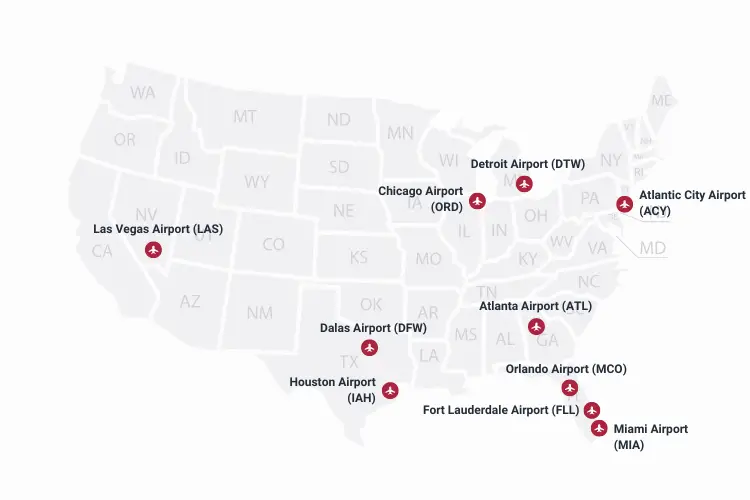 Spirit Airlines currently has flight attendant domiciles in 10 cities across the US:
Las Vegas (LAS)
Dallas (DFW)
Chicago (ORD)
Detroit (DTW)
Atlantic City (ACY)
Fort Lauderdale (FLL)
Miami (MIA)
Orlando (MCO)
Atlanta (ATL)
Houston (IAH)
Can You Pick Your Base as a Flight Attendant?
For new hires, at some point in the first couple weeks of training, you will put in your top 3 choices for a base.
It's not always guaranteed that you'll get your first choice.
So just be mentally prepared that you may have to make a move or make arrangements in order to make it to your base when you're scheduled to work.
You are able to transfer later on if you'd like, and if you are lucky enough to get your first choice, congrats! 👏
👉 What base you end up getting is dependent on where flight attendants are most needed at the time.
Spirit has been growing so much in the past couple of years that almost all bases have been in constant demand. In the summer and fall of 2022 Spirit just opened bases in Atlanta, Miami, and Houston.
So it's safe to assume that anyone who gets hired now has a high chance of being sent to those bases.
💡 Per the contract, flight attendants who are off probation can choose to transfer to any base they'd like as long as they have been in their current base for at least 4 months.
Will Spirit Airlines Give You the Base You Want?
Yes, as long as it's open. You really can be sent to any of the bases straight out of training.
Spirit assigns flight attendants to bases depending on demand.
For example, it's pretty rare for anyone to be assigned to Atlantic City right out of training. It's a smaller base (about 80 people) with not much flying. Therefore, the need for flight attendants is low.
However bigger bases like Las Vegas or Fort Lauderdale, have 60+ flights daily. That means they'll need more coverage. More coverage = more flight attendants needed.
Are All the Bases Open for New Hires?
Yes, new hires can put in a request to any base they'd like. However, just because you put in a request for it doesn't mean you'll automatically get to go there.
A flight attendant told me that when the Miami base opened up, all the trainees were told to put in their top 3 choices from any of the 10 bases, and they all ended up going to Miami.
How to Get a Transfer and How Long Can It Take?
Transfers are awarded by seniority.
New hires used to have to wait until they were off probation to transfer, but now they are allowed to transfer even if they are on probation.
It may only take a couple of months to transfer.
So every bid period, the company will post the bases with vacancies that are open for transfers. Any flight attendant desiring to transfer to a different base must submit a request electronically before the 10th of each month.
"Electronically" meaning through our work scheduling website.
Base transfer awards will be posted on the 15th of the month, and the transfer will be effective 2 months after it has been approved.
Example:
Today is August 2. You have to put in your base transfer request by August 10. You'll find out on August 15 if it's approved or not. Let's say it was approved. You start at your new base on October 1. 
Your request may not be approved right away because the base may only accept a certain number of flight attendants at that time, and if you don't make the cut, your transfer will be denied.
If your request is denied, you will have to put in a new request.
💡 If there are no vacancies at the base you want, do not worry. There is still a way! You just need to put in a mutual base transfer request. Basically, you just need to find someone who is willing to swap bases with you. So if you're based in Dallas and want to be in Chicago, you need to find someone in Chicago willing to go to Dallas.
So What Is the Best Base for a New Spirit Flight Attendant?
Naturally, there are going to be many pros and cons for each base.
I would never say one is better than the other.
It really just depends on what your preferences are.
Do you want to fly with the same people all the time? Try Atlantic City or Detroit
Do you want international layovers? Then any of the Florida bases are the ones you want.
Looking to be based somewhere affordable? Check out Las Vegas, Dallas, or Houston.
If you're looking to get a line right away, head over to one of our newer bases like Atlanta or Miami
Smaller bases like Atlantic City (ACY) and Chicago (ORD) have very little flying variety. You'll most likely be going to the same 4 cities all the time, but you'll rarely have long work days because they usually work shorter flights (usually about 2 hours or less).
If you don't want to disrupt your sleeping pattern too much, you may want to steer clear of bases like Fort Lauderdale or Las Vegas. They are notorious for doing flights going coast-to-coast complete with early mornings and/or redeyes, but they are also some of the most commutable bases because there are always plenty of flights to get there.
Conclusion
Probably the best thing about bases is that nothing is set in stone.
If you feel like a base isn't a fit, you're more than welcome to go somewhere else.
Chances are, your preferences will change throughout your flight attendant career, and you can adjust however you need to.
Personally, I'm Team Vegas, but to each their own.
Similar Posts: