A flight attendant's schedule is going to show pretty much everything they need to know about where they'll be going on all their trips.
It's going to be the best point of reference for where you need to look to find out where you need to be, but what are you even looking at?
If you're not familiar with what a flight attendant's schedule looks like, it'll look extremely complicated. However, it doesn't have to be because this article is going to help you decipher a schedule for a Spirit Airlines flight attendant.
What Information Is Included on a Schedule?
There are 3 types of lines that can make up a schedule:
Regular – preset trips for a whole month
Relief – made up of "leftover" trips (aka trips that flight attendants have been taken off of. This can be due to various reasons. Ex: vacation, recurrent, etc.)
Reserve 
A regular line is going to show a full month's schedule that will include the following:
Pairings* – Trips made up of the flights you'll be working
Layover Destinations
Days off
Credit hours – amount of hours you can expect to be paid for
Block hours – amount of hours you actually fly
*Reserve flight attendants will not have pairings shown until they are assigned to it. Instead, their schedules will just simply show what days they'll be "on-call", but I'll go more into what a reserve flight attendant's schedule will be like later on in the article.
This is what a regular line schedule can look like.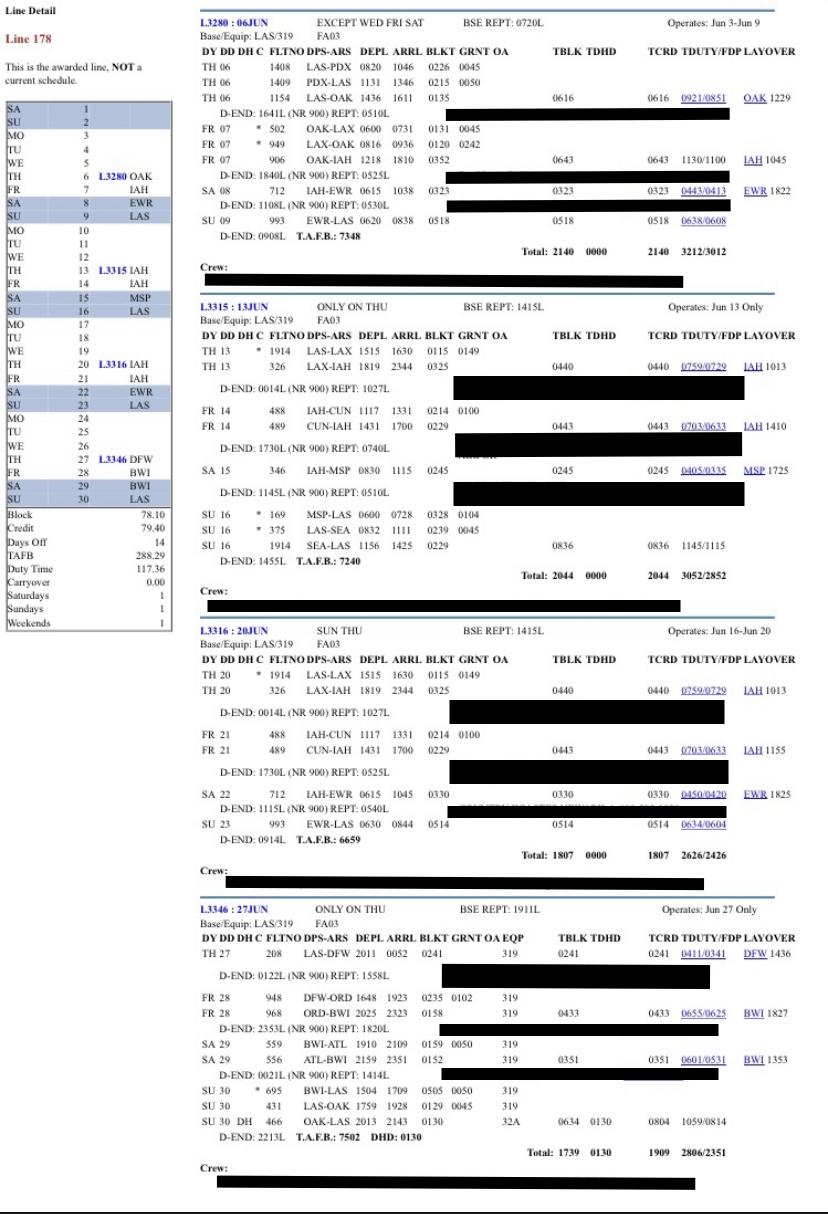 Now let's take a closer look at pairings. Pairings will show how many days your trip is going to be. It can range from 1-4 days. If it's 1 day, that's what's known as a "turn". A turn is when you leave and return the same day.
Within a pairing you will also see:
Showtimes – the time you need to report to the airport
Departure/Arrival times of your flights
Flight number
Ground time – time between flights
Duty time – time from when you start your day to finish
Time Away from Base (TAFB) – total hours of when you leave your base until you return
Layover/Hotel info
If applicable, fellow crew members
Here's an example of a 4-day pairing: 

Pairing number and start date of trip
Showtime in base aka what time you have to check-in
What your day will look like. You read it left to right.
The cities you'll be flying to
This column will show your departure times
This column will show your arrival times
This column will show how long the flight is expected to be
This is your showtime for the next day.
Where your layover will be and how long you'll stay
Hotel info
When you are back in base and off duty
Who you'll be working with
How many hours your trip is expected to be
How many hours you'll be paid for
Bonus: the asterisk(*) before the flight number determines if you have to change aircrafts
As you can see, pairings are going to give you the majority of what you need to know. If you ever wonder where you're supposed to be, just look there.
Schedule While on Reserve
The schedule for a reserve flight attendant will differ slightly than someone who is awarded a regular or relief line. They will receive all the same type of information, but the main difference is when they will receive it.
Reserves are flight attendants who are on-call. When bidding, reserve lines are going to come up as R1, R2, or R. You can bid for which reserve period you'd like. Reserves can be notified of a trip anytime during whatever reserve period they have.
There are 3 reserve periods:
R1 = A (12am-10am)
R2 = B (7am-5pm)
R = C (2pm-12am)
Here's an example of what a reserve schedule can look like.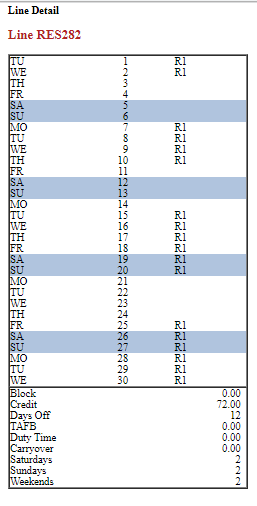 A reserve line is going to show all the days you'll be on-call as well as all your guaranteed days off (GDO), and your moveable days.
They are always a guaranteed 72 hours.
That means even if you don't actually fly 72 hours, you will get paid at least that much. If you fly over the 72, that will just be added on top of your guaranteed 72.
Per our contract, each reserve line will have at least 12 days off. They will be in blocks of 4 consecutive days. 8 of those 12 days will be your guaranteed days off (or GDOs as we like to call them). The remaining 4 days are your moveable days.
Moveable days are days that you can be used even though it's your day off. If you are used on your moveable days, scheduling must give them back to you. You can choose where you'd like to put it.
Although it's pretty rare for scheduling to call you on your day off, but it is still possible. However, unlike your regular reserve days, moveable days give you the option of answering or not. So, if you answer on your day off, you must work whatever they assign you. If you don't answer, you will not be penalized.
Once You Are a Senior Flight Attendant
Once you're able to gain enough seniority within your base, you can most likely get your first choice of a schedule.
If not your first choice, then definitely something in your top 10. Spirit is one of the lucky ones where once you get a line, you don't go back on reserve unless you want to.
However, if you forget to bid, you will be stuck with whatever is left. Some flight attendants who have held lines for years have ended back on reserve because they forgot to bid!
When Do Spirit Flight Attendants Get Their Schedule?
Everybody bids for their schedule a month before.
"Bidding" is placing your requests in order from most to least of what you'd like to receive. It will be awarded based on seniority.
The bidding period is open for 4 consecutive days. It's usually the same days every month and tends to be in the middle of the month.
Once bids close, there's no changing whatever you put in, and if you didn't submit anything, there's no chance to do so.
Flight attendants will find out what they've been awarded the same day that the bidding period closes. 
If you didn't get what you wanted, no need to worry because whatever you're awarded isn't final. There's still time to manipulate your schedule to cater to your needs.
Conclusion: What Is a Spirit Flight Attendant's Schedule Like?
A schedule is never set in stone. Your schedule can change at any moment.
Delays, cancellations, and reroutes unfortunately are just part of the job.
So it's crucial to be able to read your schedule and check it periodically to avoid any misread and consequences.
Similar Posts: