Interviews always tend to be a little nerve-wracking. I'm here to let you know that the hiring process at Spirit is pretty similar to how most interviews go.
You apply, you get interviewed, and if all goes well, you get a job offer.
There is a little more to it, and it will vary from person to person, but generally, once the process has begun, it goes quite quickly.
If you've ever wondered what it's like to get hired at Spirit specifically, you've come to the right place. I've been there myself and I'm sure this can help you.
How Long Does the Spirit Airlines Hiring Process Take?
From application to training, the Spirit Airlines Hiring Process can take about 2 months.
However, I have heard of it taking a little longer than that for some.
Unfortunately, there are no tips or tricks that I know of to make it happen faster. Patience is key!
Example:
Applied:  3/20
Online interview: 3/26
F2F interview: 4/4
Sent to training: 4/30
Spirit Airlines Flight Attendant Hiring Process Steps
There are 3 main steps to getting hired at Spirit: the application, the online interview, and the face-to-face interview.
1) Application
So first up, is going to be your application.
The application process is pretty standard.
You fill out your general information, education, work history, etc.
There are two ways you can submit this application.
You can do it online (this is highly recommended) or you can go to an "open house" and fill one out on-site.
I don't have any experience with the latter, but I believe it's a "first come, first serve" type of ordeal.
Doing your application online will save you time because you will be scheduled to come and be interviewed.
💡 TIP: Don't let the lack of experience keep you from applying. Go ahead and still apply. Spirit has hired many people from so many different work backgrounds.
I didn't even travel that much before I got hired, nor was I familiar with what the aviation industry was like, but I took the leap of faith and ended up getting the job!
Plus, if you get hired, they'll teach you all you need to know about being a flight attendant.
I go more into depth about that here: Spirit Flight Attendant Training.
Once you submit your application, it may take anywhere from a day to a week to maybe even a month for them to contact you about the next step which is the online interview.
2) Online interview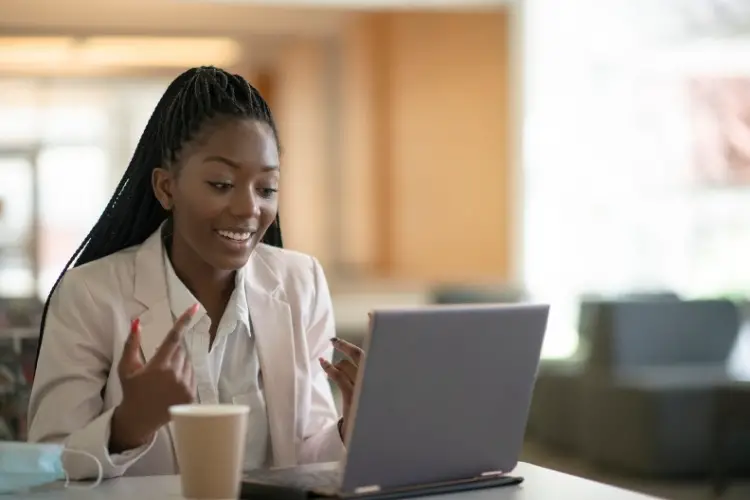 This is the part of the interview process where you'll have to answer some questions and do some assessment tests.
It will take about 30 minutes and you will be given about a week to complete it.
This is the part where you get to show a little bit more of your personality.
There's not really any "right" or "wrong" answers. This is more for the recruiters to get a feel of the type of person you are.
There's going to be a part where you will be asked questions, and you'll have to record your answer on video.
👉 Here are some tips for your video submissions that can help get you to the next round:
Be aware of your surroundings and background. Avoid doing it anywhere noisy, with TV/music playing, or with other people or pets around.
Try to do it somewhere with good lighting. They want to be able to see you!
Make sure you're in a space that looks appropriate, presentable, neat, and tidy. Don't do it in a bathroom, or a cluttered desk, or with a huge pile of laundry in the back. These little things can make a big difference.
Dress appropriately and professionally. You don't have to wear a full-on suit or dress (unless you want to), but don't wear pajamas, tank tops, hats, or sunglasses.
Piggybacking off that last point, make sure you look clean and well-groomed aka fix your hair, and shave if you need to (beards are fine, just make it look presentable).
Make sure you have a strong, stable Wi-Fi connection.
Speak clearly and genuinely. 
Last, but not least smile!
The questions can range from scenario questions like "how would you handle two customers fighting over a seat?" to "Why do you think you'd make a good flight attendant?"
You won't really have time to practice an answer.
The question will pop up, then you will be counted down and you must begin your answer.
There will also be a section where you have to rate things on a scale.
For example, they may show a picture of someone smiling super big and may ask you "on a scale of 1 (not at all) to 4 (very much), how much do you think this represents you?"
Just answer honestly.
Another portion of this interview involves some memory tests.
For example, they may show you a series of colors. Then it will go blank, and you'll have to arrange the colors in the correct order that was just previously shown to you. I believe this is to demonstrate your competency level and how well you can follow directions.
Just like when you submitted the application, it may take days or weeks until you find out if you move on to the next round.
If you are chosen to move forward, you will receive an email with an invitation to a face-to-face interview.
3) Face-to-face interview
This is the final round in the hiring process.
It's a whole day event.
It usually goes from 9 am-4 pm. Give or take an hour.
You will have to find your own way there and back if the interview takes place somewhere other than where you live.
Once you arrive, you will check in and have your documents checked. Make sure you have your passport and whatever other documents they ask you to bring. No passport = No Interview.
There is a bag test where you'll have to lift a 50-pound bag over your head.
They will also check your height. You must be at least 5 feet without shoes.
Next, you will be sent to a room where you and other hopefuls will get a quick spiel of what the day will be like and probably a quick little overview of Spirit.
Then you will be split into smaller groups of about 8-10 people and do group interviews.
I know a couple of versions of how this may go.
One version is where every person picks a question out of a fishbowl and answers it. At a recent hiring event, everyone in the group answered the same questions one at a time.
After the group interviews, you wait to be called for your face-to-face interview.
Some questions they may ask you may be the following:
Sample questions
➡️ "Why Spirit?"
There are so many ways you can answer this question.
Maybe it's because there's a certain base they have that you want to be at.
Maybe because they are constantly growing as a company.
Maybe you like their business model.
Maybe you want to be one of the many flight attendants who are trying to give Spirit a good name.
Figure out your "why" and get used to saying it.
➡️ "What would you do if a passenger complains about another passenger being overweight and invading his space?" 
I would tell the passenger complaining that I'll see what I can do and let him know that if we have any other seats available, I'd be more than happy to move him (the complaining passenger).
➡️ "What would I do if I encountered a customer who did not speak English?"
I would smile at them and say hello. Even if we don't speak the same language, a smile is universal.
➡️ "What does customer service mean to you?"
Customer service is doing the best I can to fulfill a guest's need.
It's being empathetic, understanding, and compassionate.
It's letting the guest know that even if I can't deliver what they want, I'm at least willing to lend a hand, ear, shoulder, or solution.
➡️ "What makes a good flight attendant?"
A good flight attendant is one who abides by all the rules and regulations.
A great flight attendant is one who does that and more.
It's someone who understands that traveling is one of the greatest luxuries that can simultaneously be one of the biggest stresses.
It's our job to make sure our guests get to wherever they need to safely and comfortably.
4) Conditional Job Offer
You will receive a CJO on the same day as your face-to-face interview.
If you accept, you immediately get sent to another room to complete paperwork, fingerprints, and do a drug test.
How to Ace the Spirit Flight Attendant Interview?
Be mindful of your body language. Don't slouch. Don't be stiff. Be natural and approachable. Don't act like there's somewhere else you'd rather be.
Don't be on your phone. This is not the time to Facetime or scroll through Instagram or Tiktok. You are being watched from the moment you arrive.
Be careful of how you speak to others and what you speak about.
Take advantage of the downtime. There will most likely be current Spirit flight attendants working the event. Ask them questions about the job, lifestyle, etc.
Make a friend! It always helps knowing someone else going through the same process. Bonus tip: get their information! It will come in handy when it's time for training.
Breathe. Relax. Have fun and be yourself!
Wrap Up
Applying to be a Spirit flight attendant can be scary, but hopefully, this helped break down what the process is like and gives you the little nudge you need to take the leap of faith. Best of luck!
Similar Posts: