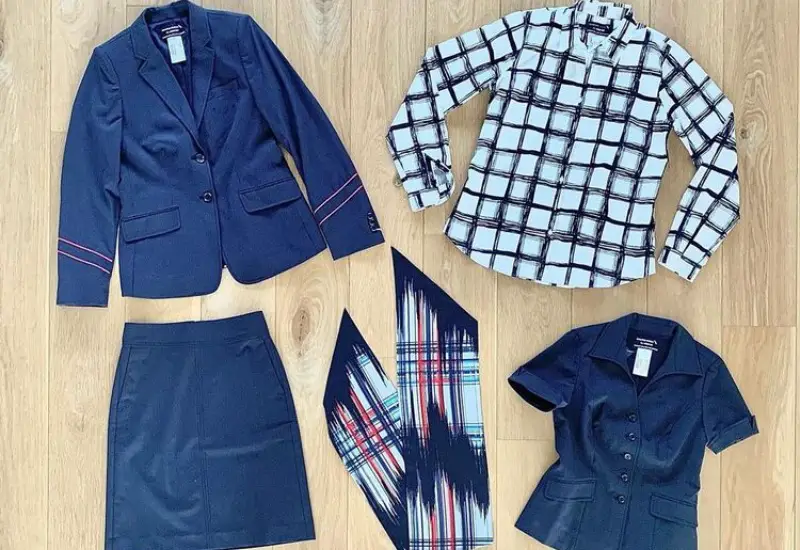 When I was going through the process of applying for airline jobs, I ended up in a position where I had an offer from both Delta and American Airlines, and I must admit a part of me chose American Airlines because I liked their uniforms better (something about my red hair clashing with Delta's striking purple dress…)
The best thing about the current AA uniform is the fact that actual working flight attendants partnered with Lands' End to make sure that the uniform would hold up to the demands of the job and be comfortable for all employees.
You do have to pay for your uniform at AA, though but I think it's worth it.
After all, you are going to practically live in it once you start flying and you won't need to buy any other clothing for work.
American Airlines Flight Attendant Uniform: What is it Like?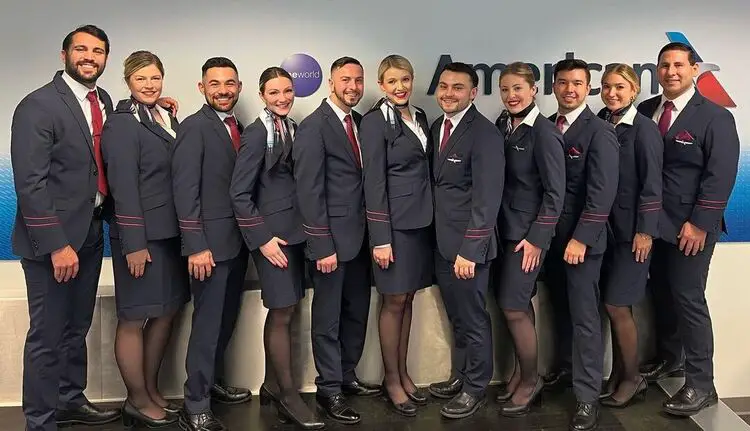 The current AA flight attendant uniform is based off the uniforms designed by Cole Haan that were rolled out right after the merger with US Airways, but with new updates, including a few signature pieces designed to differentiate flight attendants from other flight service work groups.
The uniform color is a dark, navy blue called "Aviation Blue".
There are two fabric choices for most pieces, allowing all flight attendants to choose between a wool or a synthetic fabric.
And all fabrics were certified with a top safety rating, STANDARD 100 certified by OEKO-TEX.
As a part of their uniform everyone will receive the following pieces:
2 Silver Wings (there is also the option to sport gold wings if you have insanely high seniority)
1 Service Apron
2 Name tags
1 Lanyard for required ID badges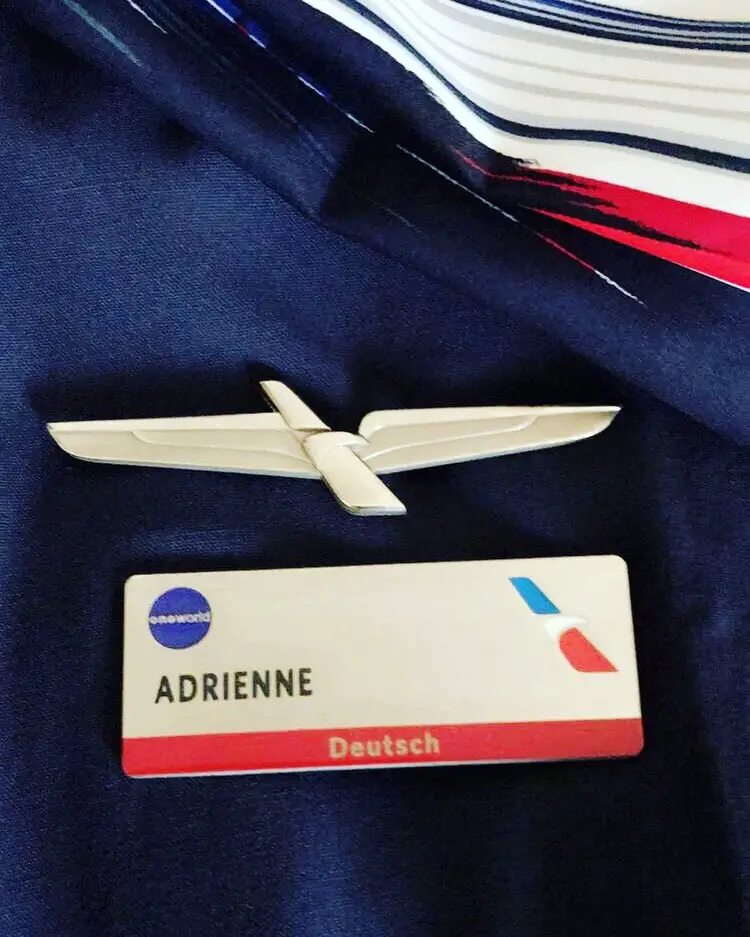 Women's Collection
The women's collection includes the following pieces:
1 Blazer
2 Sweaters
1 Vest
1 Short-sleeve jacket
4 Blouses (either white or signature Print)
2 Skirts (either A-line or pencil)
2 Pants (either classic or skinny)
2 Dresses (either short-sleeve or long-sleeve)
2 Scarfs
1 Belt
1 Winter Coat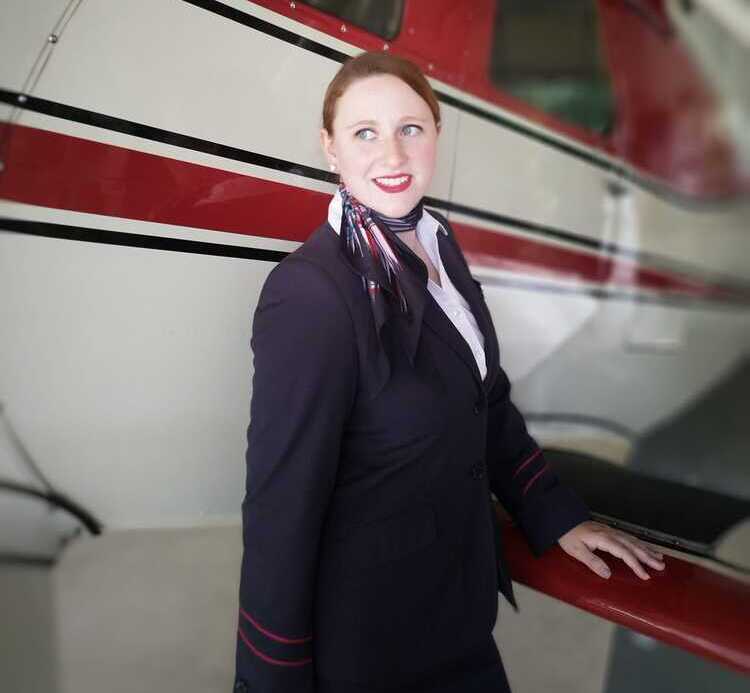 Each of these items can be combined to make an outfit, with certain rules for combinations.
For example, when wearing the blouse, you have to always wear an "approved outer layer" (the blazer, vest, or sweater) while in the terminal. The short-sleeve jacket, and the dress do not have to be worn with an outer layer, but they can be.
There are regulations for how these pieces can be tailored.
For example, the skirts cannot be hemmed more than 1 inch above the crease of your knee and should also not be any longer than 1 inch below the crease of your knee.
Only certain alterations are allowed, and only necessary ones will be reimbursed. 
AA does offer a special collection for maternity and for modesty.
The modesty collection is available to women with religious restrictions and includes longer skirts, and company-approved head coverings.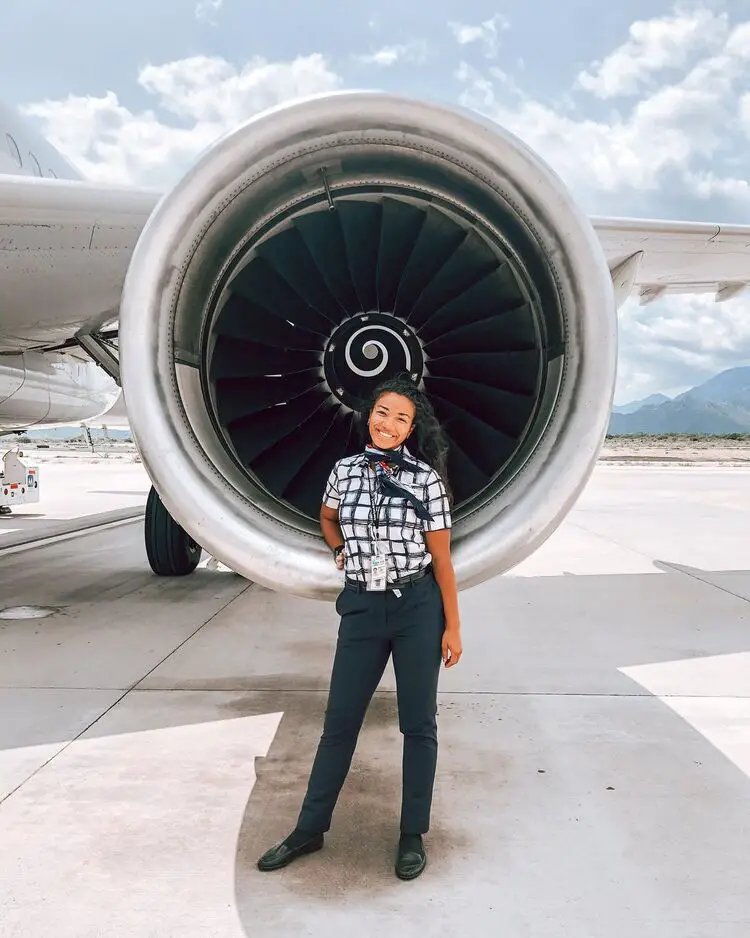 Men's Collection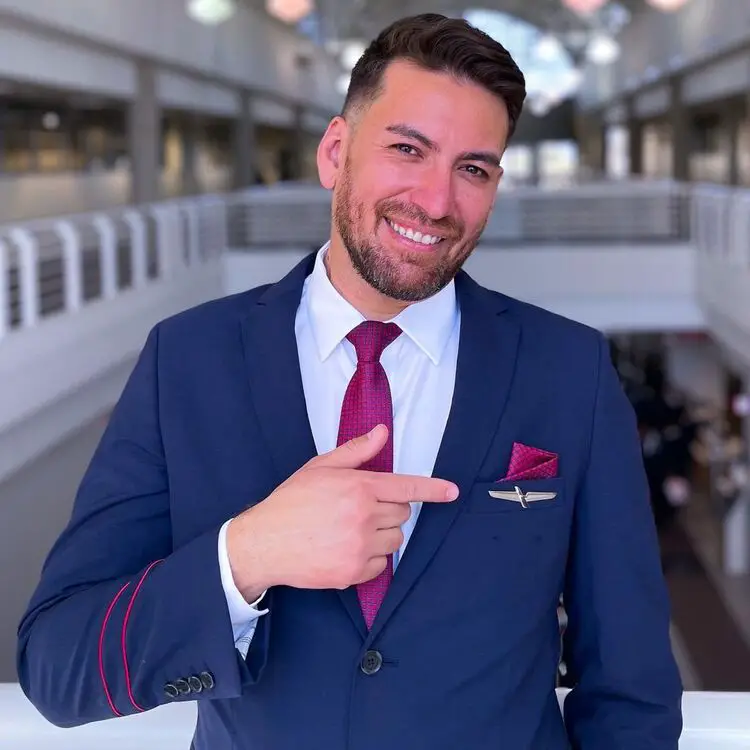 The men's collection includes the following pieces:
1 Blazer
2 Sweaters
1 Vest
4 Shirts (either white or signature print)
4 Pants
2 Ties
1 Pocket Square
1 Belt
1 Winter Coat
As with the women's collection the men must wear either the vest, sweater, or blazer while in the terminal.
Men must also always wear the belt and the tie, but the pocket square is optional.
Admittedly there are fewer uniform "looks" available to men since all of the combinations kind of end up the same.
Tailoring requirements apply mostly to the men's pants, as they must be tailored to rest exactly at the ankle bone.
Men who require head covers for religious reasons are permitted to wear solid-black head coverings.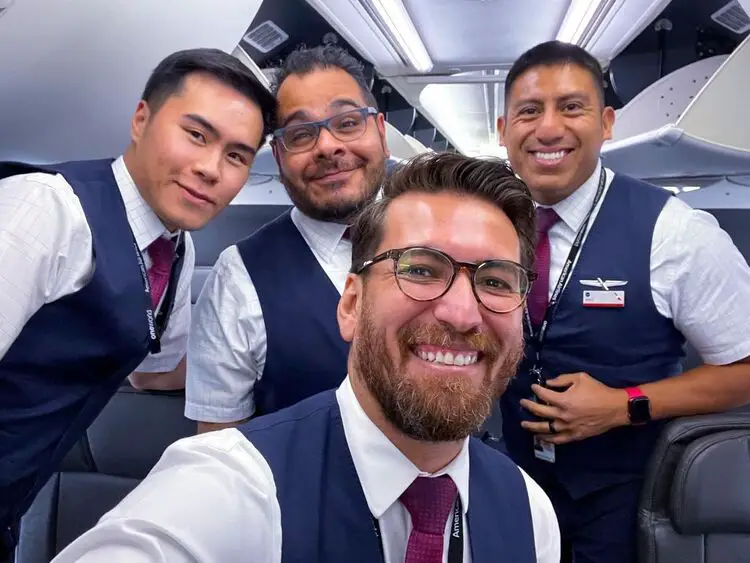 Does AA Provide Uniforms for Flight Attendants?
American Airlines does provide the uniforms, and when you need new pieces, you have to order them through AA's special Lands' End website.
However, there are a few items that are required but not provided, they include:
Women's hosiery & socks
Men's Socks
Wristwatch
Shoes (more on that below)
Pro tip: While the company does not provide socks or hosiery the insurance provided by the company does cover the purchase of compression socks, and compression pantyhose. You can order them in black or nude and the insurance covers two sets per year.
When do you Receive your Uniform?
On your first day of training, you will be fit for your uniform.
It's honestly a super exciting experience.
They take you to this boutique in the training center and have you try different pieces and give you expert advice about which sizes and cuts best suit your figure.
Then they take you to order the uniforms, and you pick out the prints, fabric types, and cuts for your uniform while they make sure you order enough pieces.
Do You Have to Pay for Your AA Flight Attendant Uniform?
You do have to pay for your uniforms at American Airlines, but only the first one.
The initial uniform currently costs around $800. (Consider yourself lucky I was hired while we were wearing the grey Cole Haan uniform that cost $1,200).
The cost of the uniform is deducted from your paycheck in $50 intervals until you have paid it off.
Once you have ordered your first uniform, however, all new uniforms and all replacement pieces are paid for by the company.
Each year you will receive an annual allowance of $500 to order replacement pieces.
Do You Get Shoes as Part of Your Uniform?
As mentioned above, shoes are not provided as part of your AA flight attendant uniform.
You must purchase these on your own. 
👉 Here's our flight attendant shoes buying guide
For women, you will need to purchase the following shoes:
Terminal shoes
Inflight shoes
Terminal shoes must be black and cannot have any decoration.
They must be made out of black leather, patent leather, or vegan leather.
The sole and heel must also be completely black (so no Christian Louboutins…)
Acceptable shoe styles include:
Pumps
Loafers
Clogs
Oxfords
Single-strap Mary Janes
Dress half-boots are only allowed when wearing the pants, and plan black knee-high boots may be worn during inclement weather.
Inflight shoes must be all-black, including the sole, but can be other, more-comfortable styles like a ballet flat and do not need to be leather.
The following styles are not permitted for inflight:
Sneakers/ Athletic Shoes
Crocs
If you can find non-slip shoes, even better!
Do You Get Luggage as Part of Your Uniform?
American does provide you with a carry-on and a crew bag as part of your uniform.
The cost of the luggage is included in your initial uniform fee, and you get free replacements every three years, and free wheel repairs as needed.
When I was hired, we received the signature red Cole Haan bag as a gift.
I'm not sure they are doing this anymore though, so don't come for me if you don't get one.
AA Flight Attendant Uniform and Grooming Guidelines
The grooming standards at American Airlines have become more modern in recent years.
For example, women are no longer required to wear make-up or have their nails manicured. 
These are the general guidelines for appearance and grooming at AA:
Uniforms should be clean and free of wrinkles or creases.
Jewelry must be gold or silver and must be worn sparingly.
Earrings must match and only one per ear is permitted. Men are allowed to wear a single stud.
Eyeglasses must compliment the uniform and appear professional.
Tattoos must not be visible while in uniform.
Hair must be a natural color.
Hair longer than shoulder length must be secured up at all times.
If painted all fingernails must match and must be a professional shade.
Personally, I think these requirements are reasonable, and they have changed even in the short time I worked for American to become more inclusive or people with diverse gender identities, and appearance preferences.
Conclusion
This uniform means a lot to many AA stews because the previous uniform was deemed unhealthy for many people, it was made of wool, despite the fact that many people have wool allergies, it had been sprayed with a toxic flame retardant that messed with people's hormones and caused rashes. It was such a mess that the union actually sued the company for making us wear it.
I think overall we are really happy with the uniform, and I'll be honest there are days I wish I could wear it to grad school because it made choosing what to wear everyday really easy.
Similar Posts: