I know many of you are curious about Emirates and how much their cabin crew make.
You've heard many positive things about the airline and you want to know if the cabin crew salaries and benefits are as good as people make out.
Emirates Flight Attendant Salary Breakdown
Flight Attendants at Emirates Airways earn an average salary of between $36,400 and $57,800 per year. This salary is tax-free and includes base salary, flight hours, and layover payments. Emirates also provides free accommodation to all the crew, housing bills included.
The salary of an Emirate flight attendant can be a bit complicated to calculate, so we will review each factor that makes the salary vary.
The Grade
Firstly we'll look at the Emirates career path and then we'll match the various job titles with payments.
But this is probably what you have heard the most often about the pay you get from Emirates: it's all tax-free!
This means that staff can save a lot of money if they are prepared to put the hours in.
You normally get a 3-year contract that can be extended after it expires.
Your salary consists of a basic salary plus the hourly pay per flight.
And, as is normal, you'll earn a different base salary and per-flight pay, depending on your category.
Let's chart the Emirates career path and explain it.
Obviously, the needs of the airline and changing circumstances mean that this is only a general guide, but it usually goes something like followed.
(Note: AED is the local currency that stands for United Arab Emirates dirham).
Cabin crew grade II (Economy class)
You start as a Cabin crew grade II (Economy), regardless of what you were doing before.
➡️ Base Salary:  AED 4,260 ($1,160)
This is a fixed amount that you will get every month, it changes when you progress to the next grade.
To this, you have to add the hourly pay per flight.
➡️ Per flight hour: AED 61.25 ($16.68)
Cabin crew grade I (Business class)
After a minimum of 1.5 to 3 years, you will be upgraded to Cabin crew grade I (Business).
➡️ Base Salary: AED 4,360 ($1,185)
➡️ Per flying hour: AED 67 ($18)
Cabin crew grade I (First class)
After another 1.5 to 3 years, you can get promoted to Cabin crew grade I (First class).
➡️ Base Salary: AED 4,360 ($1,185)
➡️ Per flight hour: AED 72.5 ($20)
Cabin crew Senior Supervisor (CSV)
The next step is Cabin crew senior Supervisor (CSV), where you will be in charge of either the Economy crew/cabin or Business crew/cabin. There are usually two per flight.
For this position, you'll need to take leadership training at the aviation college.
➡️ Base Salary: AED 4,825 ($1,310)
➡️ Per flight hour: AED 84 ($22)
Purser (Cabin Manager)
Pursers (cabin managers) are the ones in charge of the entire passenger cabin and they are the ones who maintain communication with the pilots.
➡️ Base Salary: AED 5,515 ($1,500)
➡️ Per flight hour: AED 90 ($24)
Each year your base salary increases by 200-300 AED ($55-80).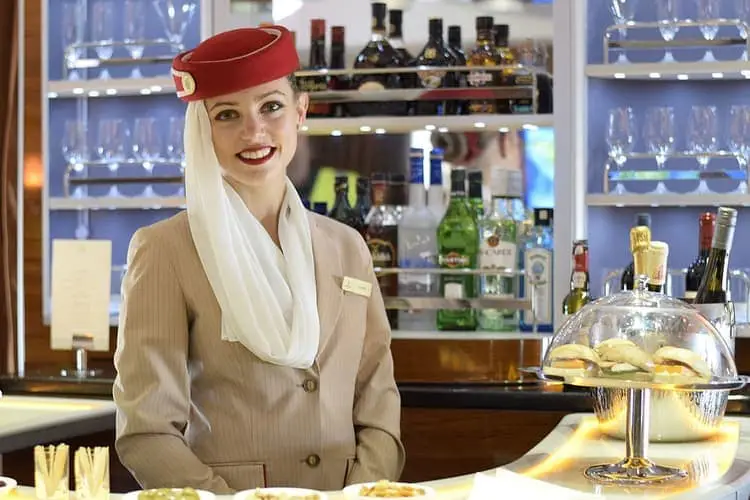 Trip Allowances
You also have trip allowances for your food at each destination, plus the hotel and transport included.
Meal allowances are provided in the currency of the destination country and it changes depending on the destination.
The higher the cost of living in that particular location, the higher it will be the layover allowance.
Examples:
Meal allowance for 24 hours in Paris is $96
Meal allowance for 24 hours in Johannesburg is $36
Meal allowance for 24 hours in New York is $130
Meal allowance for 24 hours in Amsterdam is $83
As said above, you will receive these allowances in the national currencies.
The Deductions
You'll have only  AED 334 ($90) deduction each month during the first 3 years of your contract for any expenses incurred if you leave before 3 years.
But you'll get that money back once you finish your contract with them.
Also, you'll also get approximately AED 340 ($82) deducted per month for medical insurance for the first 12 months.
You will receive this money back once you have completed the first 3-year contract.
Examples of Salaries at Emirates
So, putting this all together, you could be earning roughly AED 9,465 per month ($2,577) as cabin crew grade II and AED 9,972 per month ($2,715)  as cabin crew grade I.
This is based on if you fly 85 hours without adding your layover allowances, which could amount to $460 depending on how many layovers you have.
On average you'll fly 80 to 100 hours a month, but that can be 115 one month or 60 the next one.
So there is plenty of work available with this company, work that is moderated by you getting a minimum of 9 days off a month and 30 days annual leave per year.
Emirates Flight Attendant Benefits
Joining Emirates is the dream of many, especially for their benefits. Let's review what they are.
Working Conditions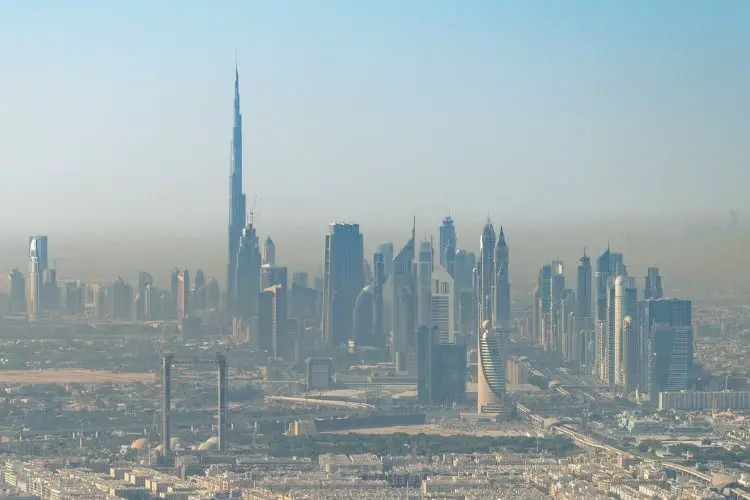 As you probably know, your operating base would be in Dubai, which can be a no-go for many candidates.
So the first thing you should think about if you are interested in joining Emirates is if you want to relocate there.
Apart from this, working for the famous Emirates Airlines is a dream for many reasons.
Benefits
Free accommodation in a shared apartment with other flight attendants, usually two or three people
Transport to work and from work included
Opportunity to travel the world
Tax-free salary
Free training
Travel allowances
Housing bills include- water, electricity, TV, internet
Even dry cleaning for your uniform is included in designated outlets in Dubai
30 days leave per year. And one free annual leave ticket to your origin country. (This ticket can be changed to other destinations after 3 years of service)
It sounds amazing, right?
But let's not get too excited. There are also disadvantages to working for Emirates.
Disadvantages
The most difficult part is that you'll be far away from home and your family and friends. And I mean, far away.
You'll need to adapt to the country and to be prepared to work in a multicultural environment and learn about cultural differences. And this is not only dealing with passengers from different nationalities, but it's also between your colleagues. As there can be 15 nationality cabin crews on the same flight. This is not always easy.
You'll work hard. Some flights are long and arduous.  You can get a 7-hour flight to LHR (London Heathrow) with two services and work the whole trip like a dog. Or you can have a 5-hour flight to Nairobi and back with only a 1 or 2-hour turnaround, which is essentially  12 hours nonstop. You can have a 24 hours layover after 14 hours flight, but that will actually be only 19 hours after clearing immigration and traveling and all the other bits and pieces that you need to do after landing. That just isn't long enough to completely recover after such a long haul.
There are no unions to protect you or to fight for your rights.
They don't offer pension schemes, just an "end of service gratuity", which means that you could work your entire life in Emirates and you won't have any pension in the UAE or your home country. This is something to seriously consider.
There is no privacy. Every visitor must log in their name, time in and time out of the apartment for security reasons. All visitors are allowed to stay until 1:00 am If you'd like to have a guest visiting you in Dubai and sleeping in, you will also have to fill in forms to request Emirates authorization.
And, something that is not usual with western airlines, you are not allowed to bring a man to your apartment if you are not married to him. But you can always say it's your cousin visiting, so no worries there. We've all got cousins who come to visit us, haven't we? Two family members can stay at the same time, twice a year, for a maximum of 30 days.
Some of the apartments are located in the middle of nowhere, or actually in the desert, so if you don't have a car, it really is a downer. They are mostly very nice, high-quality apartments, but some of them are older and do need refurbishment. But you can always ask to change apartments after your 6 months probationary period if you're not happy.
It can feel like you never leave your work environment. This too is something to be aware of.
Note: You can also choose to live out and receive an accommodation allowance of $13,612 per year to cover your flat, apartment expenses, transportation, and bills.
Wrap Up
So, after talking to friends that have been working for Emirates for 5 years and more, I can tell you that Emirates is a great choice if you are dreaming of traveling the world and getting paid for it.
But you do need to be open-minded and ready for the changes in location and culture.
Similar Posts: