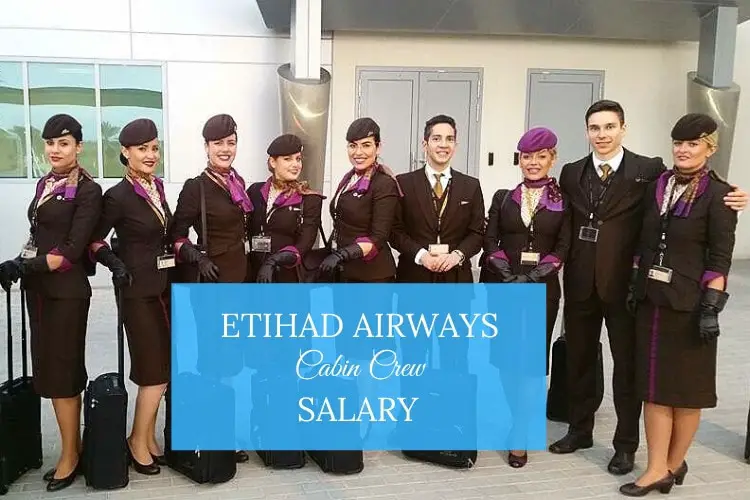 Being a cabin crew for Etihad, the Abu Dhabi based airline is an exciting job.
Not only do we get to travel the world to exotic destinations such as the Seychelles and Maldives,  but besides that, we get a  fully furnished apartment on a shared basis, and hundreds of discounts on such things as hotels, restaurants and retail shops. And the crowning glory is that we get a tax free salary.
But how much does a cabin crew earn and how is it calculated?
Plenty of parameters affect an Etihad Airways cabin crew salary, but in the beginning, flight attendants start out at 8,000 AED – 10,000 AED ($2,100 – $2,700) a month. This money is tax-free and as the flight attendant becomes more experienced, that rate goes up quite considerably.
Salary break down
A cabin crew salary is never a fixed amount. Their income depends on factors such as the number of flights, how long these are and whether they are turnarounds or layovers.
The Etihad cabin crew salary consists of:  Basic pay + Flying hours + Layover Allowance

Depending on the rank,  there is a differential pay rate. When people join for the first time, they will receive 2,500 AED ($680 USD) during the AB-Initio training which lasts 6 weeks. After that, the basic salary will increase to 3,640 AED ($990 USD).
Salaries are tax-free and paid in Dirhams AED (UAE'S local currency) on the 26th of each month via bank transfer.
Basic Salary
Basic salaries change depending on the grade.
An Economy Crew (FA) earns 3,640 AED ($991 USD)
An Business Class Crew (FJ) gets 4,635 AED ($1,262 USD)
A Cabin Senior (CS) gets 5,630 AED ($1,532 USD)
A Cabin Manager (CM) earns around 6,625 AED ($1,803 USD)
Promotions from one grade to another are based on the availability of positions and individual performance.
On average, it takes about 2 to 3 years to move from Economy to Business class crew and from there up the ladder to Cabin Manager.
Also depending on seniority, you are eligible to get a single accommodation. That means an entire apartment to yourself!
Duty / Flight hours
This is the time you are actually on duty.
It starts from the moment you check-in for a flight at the CBC (Crew Briefing Center) until your aircraft has parked (chocks on).
| Grade | Hourly pay rate |
| --- | --- |
| Economy Crew (FA) | 44 AED |
| Business Class Crew (FJ) | 48 AED |
| Cabin Senior (CS) | 52 AED |
| Cabin Manager (CM) | 55 AED |
Example:
Let's say you are operating a 14hr flight from Abu Dhabi to New York.
Your briefing starts at 07:45am, you reach the Crew Briefing Center at 7:25 and you go straight to a computer to check-in by swiping your ID card. That is the moment that you actually start getting paid.
Now from check-in to briefing can be about 1hr + flight time 14 hours= 15 hours at 44 AED per hour = 660 AED ($180 USD). 
You can calculate your income by adding the total duty hours of a flight or monthly roster plus the rate you get paid.
If in July you flew 90 hours at 44 AED: 
90 hours x 44 AED = 3.960 AED ($1,078 USD)

An average cabin crew roster at Etihad consists of 70 to 95 duty hours.
Obviously, those duty hours increase or decrease depending on how you are rostered for flights and if you have the famous 14hrs duties of Ultra long haul flights. These flights may be tedious, but if you do 2 a month, your salary should increase dramatically!
Layover Allowance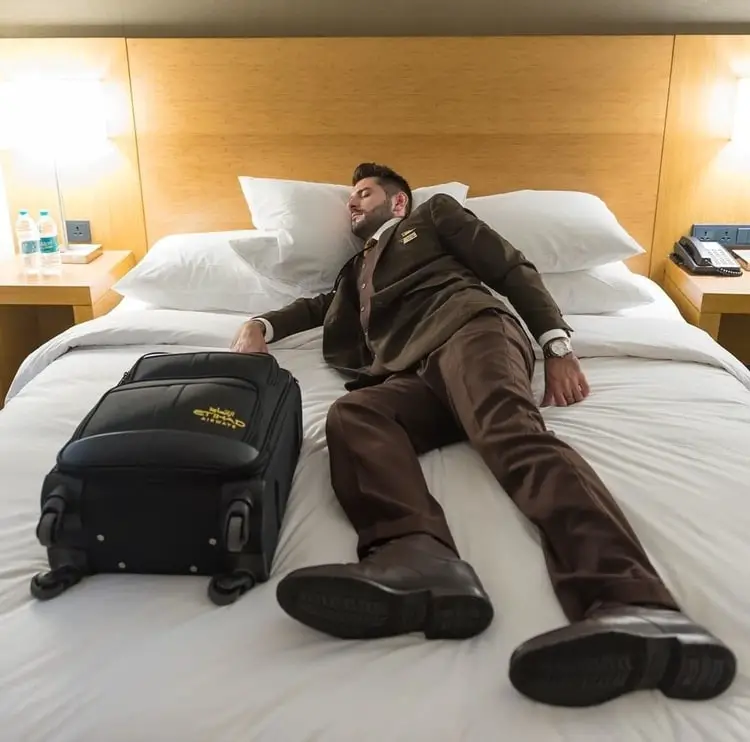 This is the money that you get at the end of the month for your meal allowances while you are on a layover.
When outside of UAE, you will pay for the meals with your own money, but the company will reimburse you on payday.
The airline segregates these allowances by region.
If you travel to:
the Middle East, Gulf Countries and Indian Subcontinent you'll get 240 AED/day ($65.34 USD)
Asia & Far East is 288 AED/day ($78.41 USD)
Australia & Africa is  336 AED/day ($91.48 USD)
Europe & America is 384 AED/day ($104.55 USD)
Example: Whether you go to Sydney or Casablanca you will be paid 336 AED per day which covers your costs for  Breakfast, Lunch & Dinner. While a layover in Madrid or Chicago will get you 384 AED per day.
Most of the layover durations are around 26 hours, with the exception of some flights that are 50 to 72hrs.
Keep in mind that when you do turnaround flights you don't receive layover allowance because you will return to Abu Dhabi on the same day.
Example of a monthly salary in Etihad Airways
Having described in detail what is duty pay, layover allowance and basic salary, let's put together an example of how a monthly salary in Dirhams (United Arab Emirates currency), might look like for a FA (Economy crew) who flew 90 hours and had 5 layovers (1 in each continent).
Don't worry, it's not as complicated as it looks.
Basic Salary: 3,640 AED
+ 90 hours each at 44 AED: 3,960 AED
+ Layover allowance: 1,648 AED
=  TOTAL MONTHLY SALARY: 9,248 AED  ($2,500 USD)
On average, an FA can get between 8,000 to 10,000 AED ($2,100 to $2,700 USD).
Monthly salary example (flying 90 hours with 5 layovers – 1 in each continent)
Grade
Basic Salary
Flight hours
(90 hours)
Layover Allowance
(5 layovers)
Total
Economy Crew (FA)
3,640 AED
3,960 AED
1,648 AED
9,248 AED
($2,517 USD)
Business class (FJ)
4,635 AED
4,320 AED
1,648 AED
10,603 AED
($2,886 USD)
Cabin Senior (CS)
5,635 AED
4,680 AED
1,648 AED
11,963 AED
($3,256 USD)
Cabin Manager (CM)
6,625 AED
4,950 AED
1,648 AED
13,223 AED
($3,600 USD)
Compared to other airlines, Middle Eastern ones are considered to be amongst the world's highest paying companies.
Benefits
Besides the fact that you get a somewhat higher salary, you will have access to other benefits which include:
Own bedroom in a fully furnished accommodation on a shared basis. There are 2 bedroom and 3 bedroom apartments in mixed-gender buildings.
Compounds include pools and 24 hours gyms.
Utilities such as electricity and water are paid by the company. You only need to pay for internet & cable tv, which is usually divided up between the flatmates.
There is a housing allowance for married crew to live outside company accommodation if they want to. If there's single accommodation available, they will be given priority to opt for one.
24hr transportation via shuttle buses to and from work.
Electronic iSave Card which is Etihad's discount program with affiliated restaurants, hotels, retail and other services around Abu Dhabi and UAE.
Confirmed economy class annual leave ticket to your home destination.
Unlimited tickets for you, your parents, spouse and children on Etihad Network.
First-class and Business class tickets for you, your spouse, children and parents on EY network.
Supplementary tickets for 10 friends on Etihad Network.
Free Laundry for your uniform.
30 days leave per year.
Worldwide insurance coverage while on duty.
Medical insurance in the UAE and home country, which includes 50% of dental work.
It's important to note that out of the 3 Big Airlines in the Middle East- Emirates, Qatar and Etihad, Etihad is the only one that lets it's cabin crew and immediate family to fly in Business class –  subject to seating availability.
This means that you only pay a small fee (which is usually any airport taxes) and you can travel in style.
Working for Etihad Airways is considered to be a great opportunity. The crew community consists of around 118 nationalities and they all work towards their own established goals, such as traveling the world, building a house, buying properties etc.
Final thoughts
One important piece of advice that I really think you should take on board if you are considering this career,  is to put some of your salary  aside.
As easy as it seems to be able to earn a substantial amount, it's also quite easy to spend it all,  especially when you don't have to pay for housing and utilities.
You won't stay in the job forever and it's wise to think carefully about the future ahead.
So make a plan, have a goal and work towards it!
Similar Posts: