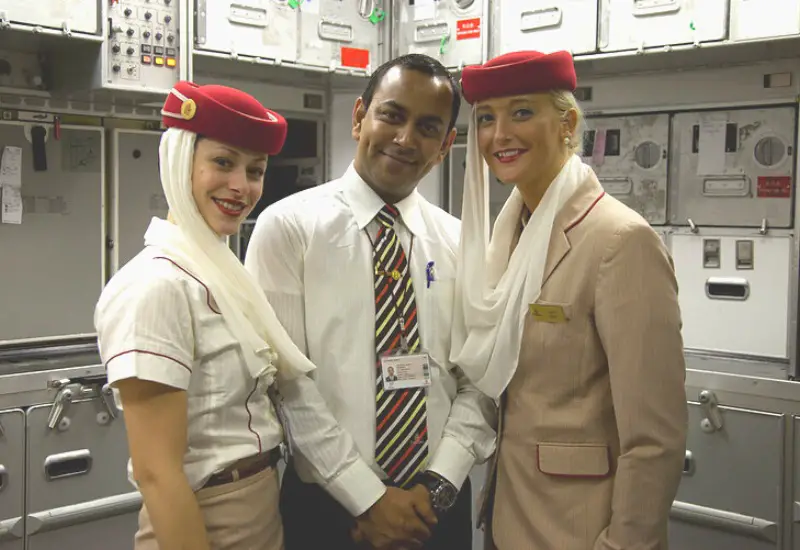 Emirates has always been one of the most popular choices amongst those wanting to become cabin crew. But there are so many questions regarding their requirements:
Can you be an Emirates cabin crew if you are shorter than 160 cm?
Is it ok if you have tattoos?
Can you wear glasses?
In this article I'll try to answer all these questions and make it easier for you to know if you have what it takes to be a part of this airline.
Read on and find out!
Emirates Basic Requirements for Cabin Crew
As with any other airline, Emirates has basic requirements for becoming a flight attendant for them.
It really isn't just a case of looking pretty while serving meals.
Below, a copy-paste of their requirements as posted on their career page.
To be considered for Emirates cabin crew you'll need to be:

Fluent in written and spoken English (additional languages are an advantage)
A natural team player with a personality that shines
At least 160cm tall and able to reach 212cm high
Able to meet the UAE's employment visa requirements

And have:

At least 1 year of hospitality or customer service experience
A minimum of high school (Grade 12) education
No visible tattoos while in Emirates cabin crew uniform
So let me explain them to you one by one.
Fluent in written and spoken English (additional languages are an advantage)
English is aviation's official international language.
EMIRATES flies to over 160 destinations, so cabin crew must be able to speak and write in that English.
If you are not an expert, look for simple ways to improve your English skills.
You can read books, enroll in a course, practice conversation with friends and family, or even watch English language TV, so it's not a steep learning curve if you do it right and practice lots.
A natural team player with a personality that shines
Working in a team is a big part of becoming a flight attendant for Emirates.
You will never be expected to work on your own without the help of other flight attendants when onboard the aircraft.
It's only expected that you can live up to the role as an excellent team player with exceptional communication skills and a pleasant personality.
At least 160cm tall and able to reach 212cm high
This is a common requirement within The Big 3 Gulf Carriers.
Emirates wants to make sure that their cabin crew are able to reach the safety equipment located in overhead bins (upper compartments where people place their luggage in the ceiling of an aircraft).
That's why a standard height of 160cm tall is imposed.
Be aware that you'll be measured without shoes, so there's no chance of a sneaky height addition by wearing outrageous heels.
The reach test consists of reaching a mark on a wall placed at  212cm high.
Both males & females must stand with straight arms and stretch toward the mark.
Everyone is allowed to stand on their tiptoes but ladies must remove their heels.
Why is height important? Again, because cabin crew must be able to reach and close the overhead bins inside the aircraft, as well as being able to access the safety equipment located in those compartments.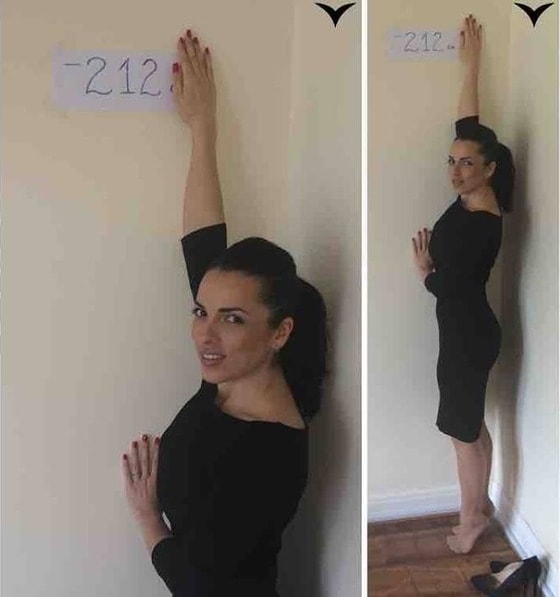 Able to meet the UAE's employment visa requirements
Emirates will organize your employment visa when you land the job as flight attendant for Emirates.
It's important for them, however, that you can meet the requirements for the visa, so that there are no headaches or mishaps along the way.
This will ensure that everything runs smoothly and that you are on track to starting work with them as soon as you finish the ground school.
At least 1 year of hospitality or customer service experience
Previous customer service experience is not necessary to land a job in Emirates but it sure can help you to stand out.
Especially if you've been working in hospitality, tourism, airport operations or as a cabin crew with another airline.
A minimum of high school (Grade 12) education
To apply for the job of flight attendant for Emirates, you must have already completed high school (grade 12) and graduated.
You don't need a University degree, but completing high school is mandatory.
This means that you can attend an open day if you are at least 18 years old with a high school certificate.
There is no minimum or maximum age to apply for a position, but it's well known that in Middle Eastern airlines, if you are more than  30 years old, then the chances of getting hired are slim.
No visible tattoos while in Emirates cabin crew uniform
This is a controversial topic for some, but that has a lot to do with cultural acceptance.
Tattoos that are visible whilst wearing the uniform are not allowed.
This means no ink on arms, forearms, face, and neck.
For females, tattooed legs and feet are not allowed because they normally wear a skirt.
You are allowed to wear pants only in particular cases and with previous authorization.
On the other hand, males can have a tattoo in their lower body because they are provided with pants, which is infinitely preferable to them wearing skirts.
Check out our article to find out more about what tattoos are allowed or not.
Other Unwritten Desirable Requirements
Can adapt to new people, new places and new situations
Being a flight attendant implies having the ability to communicate and interact with people from different countries and understanding their beliefs and behaviors.
It also means that you will often have to fly to different countries and experience changing environments and situations.
So all this means that you must be able to adapt to changes quickly and always have an open mind.
Physically fit for this demanding role with a healthy Body Mass Index (BMI)
Not having a specific lifestyle routine can take a toll on your health.
Cabin crew fly at all hours of the day and night, meaning that their sleeping patterns and eating habits change frequently.
In order to stay healthy, you must follow a nutritious diet complemented by exercise.
This is key to maintaining a healthy body & mind.
BMI is a way of measuring whether you are a healthy weight for your height, so if you want to know whether you are within the healthy weight range, use this calculator.
While Emirates doesn't state a weight requirement, they are looking for flight attendants who are fit, have a healthy BMI, and therefore can perform their duties safely without injury or complications.
Positive attitude
Let's be honest, a flight attendant's job is a tough one as glamorous as the job can sound, it is definitely sometimes complicated.
There are some days when you really don't think that you will make it through.
Dealing with emergencies, unruly passengers, demanding people, or a difficult co-worker, whatever the day throws at you, you must keep a positive outlook.
Remember that you set the tone on your flight, so if you approach people with open, friendly energy, this will be reciprocated.
Positivity is the key!
Ability to provide excellent service in a team environment
We are trained to deliver excellent customer service and we have to make sure that the whole team is on the same page about this.
Try to be as cooperative, helpful, and friendly to your colleagues as you can,  because at the end of the day, a good team is what makes each flight a successful journey.
Listen to your supervisors, be open to feedback, and always remember that you chose the job.  
Culturally aware
Imagine someone who is flying for the first time, they have no idea about how to behave or what to do inside an aircraft.
For instance, it has been suggested that 25% of Americans are nervous flyers.
So don't judge people by their looks or behavior, try your best to make everyone feel welcomed, regardless if they are being nice or not.
Most of the time, people come onboard feeling stressed, anxious, or worried and your job is to help them relax and to make their journey comfortable and safe.
Be aware of how you address people; we were all raised in different ways and what you think is cheerfully casual may be offensive to some people.
Professional, empathetic, progressive, visionary, and cosmopolitan
When you think of a cabin crew, you imagine someone who is poised, welcoming, cultural, and ready to tackle the world.
These traits are some of the things we learn to acquire while we work in aviation.
You really do grow into a different person who sees the world as their playground.
Emirates looks for the best and makes sure that its brand ambassadors are able to adapt to this new lifestyle while delivering what the airline advertises; great experience in the skies.
Able to swim
Being able to swim is extremely important for anyone who plans to become a cabin crew.
Emirates flies all around the world and most journeys take longer than 10 hours, a lot of which time is flying only above water.
In case there is an emergency and an airplane ditches (crash lands in water), the cabin crew must be able to swim.
Your swimming ability will be tested in training during the ditching scenario (a simulation of an evacuation where trainees will have to jump into a pool whilst wearing a life jacket and swim towards a life raft in order to be safe).
No-one said that the training was going to be easy!
Be able to work well under pressure, or in stressful situations
No two days are the same.
We don't know when a flight – either short or long – can turn into a stressful workday due to different factors.
You must mentally prepare to encounter anything at all when you are going to work, anything from passenger fights to medical emergencies, diversions, turbulence, etc.
Always remember that passengers look up to you and will observe every move that you make.
Remain calm as much as possible.
Great communication skills
Keep your communication strong all times of the day.
The job of a cabin crew involves large amounts of communication with your colleagues, passengers, flight deck crew, ground staff, cleaners and caterers, etc.
You must be able to communicate with anyone, anywhere, and at any time of the day. 
Don't be shy!
Clean criminal record
This is a standard requirement amongst middle eastern airlines.
If you are living in the UAE already and are hired locally, you must obtain a Good Conduct Certificate from the Police in the Emirate you were living in.
This is to show that you did not have any criminal offenses prior to joining the airline.
Conclusion
In conclusion, irrespective of nationality, Emirates looks for a positive attitude, confidence, flexibility, maturity, a friendly disposition, and importantly, a genuine passion to help others and to provide quality service.
As the job can be physically demanding, they also look for those with resilience and a determination to continually perform well.
These are some of the characteristics that Emirates looks for in their potential cabin crew. However, don't think that because you have some or all of those things that it will land you the job.
Being tall, pretty, or speaking more than one language will not guarantee success.
I always say that people who get the job are because luck was on their side that day!
Be prepared to demonstrate that you are the best of the best, believe in yourself, act positively, smile and embrace the chance of participating in an Assessment day.
And, most important, don't give up!
This is a very competitive industry, but if you work hard and impress the recruiters you might get a chance to live your dream job.
Similar Posts: