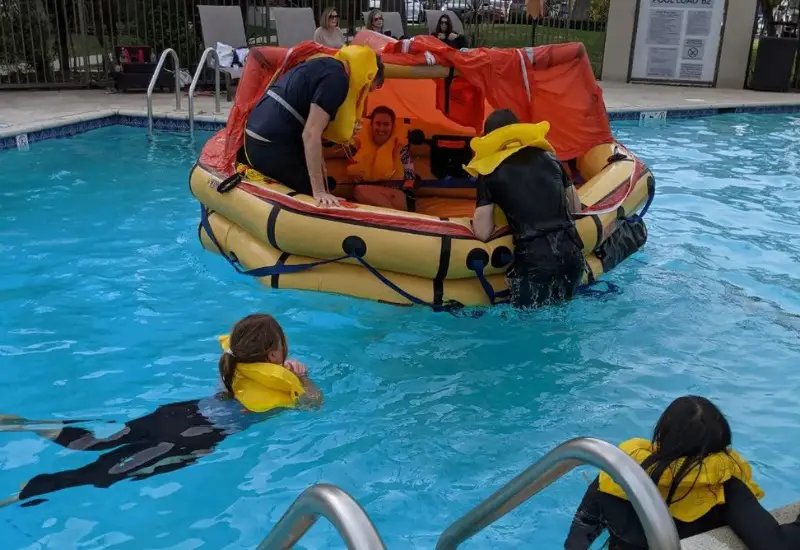 If you are thinking about becoming a corporate flight attendant, proper training will give you the tools and the confidence to be able to manage the job and to be as prepared as possible for the interview.
Whether you're attending an upcoming training or looking for information before deciding to join one, here are some of the most commonly asked questions that I find most people have.
Why Attend Corporate Flight Attendant Training?
To transition smoothly from commercial aviation to corporate aviation. The job of a corporate flight attendant holds some common aspects with the private jet flight attendant's job but there are also many differences, so there is a lot to learn.
Most corporate flight companies will not put people on their aircraft without specific training.
To update and refresh your job knowledge and improve your current skills. You'll learn about safety, types of contracts, business aviation and its specifics, etiquette, proper grooming and dress, corporate flight attendant duties & responsibilities, evacuations from a real business jet.  You'll get an overview of business aircraft, catering 5-star presentations and garnishing, food safety, wine presentation, flower arrangement, etc.
Just out of personal and professional curiosity, to see the interior of a private jet in real life and all that goes on behind the scenes, and to learn more about business aviation.
And obviously, to decide whether the job is for you or not.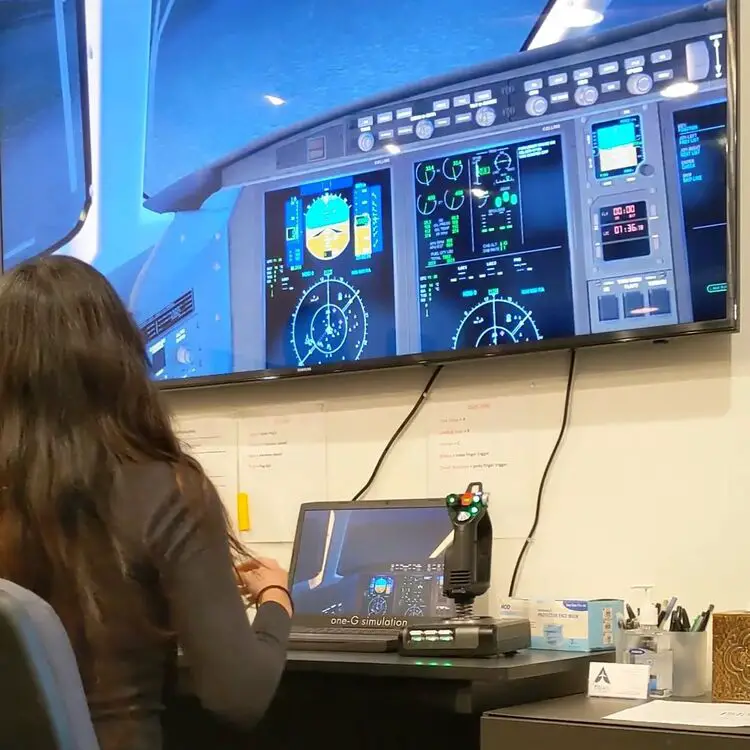 How Much Does Corporate Flight Attendant Training Cost?
A corporate flight attendant course in the USA costs around $5,000 on average, but it could be anywhere from $2,800 to $6,000 depending on the school. Every year the flight attendant will have to take recurrent training to renew his/her license. 
I know what you're thinking:  it's super expensive!
But you should think of the money spent as an investment, not a cost!
You will get that money back super-fast if you ever fly on corporate jets.
If your training is in Europe you will need at least $600 to $1,000 plus travel expenses for a 2 days course.
Do Companies Pay For Corporate Flight Attendant Training?
If you are a freelance or contract flight attendant, that won't happen.
As a freelancer, you have to think of yourself as a business. You'll be able to manage your job, and your time, and you'll decide when to work, how long, and with whom.
However, because it's your business, you'll have to cover any training costs on your own.
On the other hand, if you are a full-time employed corporate flight attendant, you can't say no to the trips and work offered, but many companies do cover all your training expenses.
Is Corporate Flight Attendant Training Required?
In the United States, to work as a corporate flight attendant it's mandatory to complete a Corporate Cabin Attendant Training Certification, which will include Emergency and First aid training.
All courses should be FAA approved and meet the regulatory requirements for Parts 91 & 135 operators.
In other countries, such as Europe or the Middle East, corporate flight attendant training is optional but highly advisable.
You'll get more chances to get hired if you have specific private aviation knowledge, even though some employers will most likely provide you with more training that is relevant to their own aircraft and style of operation.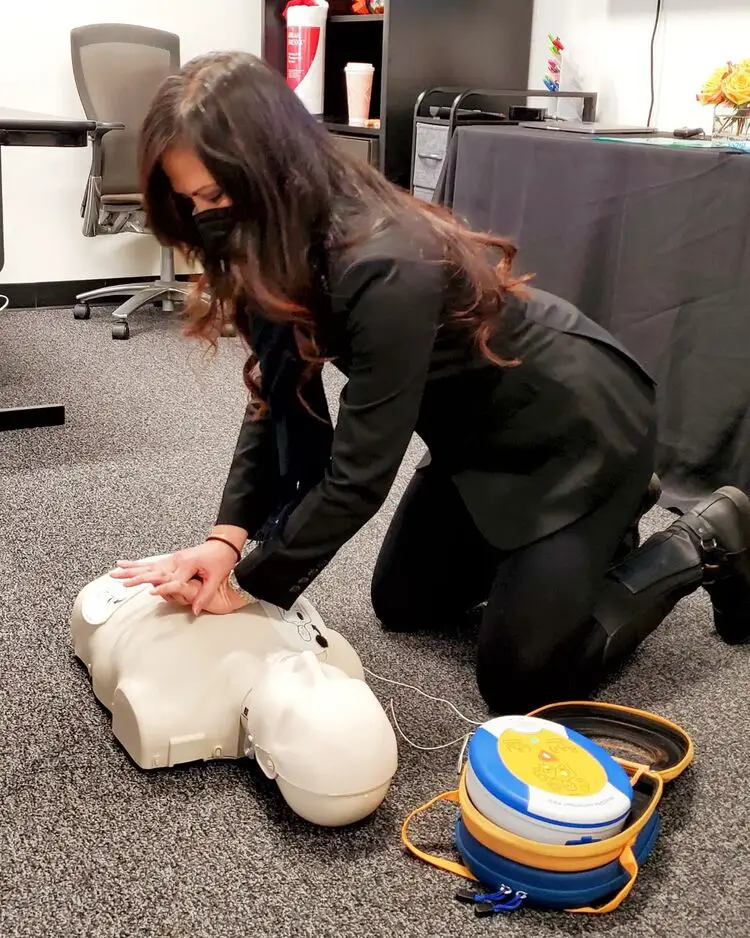 How Do I Choose a Corporate Flight Attendant School?
My school recommendations
Choosing a reputable school is more important than what you think.
Not only because these schools are well known within the industry, but because clients consider them reliable and professional.
USA
Option #1:
In the USA, where emergency training and first aid training are mandatory, we recommend Flight Safety, a recognized leader in Cabin Attendant training with over 40 years of experience.
They provide initial or recurrent corporate cabin attendant training, and the curriculum covers basic indoctrination, emergency, and aircraft ground training – including aviation orientation, general security, service training, firefighting, land evacuations, and ditching.
The initial training lasts 5 days and they offer it in these locations: Savannah, GA; Dallas, TX; Long Beach CA; and Teterboro, NJ.
Option #2:
Aircare FACTS is another widely recognized training school.
Their training includes experienced instructors, full-motion cabin simulators, high-altitude trainers, full-size live-fire trainers, underwater egress dunkers, and various emergency and safety equipment and cabin server etiquette & service training.
Their training locations include Van Nuys, CA (VNY); Dallas, TX (DFW); Morristown NJ (MMU); Ft. Lauderdale, FL (FXE); Seattle, WA (SEA); San Jose, CA (SJC); Las Vegas, NV (LAS); Chicago, IL – DuPage (DPA)
Europe or the Middle East
Option #1:
If you are looking for a job in Europe or the Middle East, we recommend you have a look at Corporate Flight Training.
This school is based in the United Kingdom and they offer an award-winning four-day VIP flight attendant course.
The highlights of the course are food and wine pairing and tasting sessions with a Michelin Star sommelier as well as hands-on plating sessions.
This course also includes a business jet cabin trainer.
Option #2:
Another school you should check out that is based in Switzerland is Training Solutions.
This school offers a two-day corporate flight attendant training course covering all the main aspects of the job.
At the end of the course, you will have the option to get your CV and your cover letter reviewed.
They also provide two to four days of tailor-made in-house training specifically adapted to the client's needs.
The client gets to choose the topics, objectives, course length, and the number of participants.
Further courses provided by Training Solutions are:
Online VIP flight attendant training webinar.
Wine training for private jet cabin crew, by a sommelier.
One-day career-building workshop.
Things to take into consideration when choosing a corporate flight attendant school
You should carry out good research before signing up to any of the training schools.
Choose a school with a good reputation and in-person training when possible.
A big factor to take into account is the location of the training.
Do you have to travel to attend the training?
Are you financially ready to cover all the travel expenses and accommodation for the duration of the course?
Make sure the school provides you with help for the job searching process.
Do they provide CV and cover letter guidance?
Do they have agreements with private companies to provide them with staff?
That's a big factor to take into consideration when doing your research.
Does the course include complete training in all areas of corporate aviation? Emergency Procedures and Safety, Culinary, Catering, & Food Safety, Crew Resource Management, AED, CPR, & First Aid?
Do they provide additional training that can make your CV stand out from the crowd?
Things such as butler training, PA training, and sommelier training.
What To Do After Private Jet Flight Attendant Training?
Network, network, and more network!
In some cases, the corporate flight attendant schools will put you in contact with clients seeking flight attendants.
You may also get a list of private airlines that are hiring and they will walk you through the process.
Some schools go a little bit further and will even help you to create a CV and cover letter.
But in general, finding a job after corporate flight attendant training is quite straightforward:
Create a killer CV.
Prepare a cover letter.
Summon all your educational certificates and reference letters and medical/vaccination certificates and attach them to your job application.
Take professional pictures.
Apply for the role.
Once all the above steps have been completed and your application is submitted, it's a waiting game.
If you are lucky you will be contacted for an interview via Zoom or in person or be invited to an open day.
These have been the FAQs that I get asked most often, so I hope that my answers provide you with the information you need on these most common queries.
As usual and as always – do your research, it is never, ever a waste of time!
Safe flying!
Similar Posts: