Let's talk about how to prepare the outfit that you'll be wearing for the interview when you attend a Flight Attendant Open Day for some of the major airlines in the Middle East like Emirates, Qatar Airways or Etihad Airways.
I get asked this question an awful lot by my readers, so I want to give you my top tips for looking great and rocking your dream job opportunity.
But before I do, remember that "You only get one chance at making a good first impression", and keep thought firmly in your mind.
What to wear for your flight attendant Assessment Day?
Business attire is what you must wear.
No negotiation.
Stick to the proper and formal clothing: you are applying for a job as a flight attendant, so you should look like a flight attendant.
Remember that this job is based largely on your look,  values, impeccable appearance and your attitude.
You will be representing an airline's image, you are part of their brand, so it's tremendously important to present a neat, professional and clean image.
The way you look should not only meet the recruiter's expectations, but it should also create a great first impression and be your chance to shine and to get hired.
Recruiters will be noticing everything about you: your clothing, the way you sit, walk and talk, your shoes and even your handbag.
So follow these guidelines and be assured of looking polished and professional.
Okay, let's get started:
The number one lesson is –  be conservative. I can never say this enough: dress conservatively. And when it comes to makeup, hairstyle, and nails it's exactly the same. Conservative is your goto word when you are thinking about how to dress present yourself for the interview.
See how Emirates Airlines shows what they expect the candidates to wear for the Assessment Day on their website: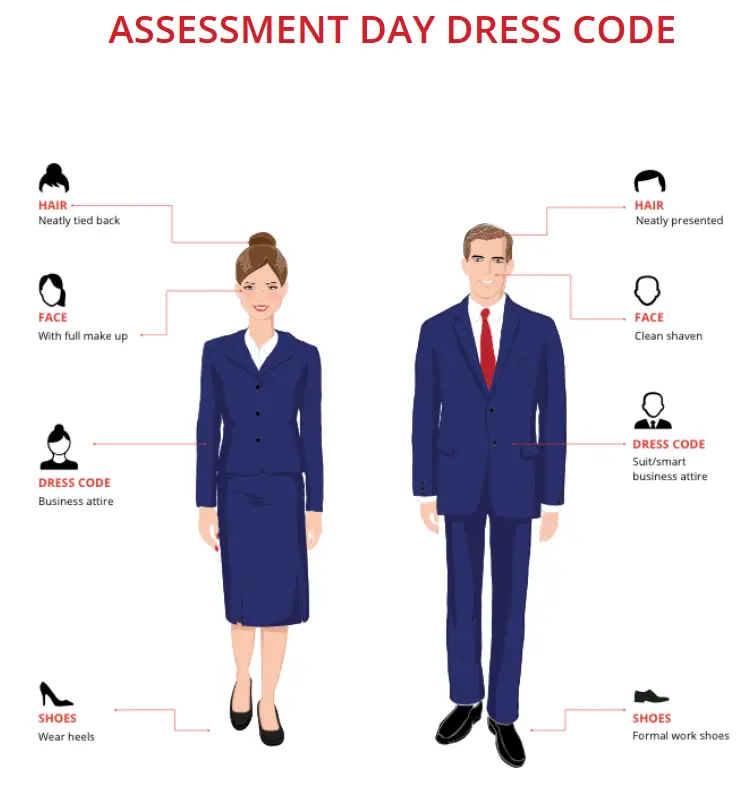 The same goes for Qatar Airways in their Open Days descriptions:

The requirements to be a flight attendant are already hard enough to meet, so make sure you wear what the airlines are expecting you to wear.
I will now go more into detail to ensure you don't mess up this interview for insignificant reasons.
Dress code for females attending an Assessment or Open Day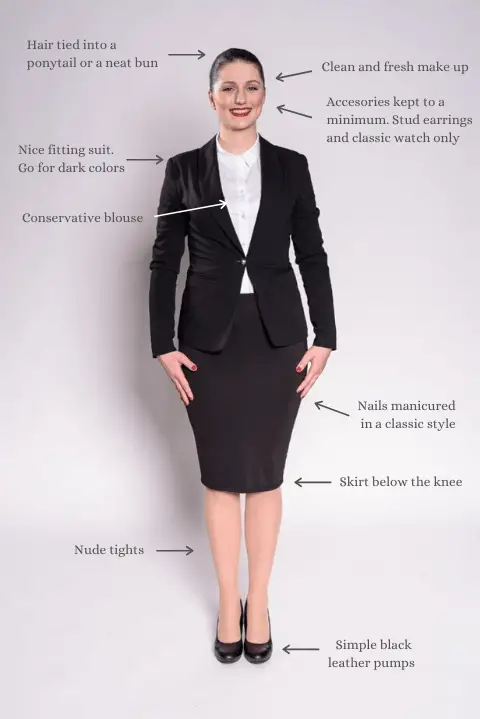 Pick clothes that fit and shoes and handbag that match.
Skirt/pantsuit: Wear a nice fitting skirt or pantsuit (black, grey or dark blue are best).
Your skirt should be a proper length (avoid miniskirts) and not too tight. You should look elegant and comfortable when you walk, bend, or sit down.
Tights should be worn even if it's hot. Don't wear pattern, opaque or lace hosiery. During winter, choose a nude or black color. It's always a smart idea to have an extra pair of tights that you can quickly change into if the need arises.
Blouse: Your blouse should be also conservative, a white, beige, or neutral color and most definitely not see-through. For a smart look, tuck your blouse inside your skirt or pants. And make sure that you can't see the outline of your bra through your top. A nude color bra will solve that problem. And avoid plunging necklines. Conservative, remember?
Jewelry: Just wear the minimum. A wristwatch and discrete stud earrings for a girl are always a safe bet. No heavy bangles, necklaces, big hoops or dangling earrings. Don't wear more than one pair of earrings. Remove all body piercings other than earrings (nose rings, eyebrow rings). Of course, if you have tattoos, keep them well hidden.
Shoes: Look for classy flight attendant style pumps – 2 inches is the standard. They can be higher, a maximum of 3 inches, but they should be comfortable enough to spend many hours on your feet. Avoid sandals, open-toed shoes, super high heels, platforms or bright colors. And remember to have them clean and shiny.
If you don't have a pair of classic flight attendant shoes, check my article: Best Flight Attendant Shoes. Finding exactly the right sort of shoes can be difficult, but you'll find lots of choices in my reviews.
Purse/handbag: A nice plain tote bag, a medium-size purse or a smart leather briefcase will give you a professional image.
Dress code for males attending an Assessment or Open Day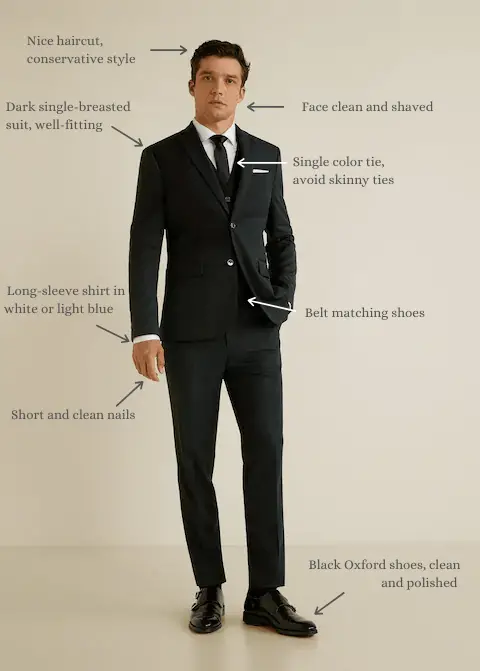 Suit: Choose a nice fitting suit (ideally single-breasted) Make sure you wear your jacket buttoned up. And gentlemen, please don't forget to check that your fly is buttoned or zipped up. Your suit doesn't need to be expensive, but it does need to be a good fit.
Ties: Pick one in a single block color, it should coordinate with your attire, so don't be tempted by bright and bold colors or patterns. A conservative dark grey, blue or black is by far the best. Avoid skinny ties.
Shirt: Your shirt should be simple. No T-Shirts. Ever. A long sleeve shirt in white or light blue is best. A shirt that hasn't been ironed is a sure way for you to have a pretty short interview with the recruiter. And, like the ladies, make sure that your top is neatly tucked into your pants.
Socks: Wear plain black socks or dark colors ( blue, grey) and make sure that they are of mid-calf length so that they don't expose your skin while you are sitting down.
Shoes: Your shoes should be black leather or patent, with laces. Always stick to classic style shoes, and, again, as with the ladies, keep them well polished and shiny.
Belt: It should be matching and simple.
Jewelry: Less is better, although a smart wristwatch is always a good idea. Remove any visible piercings, rings, chains or earrings.
Bag: you can take along a briefcase or a laptop bag, basic and in a neutral color.
Tip: just a small thing, but details are important, so try and make sure that the buttons on your shirt line up with the midline of your trousers and the buckle of your belt.
Grooming tips for a Cabin Crew interview for Emirates, Qatar or Etihad
Hair – hair must be clean and pulled back or up, away from the face.
Conservative style or haircut, and color.
Don't wear unnatural looking colors.
Hair clips or accessories should not be obvious, choose bobby pins that match your hair color. Long hair should be tied back in a ponytail, single braid, chignon or French Twist style. Always, always, have a business-like hairstyle.
Male cabin crew: please go to your interview clean-shaven (it's preferred) even though some airlines do allow you to have facial hair.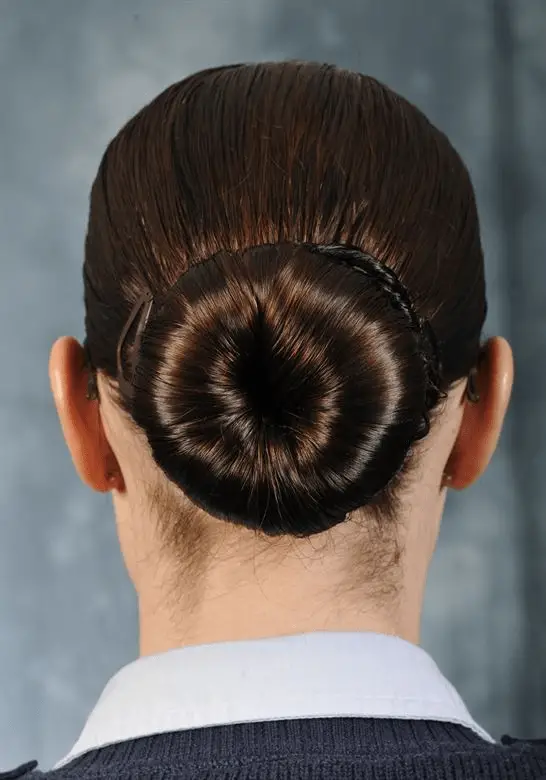 Clothes – ironed and clean.
Nails – clean and polished, short and never too long. Manicured in a classic style and neutral color or French manicure with no chips. Stickers and fake nails should be avoided. Remember that you'll be shaking hands, so make sure that yours are clean and moisturized.
Fragrance (both men and women) – Don't wear overpowering cologne. You may not notice it, but to others, it can be overpowering and, quite frankly, nauseating. My pick for girls would be something like Dolce Gabanna Light Blue and for guys Acqua di Gio(Armani)
Don't ever walk into your interview reeking of cigarettes, food or alcohol smells.
Eyewear -If you wear prescription glasses use frames of a conservative style and color.
Do not wear sunglasses, not even on top of the head.
Makeup – Should enhance your overall appearance, this is what it's designed for. With foundation, eye shadow, eyeliner, mascara, and lipstick, use colors that match and blend with your skin tone. And avoid harsh contouring when applying your make up. Enhance your looks with subtlety and discretion.
What to bring to a Flight Attendant interview?
This interview checklist will help you prepare and organize what you need for that upcoming interview.
Documents: Bring any documentation that has been requested. Highest education Certificate, Birth Certificate, References from previous employers, Language Certificate, Assessment Day invitation letter…
Copies of your resume: One for yourself and one for the interviewer or interviewers.
Passport
Snacks and a bottle of water: It can be a long exhausting day, so bring a light refreshment or make sure you have some money for a coffee and a sandwich.
Cosmetics, hairbrush, pins: A flight attendant should be always well-groomed, ensure you touch up your makeup during the day.
Extra tights: Make sure that there are no holes or runs. Carry an extra pair in case you need to change them.
Notepad and pen: In case you need to take notes
Breath mints or a toothbrush/deodorant: To keep you fresh throughout the day
Umbrella: You don't want to be heading to your interview and get caught in the rain without an
umbrella.
If you are wearing sunglasses that day, never wear them inside or on the top of the head.
Travel directions: Make sure you are clear on your travel directions and stick to the route that you have researched. Don't leave this to the last minute. You don't want to get lost.
Smile: Smile and be friendly. You will be giving a great first impression.
General tips for your interview
Pay attention to your grooming. Use long-lasting makeup products and keep your hair neat.
Wear comfortable clothes, but always be elegant and classy. And remember to keep them clean and pressed.
Cover your tattoos and remove any piercings before the interview.
Arrive with plenty of time. Look up where the assessment is taking place and find out how to get there. Better to arrive unflustered, calm and professional.
Smile, a friendly smile tells your recruiter that you are enthusiastic and are happy to be there.
Body language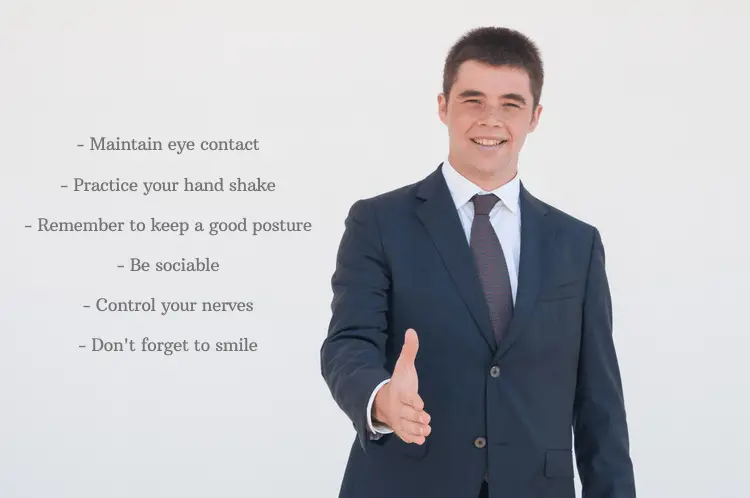 You should practice your body language as much as you do your interview questions.
A first impression is based on:

7%     spoken words.
38%   tone of voice.
55%   body language.
Posture is very important. Sit straight up in the chair, your shoulders back, looking confident and assured. Women should only cross their legs at the ankles or the knees.
When you meet your interviewer, smile and shake hands firmly. A good handshake should be firm, but non-aggressive. Never take a seat before your interviewer asks you to sit down.
Beware:

A dead-fish handshake indicates lack of personality.
A bone crushed handshake indicates aggressive personality.
While you are waiting with everybody in the reception area, feel free to talk to the other candidates and interact with them. People skills are what flight attendants are all about.
When you are called, how you walk into the room is going to be a large part of how you are judged. Remember, 'You only get one chance to make a first impression'? Work on your walk, pretend there's a string pulling you up from the top of your head if that helps with your posture.
Maintain eye contact and nod your head while listening to show attentiveness, leaning forward slightly is a good way of showing interest in what the interviewer is saying or asking.
Control any nervous habits that you may have, like biting your nails, cracking your knuckles or tapping your foot. It's unprofessional and downright impolite.
Remember that dressing inappropriately can affect or destroy your chances of getting hired.
Your image will influence your interviewer's perception of you and his choices about you, so make sure that you project a neat and professional image.
The way you look, act and speak is the easiest and best way to differentiate yourself from all the other candidates.
So, there you have it.
Simple guidelines, but very important ones.
If followed, they will help you choose a suitable outfit for your interview and also help with the other personal details that are so important for your success.
If you need more preparation for your interview, go check my article about the questions you could be asked during your flight attendant interview.
If you have any doubts about what you can wear or not for your interview in a Middle East airline, let me know down below in the comment section.
Good luck!