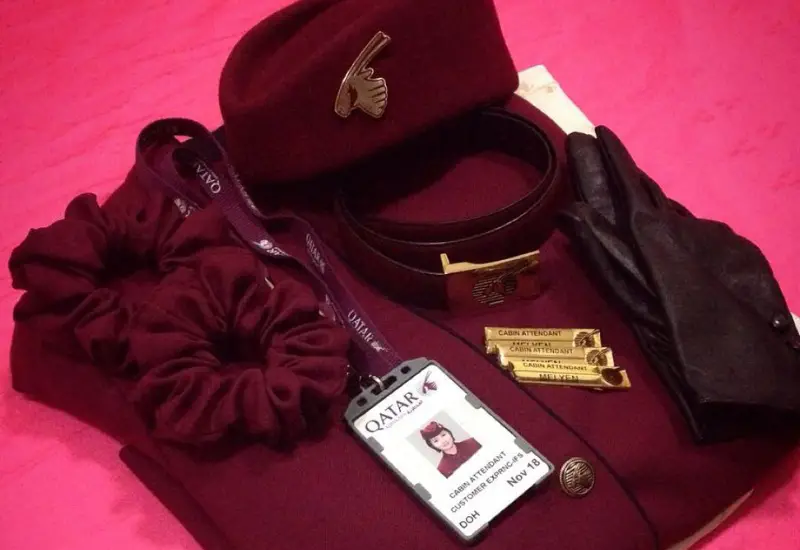 Qatar Airways Uniform is widely recognized and admired worldwide. This is because of its elegance and design.
What are the items that comprise the uniform of the Qatari flag carrier?
We will discover it here.
Qatar cabin crew uniform: What you need to know
The uniform will be given to you towards the end of your Ab-Initio Cabin Crew Training course, which lasts around 8 weeks.
This is where you will be taught all the skills and drills that cabin crew know in order to go for their flights.
First, you will be taken to the Uniform Department where skilled tailors will see you and give you items to try on.
Don't worry these men and women have a lot of experience and can guess someone's size just by looking at them!
Keep in mind that Qatar Airways is a Muslim Airline, therefore, uniform fitting is conservative.
So, expect a somewhat loose skirt, trousers, and shirt.
Note: If there are alterations to be made, this will only be done through the Uniform Department and not outside.
Even though the uniform is part of the package offered in the job specifications, it is technically not free.
Items such as suitcase, trolley, and handbag will be deducted during the first 3 months of your contract via a small fee.
And when it's time to resign you must return every single item in the exact count as they were given to you since you joined or else, you will be charged for lost uniform and it can be quite a shock to your pocket.
Every year depending on your joining date, you will be entitled for a new set of uniform
6 blouses/shirts
2 skirts/pants
2 jackets
3 dining jackets
1 hat
1 belt
4 name badges
4 scrunchies (females)
2 neckties
a winter coat (not usually worn).
Laundry
Laundry is included and usually, there is a laundry station in each male or female accommodation where you can drop off or pick up your items during specified timings.
Colors
There are 2 different colors QR's cabin crew uniforms: Grey and Burgundy.
But why there's a couple of cabin crew wearing Grey colored uniforms and the others are wearing burgundy?
This is because the Grey one is given to Cabin Services Directors and Cabin Seniors because of their rank.
The rest of the cabin crew wear burgundy.
Grooming Officers
Before each flight cabin crew will get checked by the Grooming Officers.
This department makes sure that everyone is in line with the standards of the company.
The grooming officers go to each briefing room checking things like uniform fitting correctly (not too tight, not too loose), hairstyle done properly, makeup is correct, nails are maintained, stockings are skin-colored appropriate, etc.
If there is any discrepancy, it will be informed to each cabin crew individually who must correct it immediately if possible.
Female crew uniform components
This is a description of items provided for female crew and when do they have to wear them.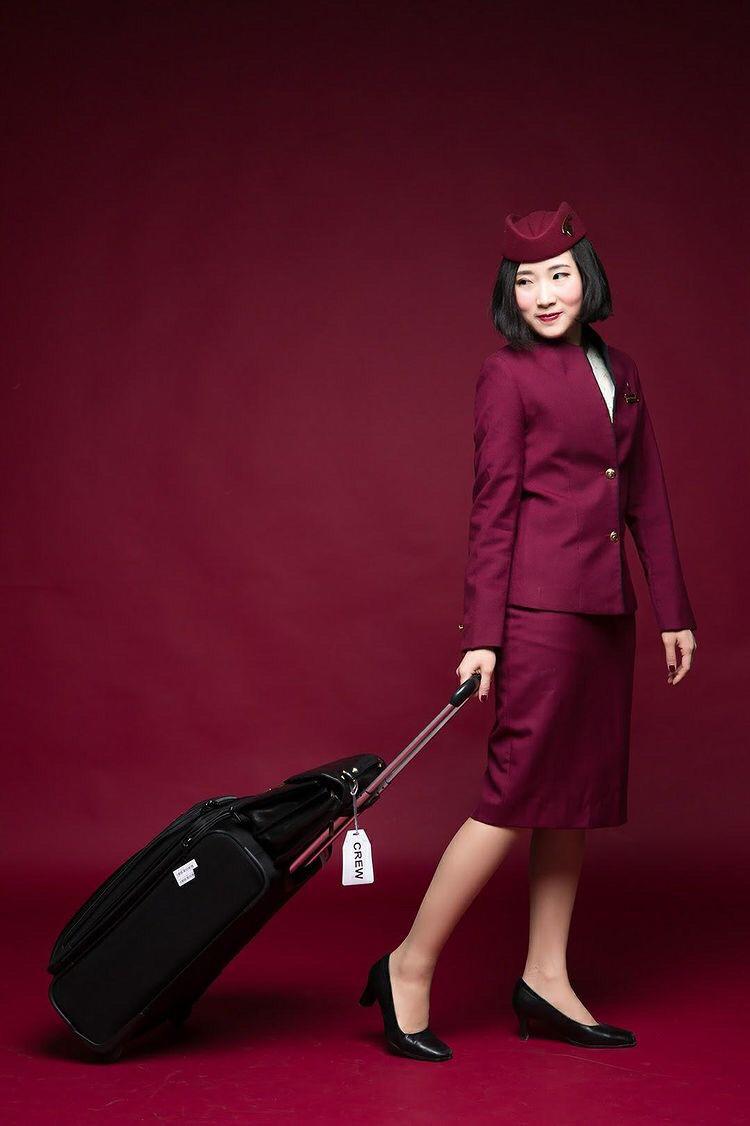 Jacket – It's used mostly while walking at airports and during boarding and deplaning/disembarkation. It must be worn fully buttoned and if not worn folded inside out over your arm.
Blouse – The number of blouses given initially is 6. You must always have a spare one inside your cabin trolley in case you get yours damaged or stained in-flight. Since the fabric is very light, a camisole (white, beige or skin color) has to be compulsory worn inside and over your underwear.
Skirt / Pants – 2 skirts and 2 pants will be provided. As mentioned earlier, the fitting has to be modest, meaning not too tight nor too short. The length of the skirt has to cover your knees. It is optional if you want to wear pants or skirts. But to me, trousers are more comfortable during longer flights.
Shoes – Each crew member is given 2 pairs of shoes.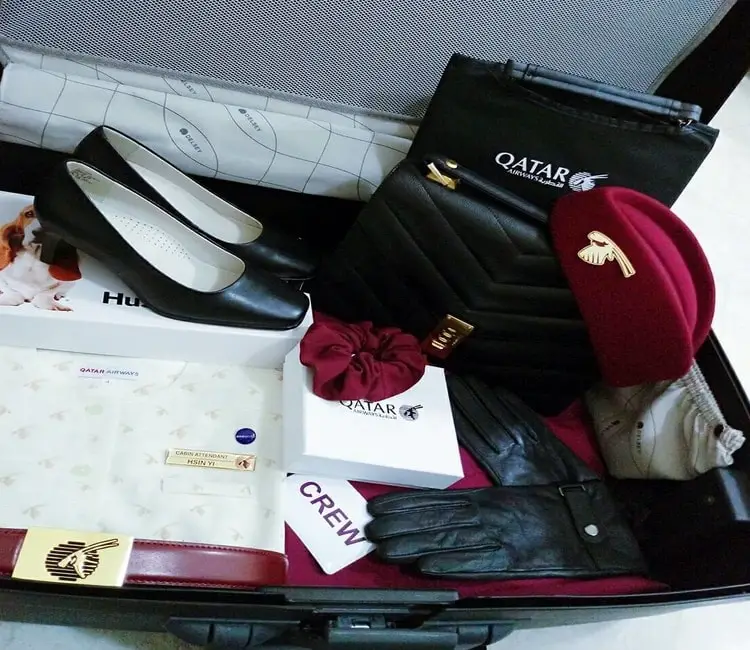 High heel shoes to be worn on ground, so used while reporting for duty, during boarding and disembarkation, at airports, company headquarters, promotions etc
Lower heel shoes are used in-flight, which means once cabin crew are released from their jumpsuits after takeoff. From that moment on they change into the low heeled shoes and they will change back to their high heel shoes before landing. The brand is usually Hush Puppies. You can find Hush Puppies shoes and similar ones here.
Hat – The iconic oryx hat must also be worn while on ground duties and is only to be removed once the aircraft doors are closed. Crew will only be provided with 1 hat.
Dining jacket – This jacket is part of the uniform to be worn for service and you must remove it before landing. Each crew member will be provided with 3 pieces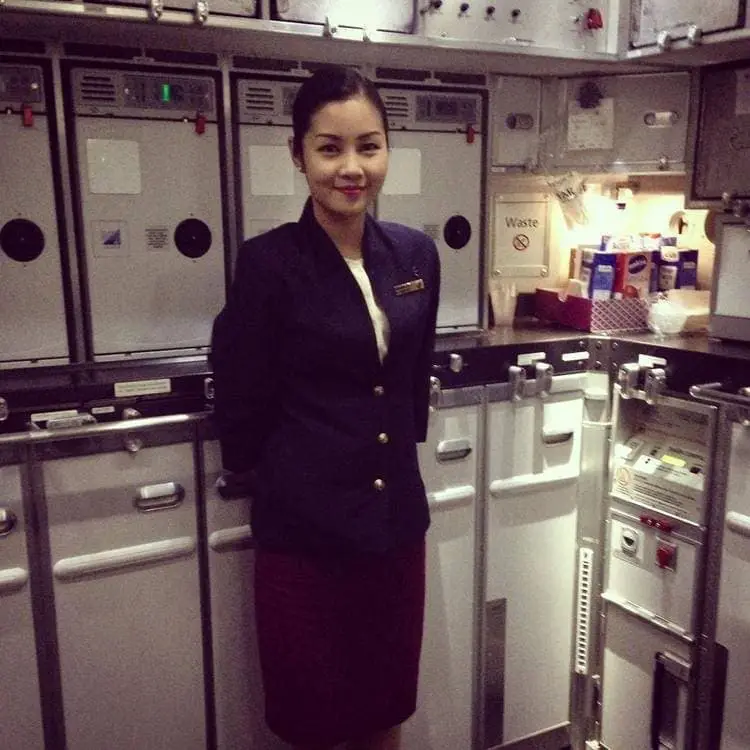 Belt – A belt is a mandatory item and must be worn either with the skirt or with pants. You are entitled for 1 belt.
Scrunchie – Females are provided with 4 burgundy scrunchies that are to be worn while styling the hair in a bun.
Name Badge and One World Alliance pin – Both items must be worn on the left hand side of each jacket, dining jacket and blouse/shirt. You will be given 4 name badges and 1 pin.
Winter coat & Gloves – The coat is given to be worn at very cold destinations but to be honest is rarely worn. 1 pair of gloves is also provided to use during winter time.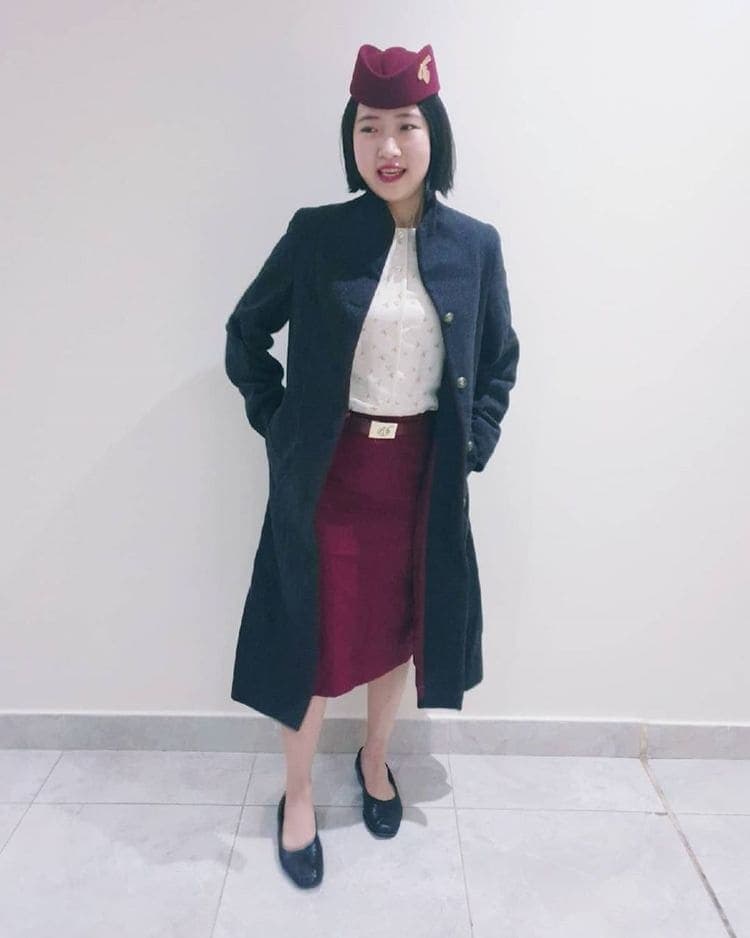 Scarf – Only to be worn by Cabin Services Directors and Cabin Seniors.
Handbags, trolley, and suitcase – A set of 3 is provided and comes with Crew tags.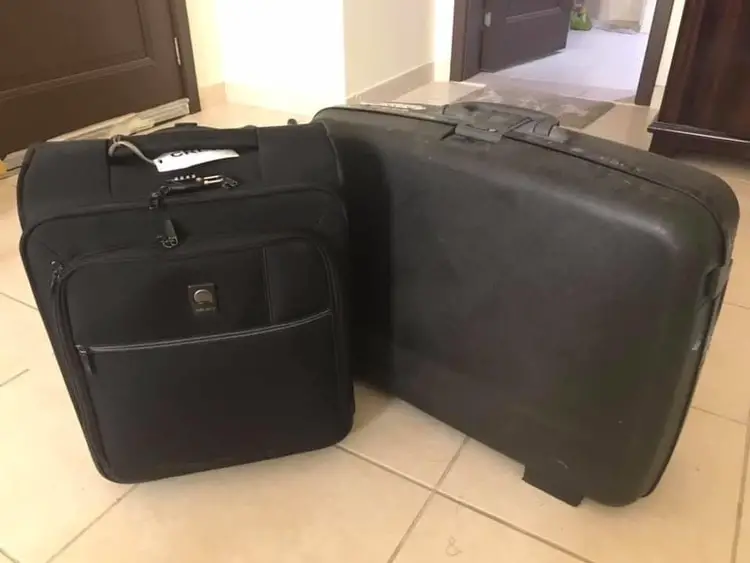 The suitcase – This is a big suitcase to be carried when you have a layover and it's usually placed in the cargo, our normal clothes, shoes and toiletries are carried inside.
Trolley – This is hand luggage size, it will be placed in the cabin and we must carry a list of mandatory things inside:
cabin shoes: remember the low heeled shoes allowed during the flight?
a kit called "plonky kit" (for emergencies: containing tape, panadol, torch, sewing kit, stapler, calculator and scissors)
our dining jacket for the service
extra stockings in case they tear
a pair of smart casual clothes and makeup items. The smart casual clothes are in case of an unexpected layover during a turnaround.
Handbag – It is carried attached to the trolley and contains personal items such as lipstick, pens, mirror, hand cream, notebook, wallets and phones etc.
Male crew uniform components
Jacket – Used while on ground duties and removed once the aircraft doors are closed.
Long sleeve shirt – To be worn with a white tank top underneath.
Tie – Provided by the company. It is Burgundy in color for standard cabin crew and Grey for the Supervisors. You will get a brief on how to tie it.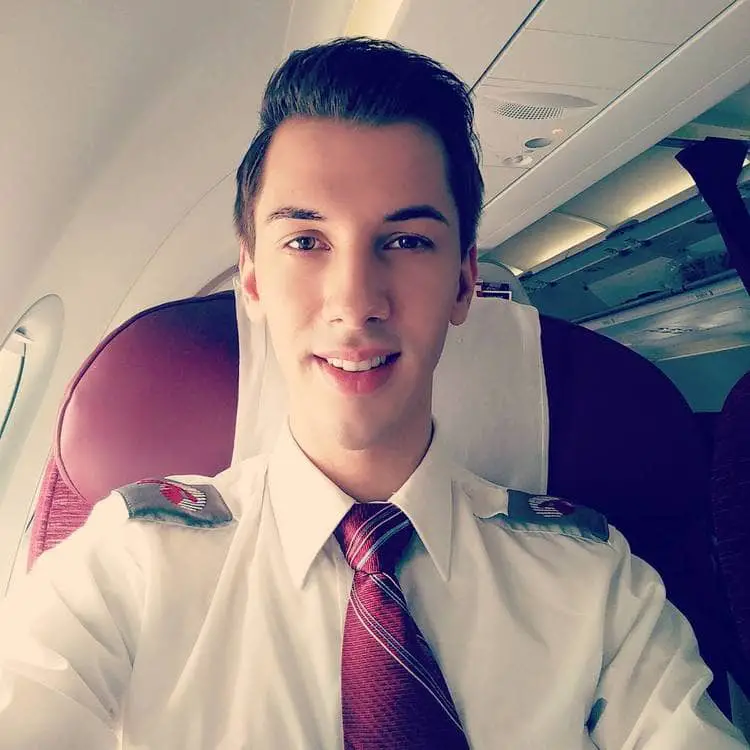 Epaulet – To be placed on top of the shoulders, with the Oryx logo faced inwards.
Vest – It is the equivalent of a dining jacket and must be used inflight.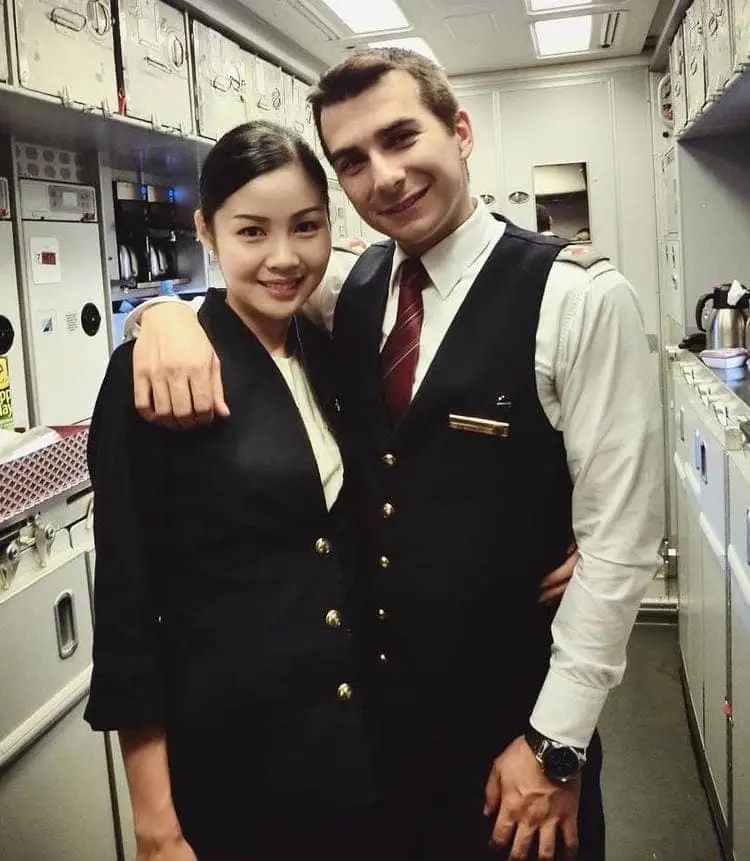 Pants – Loose fitting and their length has to be mid way of their shoe sole. Back pocket has to be empty with the button closed.
Belt – Worn at all times.
Shoes – Male crew do not have 2 styles of shoes. They can use the same for both ground or flying duties and must be neatly polished.
Socks – Should be black in color with no patterns and they should be at least calf length.
Gloves & Winter coat – To be used at cold destinations, but usually not used.
Bags – Males will also get a trolley and suitcase and are to keep the same mandatory items inside their cabin bag. No handbag.
Accessories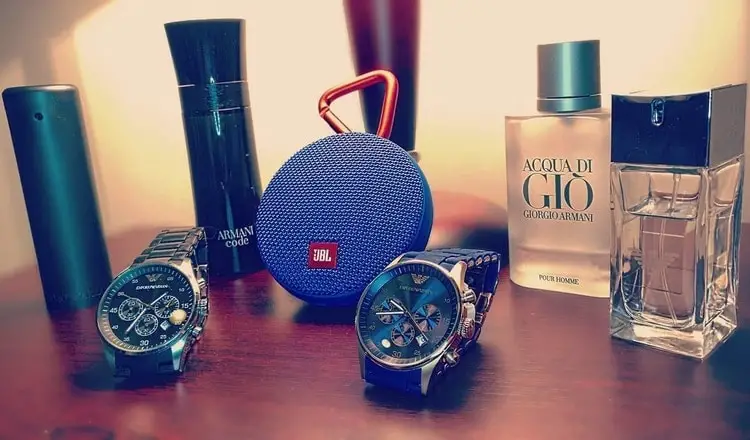 Watches – They should be discrete.
No stones, dial can be white, black or metal and in a conservative size.
Oversized watches are not permitted. Straps can either be leather, silver, gold black or brown colors.
Rings – A total of 2 rings is allowed. These must be plain in design and silver or gold bands.
Bracelets and Necklaces – Are not allowed while wearing the uniform.
Eyeglasses or contact lenses – Conservative eyeglasses are allowed if you present a proof that you require them, you can also wear contacts. Spares – either glasses or contact lenses-  to be carried inside the cabin trolley are a must.
Earrings – Worn only by female crew. Earrings will be pearls in white color. Silver or gold are allowed and just one per ear.
No other piercings are permitted.
Braces- Not allowed
Related Posts