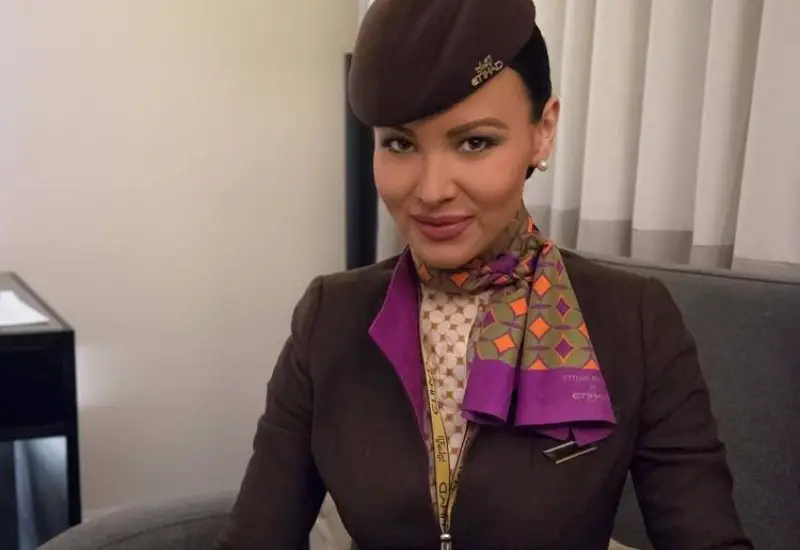 The Etihad Airways uniform represents the glamour, sophistication and that finesse that makes many of us miss the Golden Age of flying, when travel was an upper-middle-class experience.
As Aubrey Tiedt, Vice President Guest Services at Etihad Airways said: "This is not just a uniform. This is a pret-a-porter concept. It is about bringing back classic elegance, allure and richness. No matter where you are in the world, you will know this is Etihad."
What is Etihad cabin crew uniform like?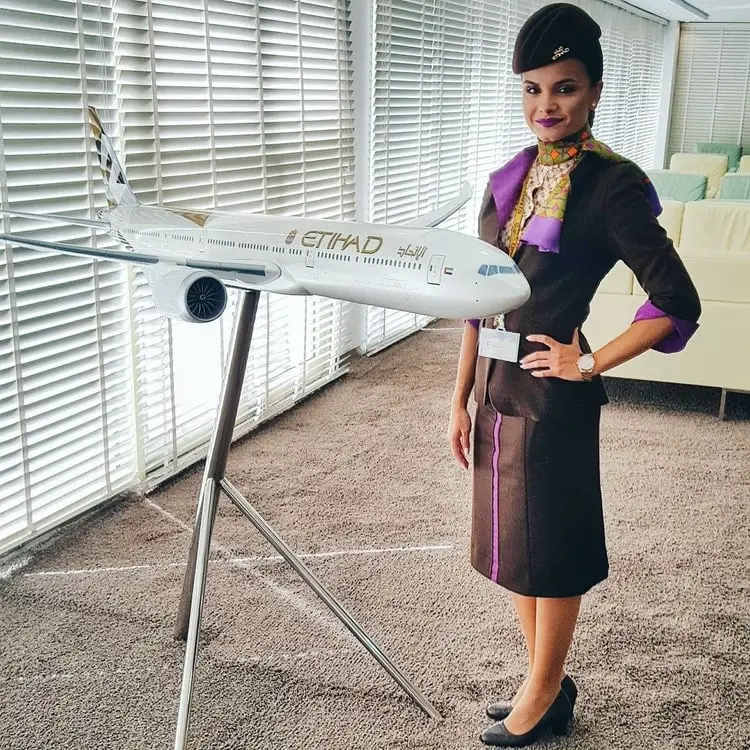 It's a modern and stylish outfit created by Ettore Bilotta, an Italian designer who has also collaborated on the Alitalia and Turkish Airlines latest uniforms.
It's made of  100 percent wool in an elegant chocolate brown that represents the Etihad Airways brand color palette.
It certainly catches the attention of people, either on board or in  public places.
Towards the end of the ab Initio training – the new joiners course to prepare to become cabin crew – trainees receive a custom-fitted uniform.
The uniform will be tailored in every way to show off the best professional look for each crew member and will be given to each trainee to be worn during the last week of their training.
The uniform is  free of charge and all staff are entitled to get a new set every 2 years.
Components of Male & Female uniforms
The Male uniforms consist of:
2 pants
4 long sleeve shirts
2 vests
2 jackets
2 ties
As accessories they get:
2 name Badges
2 pairs of Wings
1 Winter coat
a pair of gloves.
shoes
An Etihad branded cabin trolley and layover suitcase.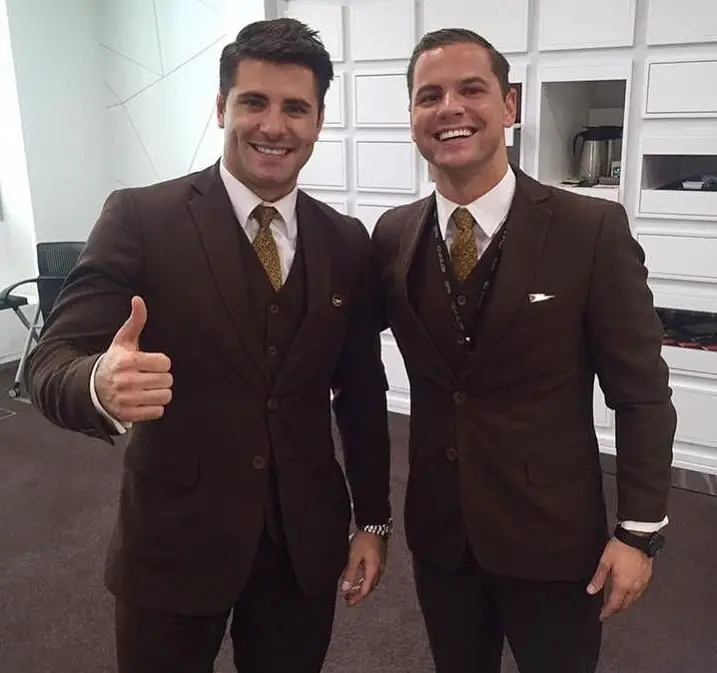 The Female uniforms consist of:
2 skirt or pants
4 blouses
2 scarfs
2 jackets
4 aprons. The apron is mandatory during service
1 cardigan. The cardigan is only to use if you feel cold during the flight.
Accessories for ladies:
2 name badges
2 pairs of wings
1 winter coat
a pair of gloves
a belt
high heels shoes- to be worn for ground duties and while at airports
low heels shoes- to be worn inflight
a handbag or beauty bag
a hat – to be removed once aircraft doors are closed
an Etihad branded cabin trolley plus a suitcase for layovers.
As part of the mandatory items that every cabin crew should carry in their trolleys, you must have an extra set of uniform, plus tights and a makeup kit.
The tights and make up kit, of course, apply only to the ladies.
On ultra long hauls flights, everyone should carry a black pajama set for when their mandatory rest period starts.
Differences according to Ranks
Depending on a cabin crew's rank, the uniform varies slightly. There are categories which have a different uniform for either on the ground or inflight.
Cabin Managers & Cabin Seniors
The color of some accessories for onboard leaders (Cabin Managers & Cabin Seniors) are different than that of the normal cabin crew.
Male Cabin Managers and Cabin Seniors are provided with a purple patterned tie, as opposed to the standard green pattern.
Female Cabin Managers and Cabin Seniors have a purple hat, scarf and cardigan.
Also,  Cabin Managers remain in their jackets throughout the flight but females have the option of changing into their purple cardigan.
In-flight Chefs
To ensure that all guests receive impeccable service and quality while they dine, there are In-flight Chefs working on board in our First Class zone.
These in-flight chefs,  apart from the standard brown uniform, are provided with a white chef's jacket and brown apron.
Butler and Food & Beverage Manager
On board the A380, Etihad offers the only 3 room private apartment in the sky available on a commercial passenger aircraft.
It's called "The Residence" and it features an ensuite shower room, private bedroom and separate living area.
If a passenger books "The Residence" they will also have a private butler, which is a Food and Beverage manager who has been trained to create a memorable experience for these guests by paying attention to the little details and to offer perfect hospitality service.
They will have to wear a formal penguin cut jacket – a bit more modernized, but still in the style of the historic British butler attire – plus a white shirt and beige pants.
Food and Beverages Managers must carry a spare white jacket and change into it prior to guests boarding.
Nanny
Did you know that Etihad also offers a Flying Nanny service?
In-flight nannies are a service offered by the airline on long flights to support parents with youngsters.
All of them are also cabin crew, but they are trained at Norland College, an institution that has supplied childcare providers to royalty and celebrities.
These nannies must wear an orange dress on top of the normal female uniform during the flight so that they can be easily recognized.
They are all certified flight attendants too, so they'll collaborate in the rest of the duties but if your kids or babies need anything they are there to help.
Laundry
All uniform items are given to a laundry operator located in each cabin crew accommodation.
The dry clean desks operate within a specific time frame, which is 7 days a week. With the exception of the office located at the Crew Briefing Center which is open for  24 hours.
This service is free of cost and only Etihad employees are allowed to drop and pick up the items. For this, you need to present your company ID along with the receipt given to you by the laundry operator.
It's important to note that once you leave the company, you must return all parts of the uniform except the name badges. The items initially supplied  will be counted and any missing piece will be charged for.
Etihad cabin crew grooming, better known as Style & Image
Etihad Airways prides itself in having one of the best groomed cabin crew in the Middle East.
For this, there is a standard style & image guide with the purpose of guiding the crew about  what is, and what is not allowed.
Females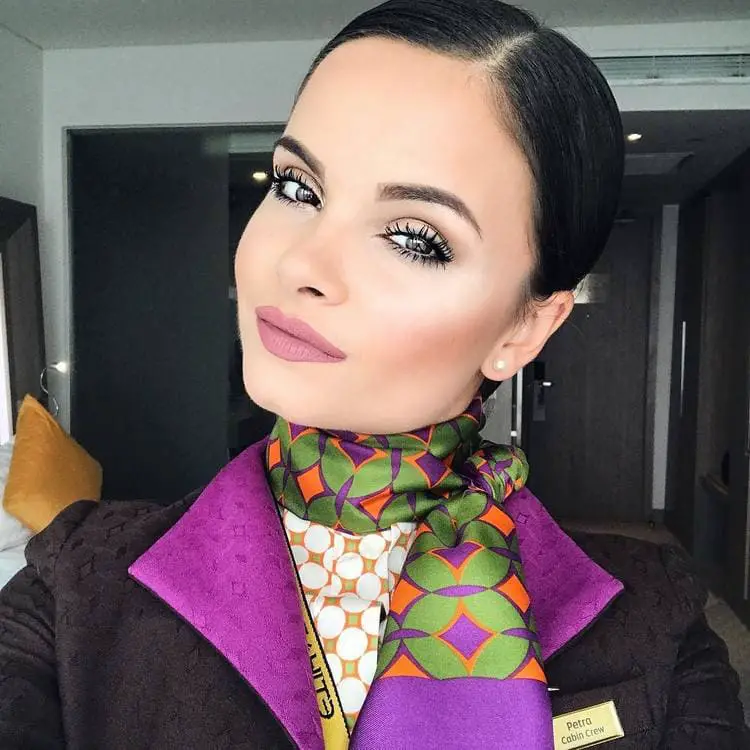 If we talk about makeup for females there are 6 items that are mandatory to use:
Foundation
Powder
Mascara
Eyeshadow: neutral beiges or brown
Blush: pink, bronze
Lipstick: purple, pink tones
Nails for females – have to be well maintained at all times.
Acrylic is allowed but it cannot be dramatically long.
Polish must be worn before each duty and the standard shades are neutral colors such as beige, pink or French manicure.
Earrings – Pearls and classic cut diamond studs are allowed as a part of the uniform.
Hairstyle – Hair can be styled in a French twist, low bun or it  can be short hair, but the length must not touch the neck of the shirt. The use of hairspray or gel is a must plus, 4 hair pins to hold fly aways.
Fake eyelashes have been approved to be worn since 2019, but only if they don't too 'over the top' and  exaggerated.
Males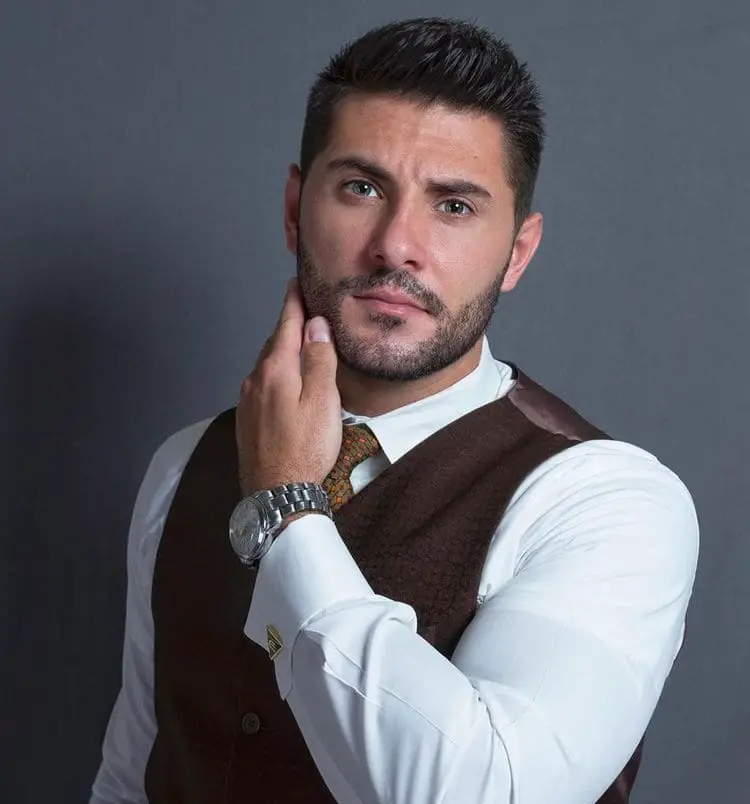 In 2019, male crew welcomed the decision about being able to wear a beard.
However, there are strict standards when it comes to the style and length.
Hairstyles must be short, not over styled and must be kept clean and tidy.
Unisex accessories
Watches – Must be conservative in size. The face must not have stones and can be either white, black, silver or white. Straps can be either leather or metal in colors such as black, brown, silver, gold or rose gold.
Rings – a maximum of 2 rings are allowed. These can be wedding bands or simple designs.
Glasses/contact lenses – Eyeglasses and contact lenses are accepted if you have an exemption letter approved by the Style & Image department. Cabin crew will always have to carry a spare set in their trolleys.
Necklaces or bracelets – Jewelry is not allowed to be worn while wearing the uniform.
Sunglasses – These are allowed to be used when you are  not in public. This means you can only wear them in the company transport, or on the way to a hotel.
Piercings & Tattoos – Are not allowed to be visible while in uniform.
Style & Image checks
Every 6 months, cabin crew must go through at least one Style & Image check.
On-board leaders are in charge of this review and they will check the crew's personal hygiene, image and decorum.
It's important to follow the correct guidelines, as a bad review can result in a negative performance issue.
Final thoughts
As an Etihad Airways cabin crew, you are constantly reminded that you are representing the airline worldwide and therefore you should always try to look and act your best.
Remember that a  member of the cabin crew is always being observed.
So, take pride in wearing the Etihad uniform and have pleasure in its stylishness and head-turning chic.
Similar Posts: