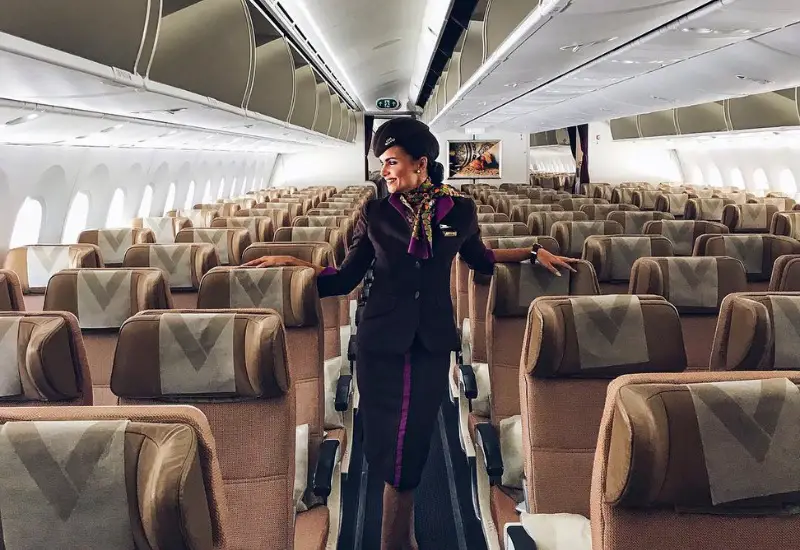 Working as a Flight Attendant for Etihad Airlines is one of the most gratifying and exciting life experiences that anyone interested in working as a flight attendant can possibly have.
Believe me, I know this because I've been working as a cabin crew member in Etihad for 4 years.
If you are someone who is in constant need of change, enjoys speaking to people and likes to travel, then this job is the right fit for you.
But exactly what is the Abu Dhabi based airline looking for?
Below I'll guide you through the requirements needed to become a cabin crew for the national airline of the United Arab Emirates, ETIHAD Airways.
Etihad Cabin Crew Requirements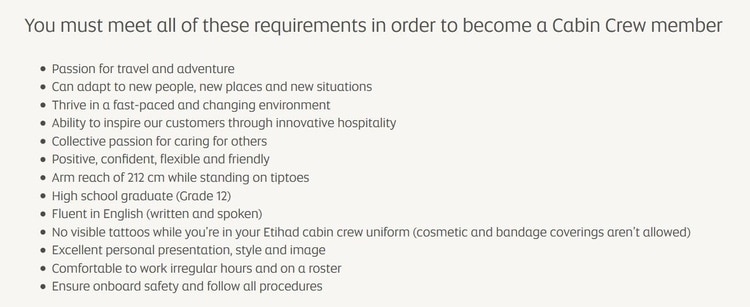 So let's go over these, one by one.
Passion for travel and adventure
The perfect candidate is an adventurous person with a passion for traveling and meeting new people.
Can adapt to new people, new places and new situations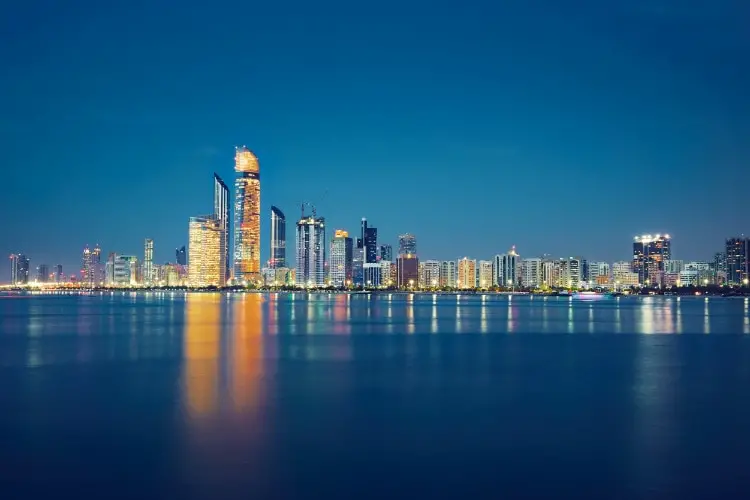 As an Etihad cabin crew, your base will be in Abu Dhabi, so you'll have to move there and cope with being away from home, living in a new city, having new friends and colleagues, etc.
While working you will need to be able to adapt to customers from difficult cultures and a great variety of personalities. This can lead to having to deal with unusual requests and sometimes situations that may seem irrational.
So in order to deal with all of that, you need to be exceptionally versatile and patient.
Thrive in a fast-paced and changing environment
The cabin crew career features a fast-paced work environment.
You'll be part of a team that's expected to be agile and multicultural, so it's important to be adaptable and ready to face unexpected challenges.
These will not only include working in a constantly changing environment with various situations cropping up, but also the technical issues of last-minute schedule changes, delays, and the like.
So when applying or interviewing, you should show that you are able to multitask, be an effective member of a team working under stressful conditions and that you are extremely flexible.
Collective passion for caring for others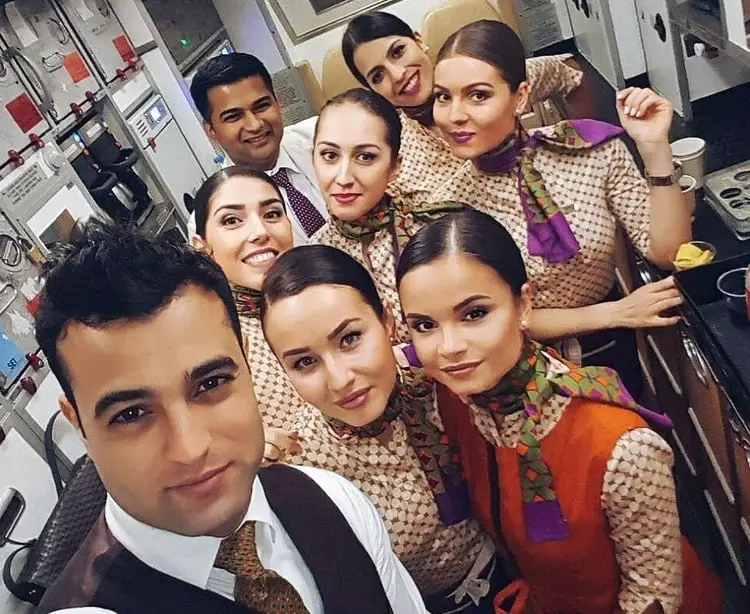 Etihad Airlines was awarded "World's Leading Airline – Customer Experience 2019".
They aim to give each customer the best Premium care, and for that, they need to hire employees with a passion for delivering excellent service to the customers.
This means caring enough for the needs of every single customer, helping them get what they require, and going out of your way to help them solve any problems they may have.
But should appreciate not only your customers but also your colleagues and treat life up to the age-old saying: 'treat others as you would like them to treat you'.
Positive, confident, flexible and friendly
The Cabin Crew job can be tough and working long hours at unsocial times can sometimes take a toll on your mood.
But you still need to remain friendly and positive.
Your customers will expect the highest level of customer service whether it's 4 pm in the afternoon or 4 am in the morning.
It's an essential requirement that you have a positive and friendly personality and are confident in your work and your ability.
Arm reach 212 cm without shoes
As a standard, candidates in most Middle East airlines must undergo an arm-reach test.
Your height won't be measured, but on the Assessment Day, you will be required to do an arm-reach test.
This is done to make sure that you can reach the emergency equipment inside the plane.
To do the arm-reach test, the required height will be marked on a wall with a sticker, and applicants will be asked to demonstrate that they can reach 212 cm. 
This test is applied to both genders and the ladies will have to remove their high heels.
Sorry, but failure to reach the mark on the wall will result in immediate elimination.
High school Certificate
The completion of High school or its equivalent is a hiring criteria.
You won't qualify if you can't prove that you have a High school Diploma.
Higher education attainments are also welcome.
English Proficiency
English knowledge is a MUST, as it is aviation's universal language.
You don't have to speak it like a native but you do need to be able to maintain a conversation, write, and understand it.
There is a test conducted during the Assessment day where reading, comprehension, and speaking are all observed.
This test is constantly changing but there will be exercises such as  these:
Fill in the gaps: you will be given a dialogue with missing words to complete
A reading comprehension text with questions
Multiple-choice questions
a 2 column list that you'll have to connect to make a grammatically and contextually correct sentence.
Don't worry, it's easy, just a basic level.
Related post: English for cabin crew: How to improve it and pass your interview
Tattoos and body piercings (whilst in uniform)
You can have a tattoo or piercing as long as it is not visible while wearing Etihad's crew uniform.
If it's in a visible area while in uniform: face, legs (for ladies), hands, etc. it's simply not allowed. Not even if you use makeup or bandages to cover it.
They will ask you about your tattoos in your interview, so be honest. If you're not, they'll probably find out later and you could be expelled.
Excellent personal presentation, style, and image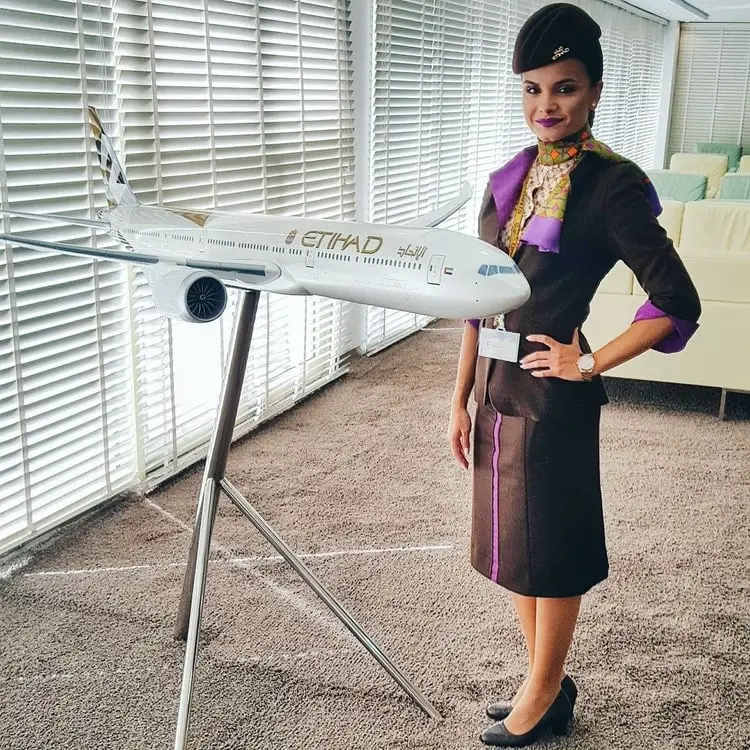 Etihad's cabin crew are known for their immaculate uniform and grooming.
Expectations run very high so your personal presentation, style, and image must be professional, appropriate, and perfect.
You will be the company's image so pay attention, not only to your attire but also with the way you speak, sit, and behave.
Comfortable working irregular hours and on a roster
Quite frankly, the schedules of cabin crew can be a mess: long duties, tight rest periods, different working shifts every day, plus overbooked flights, etc.
This is not easy to deal with, it is definitely something that you should be aware of if you want to be a cabin crew.
You'll have a flexible schedule that can change at any time, you'll work at any time in the day, you won't have weekends or bank holidays off and many other such things besides.
These are things you should consider before applying – being cabin crew is not always a glamorous job!
Ensure onboard safety and follow all procedures
Don't forget that safety is the main role of the cabin crew.
People outside the industry tend to think that we are there to serve meals only, but our first priority is the safety of the passengers.
Etihad cabin crew have very detailed procedures and rules on how to maintain the safety of everyone onboard the plane.
You will be trained to deal with all types of situations and you'll be responsible for looking after the safety of everyone, taking care not to put others at risk, and making sure that you implement the safety procedures correctly and efficiently.
Other, not mentioned requirements
Age
The minimum age for applying is 21 years of age at the moment of hiring.
But what about the maximum age limit? Is there a maximum age to apply?
Well, Etihad doesn't advertise any maximum age limit, while so there is not really an official age limit.
But still, the preference is always for candidates in their twenties, at least this is the age of the majority of the new hires.
But this doesn't mean ETIHAD doesn't hire older candidates. You still have a chance if you are over thirty.
There are people who have been hired who are in their mid-thirties. It's just less common – you'll see maybe one or two candidates pass their final interview.
Ability to swim
Swimming is part of the specifications to be considered if you are interested in becoming a flight attendant.
You never know if you will have to swim in an open sea for survival, so you need to be confident in the water without the need of a life jacket.
This will be put to test during the wet drill section of your training.
This is where you will practice survival techniques for post evacuation after landing on water.
Criminal record
You will be asked at some point in the hiring process to provide a police clearance certificate.
This is required to make sure that potential employees are free from previous legal actions against them.
If candidates are applying from within a Gulf country, they can ask any police department for a Good Conduct Certificate.
Willingness to serve alcohol (including during the holy month of Ramadan)
This is addressed mainly to Muslims.
Abu Dhabi acts as a hub for international travelers and the airline serves alcohol even during the fasting month which is known as Ramadan.
Potential candidates must be willing to serve liquors, wines & spirits during the Holy Month (following special guidelines) as passengers hail from all parts of the world and are not bound by this religious observation.
Able to comply with UAE & GCAA requirements: medical and health screening, visa
ETIHAD is the national airline of the United Arab Emirates and it is their best interest to have the staff complying with all local authorities.
New joiners are asked to undergo a specific health screening conducted by the government. This check consists of clearance from HIV or any other sexually transmitted diseases.
About visas: all nationalities are welcomed to apply. There are some countries that can be more problematic with regard to their nationals obtaining work clearance. You need to be aware that your ability to obtain a Residence Visa will be decided by the UAE Government authorities.
Experience
It's always an advantage if you have previous knowledge in communication-related or customer service jobs.
Hospitality, public relations, sales, and similar jobs that have helped to develop your skills and personality are always a plus to have when you are applying or being interviewed.
The majority of people who work in ETIHAD have flown before or have worked in the Gulf region previously, making it easier for them to make the transition.
But if you don't have previous work experience, don't worry. There are cases when this is someone's first job.
However, people who have worked before are seen as stronger candidates.
Eyesight
Vision doesn't need to be 100%.
Cabin crew are allowed to wear glasses or contact lenses and must carry a spare of either of those while at work.
Permitted styles are discussed in the company's Style & Image Guideline.
Smoking
Smoking is allowed but it cannot be done while in public.
Meaning you are not encouraged to smoke while at airports, hotels, or any other public space when in uniform.
Housing is divided into smoking or non-smoking apartments and it is your choice to declare yourself as a smoker or not.
Cabin crew can smoke before or after a flight in the designated areas at the Crew Briefing Center in Abu Dhabi.
Braces and scars
Braces such as Invisalign are permitted as long as they are not visible.
If someone is interested in correcting their smile, they must obtain an exemption letter from the Style & Image Ambassadors.
Facial scars are not a problem if they can be easily covered with makeup and not overly visible.
Weight
Weight can be a sensitive topic, but it is in the company's interest to have a decent looking cabin crew as the airline's ambassadors.
Employees are encouraged to maintain a healthy lifestyle and weight and in order to achieve that the company provides them with 24hr gyms across their different accommodations at no extra cost.
Also, the cabin crew meals are designed so that employees can get healthy options like salads, proteins, yogurt, fresh sandwiches while at work.
In our job, it's always a good idea to strive for a balance between food intake and exercise. It will not only improve the way you look but will also boost your immune system and mood.
Final thoughts
So there we are,  we've discussed the requirements of cabin crew in detail so that now you have an idea of what ETIHAD Airways is looking for.
Take a moment to think about whether or not you qualify for the job and do make sure that you're being realistic.
Good luck!
Similar Posts: