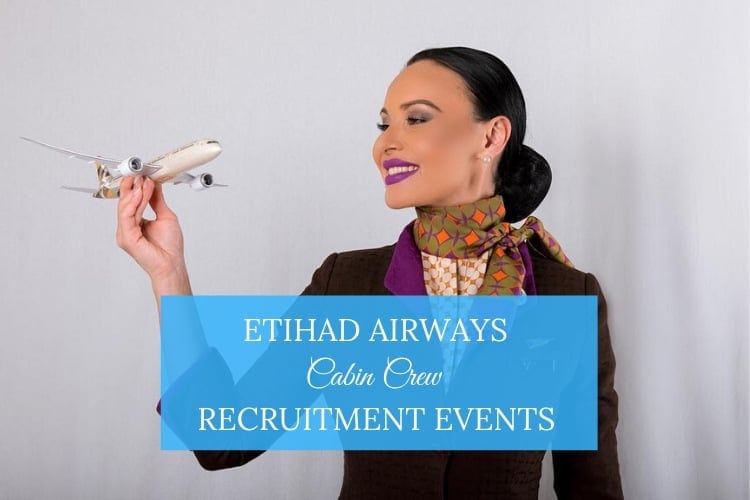 Being a cabin crew for Etihad Airways is a dream job for a lot of people all over the World. Etihad Airways is one of the Big three Middle East airlines and it has one of the best pay and benefits packages in the airline industry.
In order to be hired by Etihad Airways as a cabin crew, candidates need to attend a CV drop event or to apply online. Successful, candidates are invited to an Assessment Day, where they will have to go through with a reach test, group exercises, an English test, and several interviews.
Just like you, I was once also one of the aspirants wanting to be part of the Etihad cabin crew team. It's been 4 years since I started my journey as a crew member with the airline and in this article, I want to share with you my personal tips and ideas about applying for this dream job.
Etihad Airways hiring process
There are two ways to get the job at Etihad Airways:
Either attending a CV Drop Event, which doesn't require an invitation, such as this:

The date for the CV drop is the 17th and the Assessment Day is the 18t

The date for the c.v. drop is the 17th and the Assessment Day is the 18t

Or applying online.  If your application is successful you'll be invited to an Assessment Day, such as this:

Assessment Day
This is a recruitment event where candidates are shortlisted and then invited to attend an evaluation.
In order to be taken into consideration, you must register yourself in advance through Etihad's website Etihad careers page. If you weren't invited to the specific Assessment Day, you won't be allowed to attend without this registration.
To find out about where abouts in the world the airline holds these events, go to the "Cabin Crew" section on their website and you'll find a list of cities/countries which they'll be visiting to look for potential employees.
You should apply to the job posting for the specific location that you wish to attend.
If you're unable to attend any of the planned Assessment days, you can submit your application via the 'Cabin Crew Worldwide' job posting,  outlining your preferred location for assessment.
CV Drop events are the equivalent to Open Days
It's important to note that Etihad prefers to do an advanced pre-screening of talent.
So there are only a few open days. These are also called CV Drop events and they are available for walk-ins and anyone who wants to give their resume to the recruiters.
A CV drop event is not a day where candidates go through the different stages and evaluations of a normal Assessment Day event.
You will only have the opportunity to drop your CV off and introduce yourself to the recruiter. If you are then shortlisted, you 'll be contacted and invited to an actual  Assessment Day.
How to fill in the Etihad application online?
Register with your email and create a password.
Upload an updated CV & cover letter.
Personal information, birthdate, nationality.
Qualifications and experience, your highest educational certificate, academic profile and languages spoken.
Upload full-length and passport size photographs dressed in professional attire.
Video interview: You will have to introduce yourself, and answer a few easy questions: height, age, tattoos, your education. Why do you want to be a flight attendant? What do you know about the company? What do you know about the cabin crew job?
What to bring and what to wear at an Etihad Open Day / Assessment Day?
What to bring
1) For the Open Days, you only need your CV copy and passport photo.
If you are invited to the Assessment Day they will tell you to bring further documents.
2) The Assessment Day is "the day". So make sure that you present yourself well and you are wearing your best smile.
You will need to  bring the following documents with you:
Registration form with Applicant ID
Copy of the Invitation email
Updated CV/Resume
Colored passport copy
A colored full-length photograph and four colored passport sized photos  (wearing business attire)
Dress code
As mentioned in the list above, the dress code for both males and females will be Business Attire.
Keep in mind, that being a middle eastern airline, they represent the Muslim community so you will need to dress modestly.
Here is the dress code as described in their website. And no, we don't have to stand like that!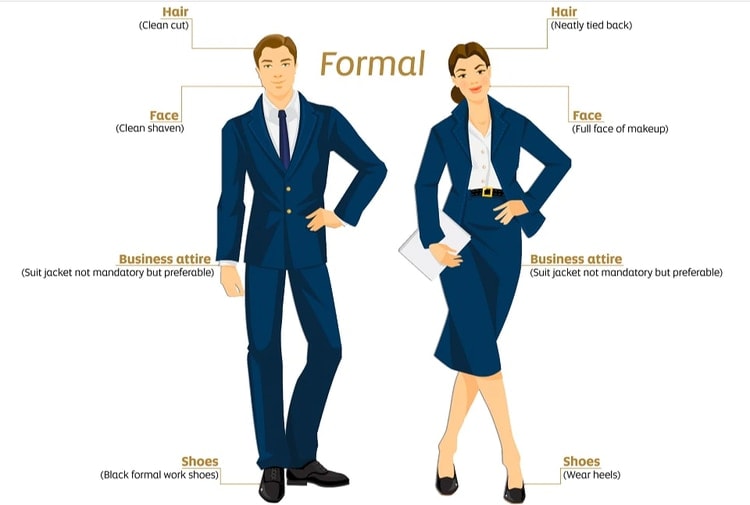 What happens at Etihad Open Day / Assessment Day?
The day will start by you meeting the recruiters and handing out a copy of your CV to them.
Next will be the height/reach test, airline and city presentation, individual questions, group exercises, an English test and then the final Interview.
CV drop off day
At a  CV drop off day or Open day, a recruiter will take your CV, evaluate it and ask you a number of questions based on what it contains.
But it's a little more involved than just that.
The recruiters will also check your grooming and body to see if you meet their other standards and expectations.
For example, you could be asked to show your hands (front and back). Since the job of a flight attendant means that your hands are constantly in view of the customers, so they must not have tattoos or any other standout marks and your nails should be short and neat. For girls, it's best if you have a subtle manicure with a neutral color or French style.
This is a short mini interview that lasts only for a few minutes, but you might have to wait a long time to get to it.
At the beginning of the process, you'll be given a number to identify you and you'll have to wait throughout the day until you are called.
This can be a bit tedious, but it is well worth it.
Assessment day
If you are attending a full on Assessment Day then you will have applied beforehand and you will have received an invitation.
Once you arrive at the Assessment Day location, you show that invitation and you'll be given a number and a registration form to fill in. After this, you'll be conducted to a conference room for a presentation.
Recruiter's presentation – there will be a general presentation about the company, how it started, the destinations they fly to, cabin crew life, as well as an introduction to Abu Dhabi.
Height/reach test – A standard practice amongst the airlines in the Middle East. You will have to be able to pass the 212cm test. This consists of standing barefoot against a wall, then stretching up to try and reach a mark. You are allowed to stand on your tiptoes, so if you can't quite reach it normally, there's no need to stress. If you can find time, a good way to burn off some excess nerves is to go to the bathroom and limber up with some high stretches.
Individual question and self presentation –  In this part of the assessment, you will stand in front of two recruiters. You will then be given the option of 3 cards, you will have to choose one and speak for 2 minutes about the word written on it. They want to know how well you can handle a conversation and how you speak. The topics are random: it could be healthy food, technology, even the delights of recycling. Make sure that you maintain eye contact, be aware of your body language and that you speak confidently.
You'll also be asked to introduce yourself. Start with your name, age and your previous career or work experience. Highlight your strengths and keep it simple. The best advice I can offer here is to practice before the interview. And then practice again and after that… well, you get the idea.
English test – This test will be a dialogue with missing words and a comprehension text with questions in a  multiple-choice format. It's set at a basic level to simply assess your understanding of English. But a lot of people are eliminated at this stage, so if you have any doubts about your ability to handle it, then do what you did for the interview stage – practice.
Group exercises – This sort of exercise is to see how each participant behaves in a team discussion. Each candidate will be placed into a group where everyone will have to contribute to find a solution to a given scenario.
For example: you will be given a city map and you will have to place different buildings – school, airport, hospital, etc. on it in order to make a town. That exercise can actually be quite good fun.
Always be polite, and respectful and include your other team mates in whatever suggestion you are making. E.g. What do you guys think, would you mind…?
Keep in mind that recruiters will be circling each table to observe how the group behaves. Participate in the discussion, but don't interrupt others or be overbearing when trying to make your point. This is all about how you communicate with the other team members. What matters is that you are a team player, so exactly the sort of person that they are looking for. This aspect of your personality is important because in the future you'll have to work every day with many different people from many different countries.
After this part of the selection process is over, you will pass to the final interview, which is normally held on the following day.
Final interview – This is the last stage of the selection process. During this,  successful candidates will sit with 1 or 2 recruiters. You'll  be asked personal and job related questions, as well as the famous question; "Why do you want to work for us?" Please, please, don't say something like, "I've always wanted to be a flight attendant". Be specific, direct, firm and confident. This is an airline that is proud of its record in the world of aviation and wants to know that its staff will share that pride.
The interview lasts between 30 to 40 minutes, but there is absolutely no need to stress as it's more like an open conversation where you get to discuss your experience, dreams and skills. And like most conversations, it will go well if you play your part.
Tips to stand out
If you really want to become a flight attendant you must do your research about what the job entails.
It's not just about being a pretty face, you will have to deal with some pretty difficult situations.
In fact, your main duties will be safety-related.
Ask yourself if you're willing to put yourself forward to save people's lives in an accident or to provide CPR to a passenger at 35,000ft.
But if you  have researched the hard bits as well as the glamorous ones, here are some tips for a successful Assessment Day:
Be yourself. Recruiters like naturally engaging people,  so don't hold back. Shine!
SMILE! We like people who smile at us, it's a part of being human. And make sure that your smiles reach your eyes.
Prepare yourself in advance for the Assessment Day.
Don't act over-confident and come across as a know it all. These people don't have to give you a job, they are going to choose to if you come across with natural humility.
Dress to impress, but do so in a smart way. You know the drill, neat hair & makeup, professional business attire and a poised, positive attitude.
When the time comes and you have to participate with others – be it recruiters or fellow team members – share your views, but don't interrupt. Never, ever!
Show confidence. Act, walk and talk like a flight attendant.
These are only a few tips, but they are amongst the most important.
At the end of the day, no matter how much you read and prepare, it's up to you to make a good lasting impression on the day and this is done with a combination of research, preparation and practice, mixed with a large serving of your personality.
Main reasons why people fail at Etihad cabin crew assessment or open day
Even though there is no magical formula as to why people are not successful at Assessment Days, I personally believe that it's a mix of luck and personality.
Regardless of whether you have had flying experience before, if you don't show that you are made for the role, you will be out.
In most Open or CV drop off days, a weak CV is one of the main causes of not getting any further. If your CV doesn't contain structured information and has spelling or grammatical errors,  is written in broken English, or it shows that you don't meet the educational requirements or age requirements, then sadly,  it will be all over for you.
No customer service experience. Even though some people get hired as a first job, Etihad cherishes those who've previously worked in customer service.
Poor command of English. This is not being able to either write or speak it correctly.
Grooming not appropriate. This airline is pretty strict when it comes to grooming. So pay close attention to your hair, makeup, attire and the way you conduct yourself.
The candidate has tattoos, piercings or bad acne
Weight or height far from what is  required
Okay, you've read about the requirements needed, so now the ball is in your court. Take note of all this information and do your best to stand out!
Good luck!
In summary
Send your CV. Etihad Airways will review your CV and if they think you would make a good addition to their team, you will be invited to participate in an assessment day
The assessment day includes a reach test, individual experience discussion, English test, and a group exercise to showcase your teamwork, collaboration and communication skills. It's followed by a final interview.
After the final interview, Etihad will review your application and the results from your assessment day. They will be in touch as soon as they know if you've been successful.
Similar Posts: