A lot of people dream of becoming a flight attendant for an elite international airline such as Emirates.
Based in Dubai, this airline is known to be one of the hardest to gain a position with. Emirates receives an average of 15,000 applications for Cabin Crew every month and only a very small percentage (rumors say 10%) of candidates actually get hired.
But, with a little bit of luck and our tips about the right preparation, you can be the lucky one to receive their famous GOLDEN CALL.
What is an Open Day?
Basically, it's a recruitment event where everyone is welcome to attend without an invitation.
There, you will get the chance to find out a bit more about the airline and give your resume to the hiring team with the hope of being shortlisted so that you can reach the final interview.
I have mapped out below what the day looks like step by step.
Although a lot of people think this is just a day to drop off your resume, with Emirates you'll also have the chance to face the entire assessment day stages. 
How Long Does the Open Day Last?
The Emirates open day lasts 1-2 days, but this is dependent on the company's requirements at that time e.g. how badly they need cabin crew, and how quickly they want to recruit flight attendants.
The Open Day consists of showing up, introducing yourself, and being introduced to the company.
The Open Day will then consist of handing in your resume to the recruiters, followed by elimination rounds.
The final interview will either take place on the same day as the open day, or the next day. Again, this is dependent on the airline's requirements at the time, and how many crew they are hiring.
Emirates Open Day process: step by step
Showing up in an Open Day event
Company introduction 1.5 hours
CV, education certificate and passport photo drop off (1 min self-introduction)
Group activity 1
Reach test
Group activity 2
English Test
Final Interview (for that day)
1. Showing up at an Open Day event
In order to know the exact location and dates of these events, visit the Emirates careers website and go to "Cabin Crew Recruitment".
On that page you'll find accurate information about the cities and the dates where the airline plans to hold these events.
It's best if you register online for a specific Open Day you plan to attend. If not, airline representatives will ask you to register online once your CV has been shortlisted.
The rule of thumb regarding the dress code is, 'Dress The Part!' 
I can't emphasize this enough – if you don't dress the part, why should you be even considered for it?
Trust me, this is truly an example of the fact that you only get one chance to make a good first impression.
This means showing up in Business Attire.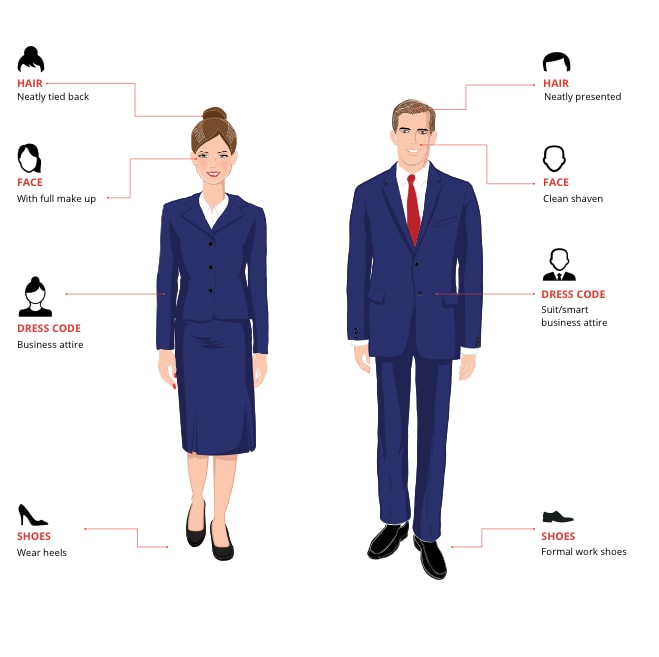 Ladies can wear either a knee-length skirt or pants with skin-colored pantyhose, a neutral-colored buttoned shirt and a jacket or blazer.
Make sure that you wear enough, discreetly applied, makeup and that your hair and nails are perfect.
With regards to shoes, choose closed heels that are not extremely high as you must have to remove them for the height test.
Gentlemen should opt for a suit with a collared shirt and tie, polished shoes and short and neatly groomed hair.
Try to avoid having a beard on the big day, as a cleanly shaven face looks far more presentable, and is more in line with the requirements set out for Emirates male cabin crew.
Right, now that we've got your dress code sorted, let's look at your arrival at the Open Day.
Time is an incredibly important component of the aviation industry, so demonstrate your understanding of this by arriving when you should.
Which actually means about half an hour earlier just to be safe.
When you arrive, mix and mingle, talk to people, and get to know people. You never know, these people may end up becoming your best friends later on, and that's exactly the thought you should keep in your head. 
It's really important to make it look like you are able to socialize because there may well be a recruiter present keeping an eye out.
And don't forget that the people around you will support you throughout the day and make it just that little bit easier.
Remember one thing, no one is in competition with you while you're there, even though it may seem that they are!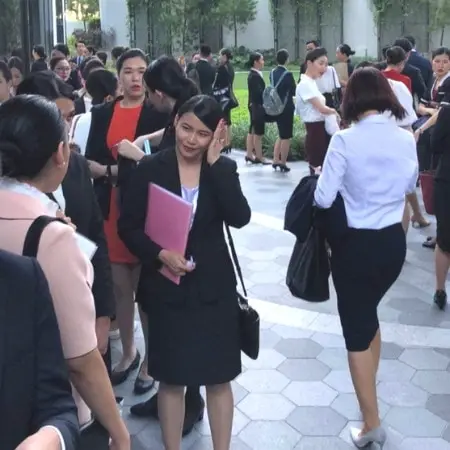 2. Company introduction
In this part, you will attend a presentation about the airline, its destinations, plans for expansion, highlights of living in Dubai (the base city), etc.
You will also learn more about what it is to be a cabin crew for Emirates, including the perks and the challenges.
Recruiters will want to know that the attendees have paid attention during this session, so they will ask questions to test everyone's knowledge!
Participate freely and demonstrate your knowledge without being pushy.
3. Document drop off
What to bring to the Open Day?
In addition to your CV, have a copy of your passport photo, and education certificate to prove you've passed high school (grade 12).
The recruitment team goes through hundreds, if not thousands, of CV's in a short period of time.
It's crucial that you present them with a short and concise resume that highlights your experience in customer service and points out the skills you possess that match those needed for the job of a flight attendant.
A resume must never be longer than 2 pages.
---
On this topic: How to Write a Killer Flight Attendant Resume, Even Without Experience
---
Candidates will be called by name in small groups.
Once it's your turn, you hand your CV to one of the recruiters, they'll have a quick look at it and will ask you  questions regarding your previous experience, like: "Are you currently working?", "What did you do in your previous job?"
You don't have a long time to explain all your experience, so make sure you give a brief but full answer.
The recruiter will be asking their questions based on the CV you have given them, so make sure that you know it inside out.
After this brief interaction, everyone will go back to their seats and will have to wait until they are informed and who has been successful and who didn't make the first cut.
If you are shortlisted you will go back to the room again.
4. Group activity
Once in the room again, you'll be divided into small groups and invited to sit in a circle to work in teams (this is usually groups of 3 or 4 people, but it depends).
Group exercises are crucial in demonstrating patience and teamwork amongst the attendees.
You will be presented with a scenario that you will have to discuss between each other, while having a limited amount of time.
Here is an example of an exercise used lately:
A recruiter will put a pile of pictures facing down, and your group will have to pick a picture and create a story collaborating as a group. On the back of the pics there will be some questions to guide you to create a story. You have 5 minutes to think of your story and rehearse.
Some pictures could be:
Cabin crew helping people inside the plane with carry on luggage
A group of friends onboard taking a selfie with a cabin crew
A couple talking and being served by the cabin crew
The guiding questions could be something like this:
Who could these people be?
What could they be doing?
As a cabin crew what would you do or how would you interact?
You need to make a story based on these sorts of questions and the picture given.
While you are discussing, the recruiters will be circling each group and hearing how everyone is talking. Specifically, they'll observe people's tone of voice, participation, body language and timekeeping.
So make sure that you are not completely quiet, participate when appropriate but also listen to others' opinions, project your voice, and watch your body language.
You want to look friendly and confident, not terrified, so here's an easy: wear a smile and try to make it reach your eyes.
Don't worry about your English grammar, pronunciation or accent, just participate in a friendly and outgoing manner.
After this exercise, the second cut happens and they will post the numbers on the door again.
5. Height and Reach test
Now comes the reach test, something that you will have to pass in order to work for any Middle east airline.
For EMIRATES, cabin crew must be able to reach 212cm while standing on their tiptoes and also be at least 160 cm tall.
Other airlines like Qatar or Etihad just require the arm-reach test.
In this case, candidates will be asked to try and reach a mark on the wall at 212cm.
Shoes will have to be removed and the idea is for people to stretch out as much as they can, to reach or pass the mark.
They will also measure your height and if you are below 160cm or if you fail to touch the mark, you won't go any further in the application process.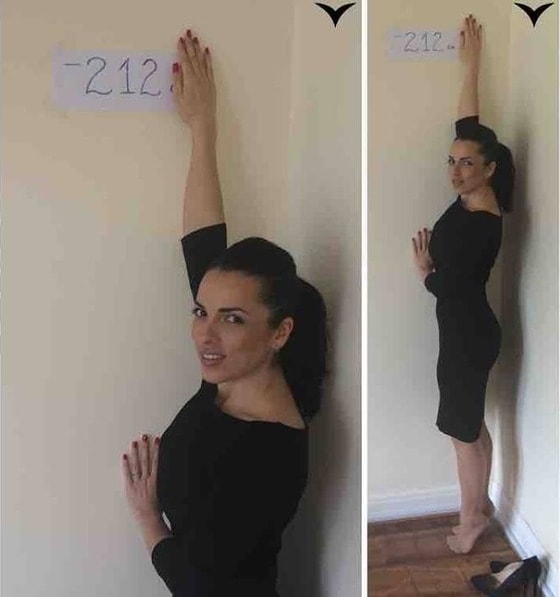 6. Group activity #2
Ok, so at this stage there will be very few of you left, maybe as little as 6 people.
So If you have made it this far,  you're almost there.
It's time for the second group activity, which is similar to the previous one.
An example of this exercise can be: 
"You would have to choose one customer to sit in an empty seat next to the emergency exit, because there's only one space left. Who would you choose that person and why?" Options: Injured athlete, a frequent flyer, a first-time flyer, a nursing mother, an unaccompanied child, and an emirates staff member".
Candidates must participate, engage with one another and reach a final decision.
It's important to keep in mind that everyone is still being assessed.
Try to listen to everyone, participate in the conversation, speak clearly and don't impose your opinion on others.
Be confident when addressing the group and always keep track of time.
There's no right or wrong answer, remember that they are checking the way that you communicate.
After this has been completed, they'll again put the selected numbers on a list. And you will have to fill in a form regarding tattoos and scars. As you probably know, visible tattoos are not allowed in Emirates (check this article where I discuss Emirates requirements).
If you made it through, they'll give you a link for an online English and personality test.
You will have to complete these within 24 hours.
If you are successful, you'll be invited to an online Final Interview in the following days.
7. English Test and personality test (online)
The English test will check your proficiency in English.
Remember, this is aviation's official language.
The English test will consist of Reading, Comprehension and Writing.
Don't worry too much, as EMIRATES has multinational crew members, so they understand that English is not everyone's first language.
Which means that the exam is pretty simple and easy to understand.
Still, this doesn't mean that you don't have to practice beforehand.
Practicing this aspect of your application is something that you can do at no cost to yourself, but it can pay off big time!
---
About this topic: English for Cabin Crew: How to Improve It And Pass Your Interview
---
The personality test is designed to see if your personality and skills match with the Emirates cabin crew role requirements.
You will have to score statements on a 0-9 point scale as to whether or not you agree with them.
Emirates uses psychometric tests from a provider called Saville Assessment,  you can go to their website and practice tests from their website.
The more you practice, the higher you'll score and the easier it will be for you to make it through to the final interview.
8. Final interview (One on One)
The last part of the process is the final Interview.
If you have passed all the other sections, you will be scheduled a day for your online Final Interview.
Yes, surprisingly this is done online, using a platform similar to Skype.
Candidates who have aced all stages on the assessment day will be asked personal and job-related questions.
They just want to bring out the best experiences in you and look for the potential to become a cabin crew.
So make sure you are prepared for this stage.
Some of the questions you can be asked are:
Why do you want to work for EMIRATES and not QATAR or ETIHAD?
Give me an example where you had to utilize the best customer service skills in order to complete a task or make a customer happy. How did the customer feel? How did you feel? What did you say exactly?

What do you think being a cabin crew is like?
Have you considered the fact that you are going to live away from your family? How would you feel knowing that you won't see them for at least 6 months?
Take a moment to listen to what the recruiter is asking you and reply with strict honesty.
Show them that you are willing to give it all in order to join the company and that they won't regret employing you.
Some examples of answers you can give to the most common interview questions should revert back to your previous work experience.
For example: 
If they ask you, "Talk about a time you went above and beyond for a customer", you can say something along the lines of:
"In my previous role, a customer came in and asked for a product that we didn't have in stock, so seeing his disappointment I called up the other store and asked them if they had the product. I then offered to have it shipped to him as he lived an hour out of town. The customer appreciated that I made such an effort to appeal to his individual circumstances".
In your interview answers, it's important to always back up your replies with experience from the past, so that you seem honest and credible.
Don't make things up, as it will come through in your body language.
Instead, be honest and think hard about what you've done in the past to shine through with your work!
After the interview, your status will say "application under review", then, "interview completed", and if you are finally selected you will read " joining formalities in progress" and you will get the "GOLDEN CALL", that's what they call it when they get in touch to tell you that you got the job.
The Golden Call could take anywhere from 1 month to 3 months depending on how badly the airline requires crew.
Sometimes it also depends on your individual circumstances as well, so be patient, and keep positive, the time will pass I promise you that!
Emirates Airline's secret scoring system
Now I want to share something that might help you understand how EMIRATES recruiters select their favorite candidates.
Every part of the process counts, from the moment you walk into the Open Day, you are being scored based on how you look, speak and address others.
Your resume, English and personality test, group exercise…
They too have a score.
So let's say, for example, that in 3 stages you scored high points, but in the last 2 you weren't so great. They will use this to try and calculate a total score that may or may not save you.
Try your best to keep impressing them so you will be scored highly in all stages.
This will make you a successful candidate.
Tips for acing your Open Day
It may seem like the biggest hurdle of your life, but if you believe you'll pass the Emirates recruitment event, you will.
The best advice I can give you is to believe in yourself, remain happy and positive throughout the whole event, and engage with the other candidates.
In addition, here are some other tips you should take onboard:
Use your bubbly personality to engage with people. Make friends with other candidates!
Listen clearly to everything that is being said by the recruiters.
Make sure you know your resume and prepare your stories / airline scenario answers. You need to know all the details.
Smile! Smile! Smile! But GENUINELY! If it doesn't reach your eyes, it's not real. We all can recognize fake smiles.
Try to stand out with confidence but do not act like you know it all. Be humble.
Dress to impress! Prepare yourself with what you'll wear, how your hair will be and keep refreshing your appearance throughout the day.
Do not be afraid to speak! Cabin crew are constantly speaking, so if you come across as shy, this won't help.
And If you get eliminated, don't think of it as the end of the world. Concentrate on the positive: you learnt a lot from the experience, you met a lot of people, you gained confidence and if you ever want to go back, you'll know what to expect.
You can reapply to Emirates after 6 months, but why not give it a go at another airline's Open Day?
Life goes on!
Who knows where you will end up!
Similar Posts: