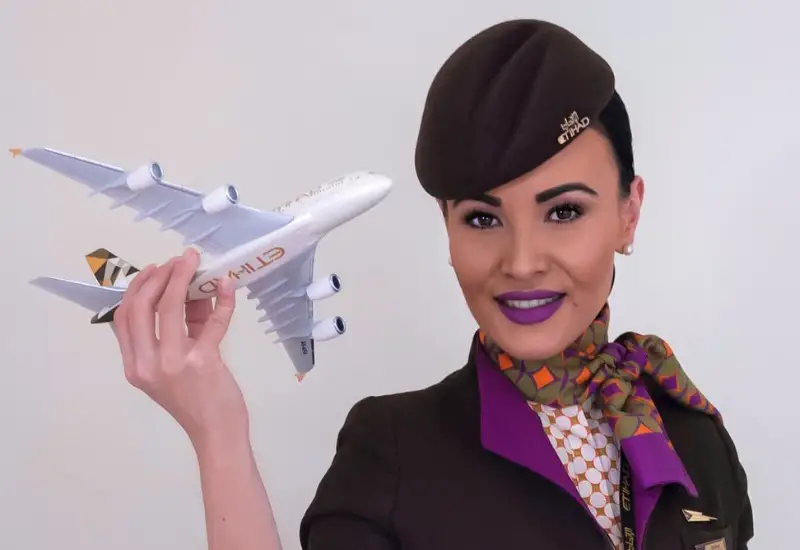 From my first day of training until now, after four years with Etihad, I have learnt a lot, and I continue to do so each and every day that I work in this wonderfully multicultural, cosmopolitan and ever changing environment.
Today we'll take a look at the ab initio (in the beginning) training for new joiners. If you're considering a career at Etihad Airways, I think you'll find this interesting.
So here is my inside look at what it takes to become a cabin crew with one of the world's best airlines.
Where is the Etihad cabin crew training held?
AB Initio training is done in Etihad Airways Academy located in Abu Dhabi, the United Arab Emirates.
Prior to starting the program, all new employees will be sent a Workbook with the standard aviation topics that will be covered,  so make sure you read through it and complete it before the very first day of training.
How long is the training?
It's an intensive 7 weeks of studying, practicing safety and emergency procedures and sitting exams.
Do you need to study before training? How to prepare?
If you have had a previous flying experience you don't need to get too concerned at doing this at great length because the training is pretty similar in most airlines.
But if you are new to the industry, it's super important that you study before, during and after the program.
Note that I included after.
Your training doesn't stop just because the course has finished.
I strongly recommend that you do some research about the topics that will be taught during the course using the material supplied by the airline.
TIP: it's fine to do some research from other sources, but bear in mind that Etihad needs you to understand and follow its companies' policies and procedures, so be careful not to fill your head with information that could undermine this.
Is the training paid? Are food and accommodation provided?
Training is free of cost and, since new joiners are already employees of Etihad, they will be staying in their assigned accommodation.
The only thing that is not provided is food, but there is a cafeteria at the Academy which serves breakfast and lunch at reasonable prices, so there are no worries on that score.
Of course, if you prefer, you can bring your own home-cooked meals as an option.
What is the dress code? What to pack?
Trainees must wear smart clothes in the colors of black and white.
It's recommended that gentlemen wear a suit,  while the ladies can opt between a knee-length skirt or pants,  with a long-sleeved white blouse.
Remember that clothing mustn't be too tight or revealing.
Since you'll be carrying heavy manuals, a notebook and pens and whatever other bits and pieces you need, I recommend that you use a backpack, briefcase or big handbag to store and carry things in.
What's an average schedule day at training?
It lasts around 8 hours, from 08:00 until 16:00, 6 days a week with 1 day off.
A typical day is quite long, and can be mentally tiring.
Classes are mixed gender and you can either be placed with the morning batch – 08:00 to 16:00 or the afternoon batch – 14:00 to 22:00.
During each day, there are a total of 3 breaks – 2 of 15 minutes and 45 minutes for lunch.
The trainers take punctuality very seriously, so being late for class is not an option.

If you are late for training, how are you going to cope when you have to wake up at 03:00 in the morning for a flight?

It's crucial for cabin crew to be always on time.
What will you study during the course?
Week 1 – Induction
The first week is dedicated solely to the induction, which is basically an introduction designed to integrate new employees and help them settle in quickly.
In this phase,  you will get to know the Training Department Managers, your future trainers, company policies, dress code, what the training is about, how the study program is designed etc.
The Style & Image team will also be discussing the individual grooming standards and recommendations which should be followed during the training. And, it goes without saying, after the training.
Week 2 – Safety and emergency procedures and equipment
This is the week where you will learn everything related to safety, from how to evacuate an aircraft to the various types of emergency drills.
You will also have to study and practice the ditching drill.
This is a simulation of a crash landing in water in which people will evacuate the aircraft, jump in the pool and board an inflated life raft while wearing a life jacket.
Don't panic, the swimming part in the pool isn't complicated, just go with the flow and ask help from your colleagues if you need it.
Safety is the most intensive part of the entire course.
Make sure that you revise after class everyday, as the following morning, trainers will conduct a recap quiz and expect you to be prepared!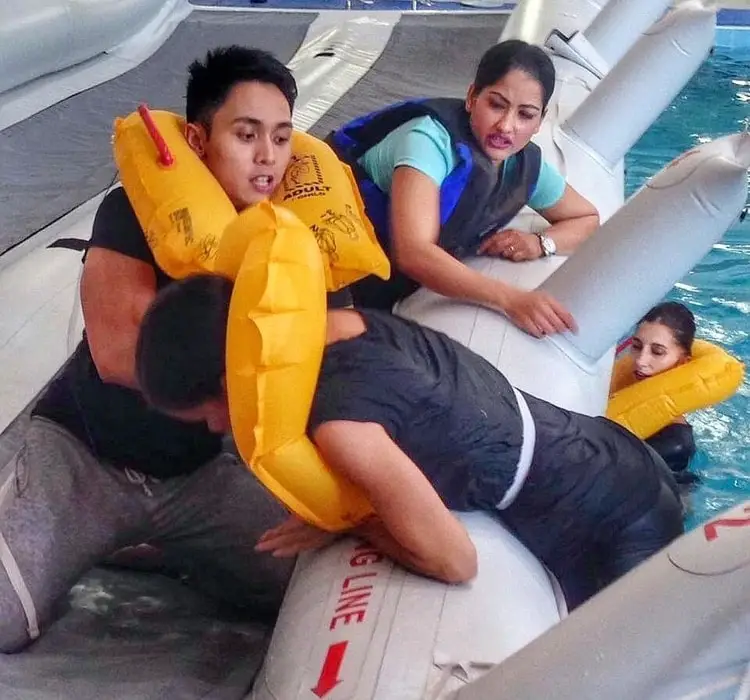 Week 3 – Aircraft specifications
By now, your brain must feel like it's about to explode from all the information it has been fed in such a short period of time!
I know it's a lot about facts and figures, but pay close attention in this segment.
Etihad expects you to have a good knowledge about the different types of aircraft that it operates.
So, for instance, you will have to become an expert in identifying the differences between an Airbus 320 and a 321 or a Boeing 777 and a 787.
Week 4 – Aviation health
People either love or hate this module.
Learning about aviation,  health better known as First Aid, is crucial because at 35.000 feet you are the first responder if an emergency arises.
The topics covered here range from the ordinary and mundane to the full-on medical emergency.
These are just some of the topics covered:
Which medication is suitable for heart attacks or indigestion?
How to treat a fracture on board?
How to deal with a Cardiac attack?
Study hard and work hard until your skills become almost automatic.
Week 5 – Security
Have you ever wondered how flight attendants check the aircraft before passengers arrive?
Or how they deal with a hijack?
During the security training, you will learn all the tips and tricks to keep you, your colleagues, and your passengers safe.
Week 6 – Service
This is one of the easiest modules of the whole course!
While service does require training, a huge component of it is personality and attitude.
Once you start flying, you will understand how a good or bad mood can affect your entire flight.
During this segment, you'll learn about the meal services that are available on different routes: Short haul, Medium haul, Long and Ultra long haul flights.
You will also learn about other aspects of service, such as the meals and beverages available and what special meals can be offered.
Week 7 – Service & Graduation ceremony
This is the last week where you will improve your service standards and get ready for the long-awaited Wings ceremony, the  Graduation Ceremony.
On this really lovely day, all the trainers will gather in the Auditorium while successful trainees are given a certificate of completion along with the Etihad Airways wings pin.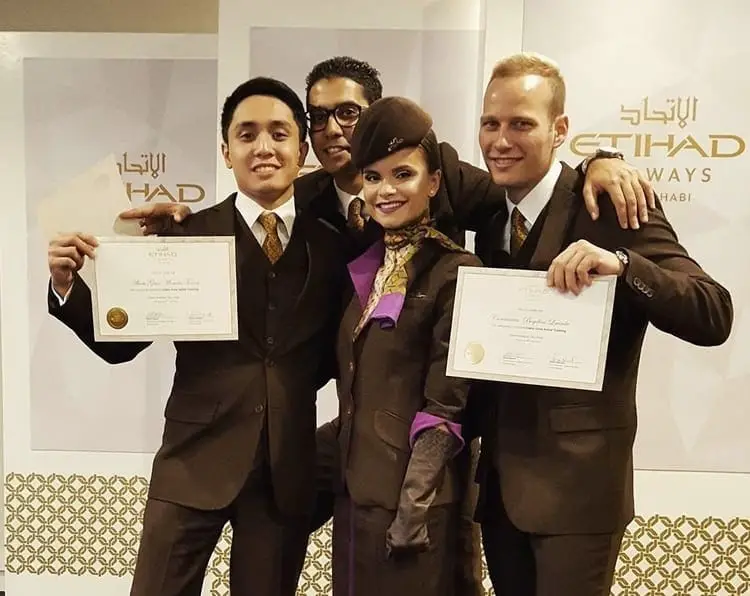 How hard is Etihad's training?
As with any other course, training isn't hard as long as you study and apply yourself.
Every week there will be 1 exam where the pass mark is 80%.
This means that if you have more than 3 mistakes on the test, then you won't pass.
If someone does fail, then they will need to come back next morning before class and take another test. If they fail again, he or she will be rebatched to a group behind theirs, so that they start the module all over again.
But for your peace of mind, believe me when I say that the exams are not tricky at all, they are multiple-choice and if you study every day, it will be easy to identify the correct answers.
Some people have asked me about the difficulty of studying in English, but I honestly don't think this is a problem.
Overall, the course is designed in a way that makes it easy to understand.
Plus trainers know that the students come from all over the world, so they are careful to speak clearly so that everyone can understand them.
Tips while at training
Always show up on time and let the trainers know that you are interested in taking this opportunity very seriously
Don't take anything for granted. If you think that you know it all, this will surely backfire on you.
Ask your batchmates to study in groups and test each other's knowledge in a recap before class each morning,
Read all the studying materials. Regardless of whether you have done this before.  There is some terminology which differs according to each airline, so erase the past and start a blank page for the future.
And when it comes to attitude, remain humble. Listen to what you've been told and don't interrupt. Ever.
What was the best and the worst part of Etihad cabin crew training?
The best part of the training are the friends you'll make during this time.
Trust me, they become like family.
The worst part has to be the countless hours of studying and digesting information.
You will feel like 7 weeks is not enough to know it all!
Once you finish the training, what is the time frame to actually start working at your assigned base?
After your graduation, you will be given 2 or 3 well deserved days off to recover from the intense schedule.
This welcome time off is followed by 2 Supernumerary flights better known as "Suppy" flights.
On one of these,  it's your responsibility to observe and help the cabin crew while demonstrating that you are competent to work as part of  a team.
The Cabin Senior for the flight will be in charge of evaluating the way you are working as well as your overall knowledge, so be prepared and listen to everyone's tips and tricks.
Don't panic, they won't leave you alone to sink or swim.
Usually, the team is aware of "Suppy" crew and are quite supportive.
Is there a probation period?
There is a probation period of 6 months.
During this time either you or the company can decide to terminate the employment.
Once the 6 months have passed successfully,  you are entitled for annual leave and a ticket to your home country.
Similar Posts: