When I was made redundant from Etihad in the pandemic, I was looking for the next airline back home to work for.
When I was deciding from all of the airlines in Australia, I took into account the uniforms, and which one I believed to be the most attractive.
Luckily, Qantas was hiring at the time I was looking for work and just my luck that the Qantas uniform was so visually pleasing to the eye!
💡 Key Takeaways

Uniform Choices: Qantas offers different uniform styles for men and women, with extra winter clothing options.
Grooming Guidelines: Qantas enforces detailed rules on crew appearance, including clothing, makeup, and hairstyles.
Uniform Provision: Qantas provides most parts of the uniform and gives a regular allowance for maintenance.
Accessories: Badges and watches are compulsory parts of the Qantas uniform.
Qantas Airlines Flight Attendant Uniform: What Is It Like?
Female Uniform
The Qantas uniform for females consists of a choice of either:
trousers
a skirt
a bold stripe dress.
The uniform jacket, which is dark navy blue, is also an important uniform staple for both female and male cabin crew.
If the trousers are worn, they need to be paired with a plain white shirt.
Females also need to wear the hot pink scarf to complete the look.
In Winter, females wear the standard uniform plus the addition of a dark navy blue trench coat, black gloves, and black hat, however, this is an option only, and not mandatory.
Females need to wear black court heels, as flats are not permitted. The defined heel can be any length between 1cm to 7cm.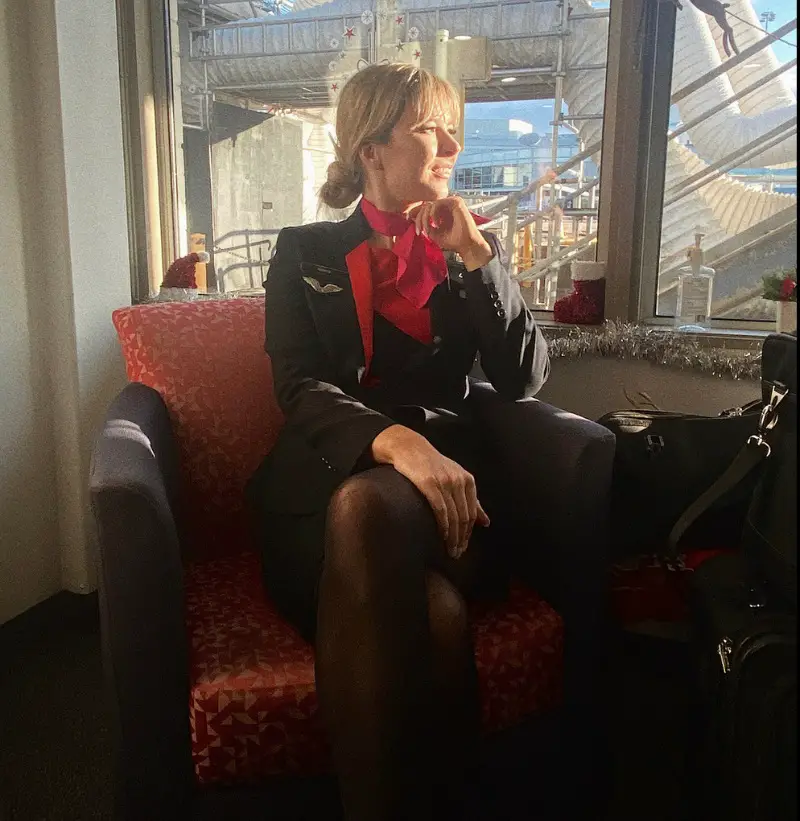 Male Uniform
The male uniform goes by the same color scheme, however, the males have to wear trousers and a dark blue vest on top of white shirts.
The jacket is not mandatory to be worn at all times, however, it completes the overall look and may be required at times.
Male flight attendants wear black leather dress shoes. Shoes for males that aren't permitted are suede, patent, sports shoes, or shoes with chunky soles.
Both
Both female and male cabin crew must wear a black belt.
Qantas flight attendants must wear the wings badge on their jacket, along with the One World badge, and name badge.
An ASIC card must be displayed at all times except when traveling on duty as a passenger, or after the doors of the aircraft are shut for departure. This ASIC card is for security purposes and is taken very seriously.
All flight attendants must wear a watch, and this must be black, brown, gold, or silver in color.
Qantas cabin crew are also permitted to wear eyewear as long as it's conservative and business-like and isn't any other color apart from black, tortoiseshell, gray, brown, silver, or gold.
Flight attendants can wear one ring on each hand, no wider than 10mm, and earrings can be worn by women, but one per earlobe only.
Does Qantas Provide Uniforms for Flight Attendants?
The Qantas uniform is provided to all flight attendants upon being accepted by the company. Qantas have their own uniform warehouse available to all employees belonging to Qantas, and this is where they will go to try on their uniforms about halfway through ground school.
The Qantas uniform that is provided to all cabin crew includes one trolley or suitcase, and a carry case.
Female cabin crew are given a handbag.
The only parts of the uniform NOT provided to Qantas cabin crew are shoes and stockings. This is part of the uniform cabin crew will need to shop for themselves, however, it can be covered by tax.
In addition to the uniform, Qantas also gives cabin crew uniform allowances each fortnight, and is included in the salary released each fortnight. This allowance covers any costs related to dry cleaning and repurchasing other mandatory uniform items e.g. shoes and stockings.
Qantas Flight Attendant Uniform and Grooming Guidelines
Qantas cabin crew have guidelines they must follow when it comes to their uniform and grooming.
The uniform manual that all cabin crew are given when they start employment with Qantas covers all of the rules and guidelines.
These include things like:
Cabin crew must only wear the uniform that is provided to them during their uniform fitting
No other dress or part of the uniform is permitted. For example, you cannot wear another dress or skirt even if it looks like the real Qantas uniform.
Shoes must be heels (for females), flats are not permitted unless an exception is provided (due to medical reasons). More info: check our article about the best flight attendant shoes.
Stockings must also be black in color and 20 deniers in thickness.
Note: Uniforms for cabin crew come in various sizes, including plus sizes.
Female Cabin Crew Guidelines
Makeup:
Female Qantas cabin crew are permitted to wear various shades of red lip stain or nude beige, or rose beige
Nail polish must be nude, clear, or french.
Eyeshadow must look natural in appearance and can be natural taupe brown tones with a slight hint of shimmer to catch the light.
Mascara must be black or brown, and fake eyelashes are only permitted if they look natural.
Eyeliner is only allowed if it looks natural, so opting for a natural brown or soft black eyeliner without the wing is a go-to for many cabin crew.
Qantas flight attendants must wear a tone of foundation or BB cream that is perfectly blended, natural in appearance, and accompanied with a soft peach, apricot, or pale pink blush.
Hair:
If it is below the shoulders it must be tied into a ponytail or bun.
Hair color must also be a natural color or shade such as blonde, black, brown, red, or gray, with no visible regrowth. Highlights must look natural if they are present.
Hair pins must match the color of hair.
Hair pieces are not permitted e.g. clip in hair extensions.
Clips, combs, ribbons, hair ties, and hair volumizers are not permitted.
Male Cabin Crew Guidelines
Just like with female cabin crew, male cabin crew must have natural hair color with no visible stripes or regrowth.
Male hair texture must be as natural as possible, and if hair product is used it must not create a slicked-back look.
Male cabin crew must also have short hair with no exaggerated spikes, cut-in designs for undercuts. If there are sideburns, they must not be longer than mid-ear.
Conclusion
The uniform provided to Qantas cabin crew is designed to look flattering on every body shape and is stylish yet comfortable. The current Qantas uniform may only be present for another year or so before they change it (as they do every 10 years), but while it's here it's to be cherished as highly fashionable in the aviation industry.
Similar Posts: