If you are reading this article, it is because you have considered applying as a Cabin Crew for Qatar Airways.
Before a friend of a friend or your second cousin twice removed tells you about their experience, read this and we'll explain what an Open  Day is really all about from the perspective of those of us who have experienced it.
What is an Open Day? How to find them?
To start with, you are probably asking yourself, what is an Open day?
How and where do I find out where the airline is having one and is going to recruit?
An Open Day, as it's called, is a type of recruitment event, where walk-ins are welcome to try their luck.
This means you do not need to apply in advance.
Usually, these events have hundreds or thousands of people attending,  so my first bit of advice is to make sure to be patient while standing in line.
The end result can be well worth the wait.
But there is a way to skip all that standing about: there's an option to pre-register in advance for an Assessment Day.
If your CV has been shortlisted, an invitation to attend an event at a determined location will be waiting in your mailbox like a golden ray of sunshine on a rainy day.
From that wonderful moment, the steps to register are quite simple.
To find a recruitment event anywhere in the world, go to Qatar Airways cabin crew careers page on their official website.
There, you'll find all the dates and locations about when and where the airline will look for potential candidates.
At the Open Day, you will have the opportunity to meet representatives from the Cabin Services Recruitment team, have one to one discussions with a Recruiter about your application, and, if you are successful, be allowed to proceed on to the Assessment Day which, is often held on the following day.
And that is where the magic happens!
An Assessment Day is a typical cabin crew recruitment process. There are different stages and each of them is followed by a heart-stopping elimination round.
I know, it sounds a bit like a cruel quiz show, but that's the way they are conducted and it is something that you will have to expect and to deal with.
On the day, you will get to participate in different activities, find out more about Qatar Airways Group, a day in the life of a Cabin Crew, career development opportunities with Cabin Services, and company benefits.
Your knowledge, personality, English level, and skills will all be put to the test on different occasions and at the end of each round, there will be a cut-off.
People who didn't make it must leave immediately and only successful candidates will go through to the next level.
REMEMBER: You need to meet the Cabin Crew requirements to attend. If not, you will be disqualified.
How to apply online?
Register with your email and create a password
Fill in your personal details: name, date of birth, country of origin
Questions & Answers: age, highest education level attained, English skills, teamwork skills, swimming skills.
Career history: name all the current and previous jobs which are relevant and specify the dates on which you worked there.
Virtual interview questions: where you will explain what will make you an outstanding 5-star cabin crew member
Qualifications: academic profile, languages, training, certificates
Upload an updated CV/Resume.
Upload requested documents:  make sure that you read the instructions in this section carefully. Full-length photo, Highest educational certificate, and passport.
Once you have completed all these steps, sit back, try to relax and wait.
Due to the high number of applications that Qatar Airways receives, DO NOT expect a reply within 3 days or so.
It might take anywhere between 21 days to several weeks for the Recruitment Team to get back to you.
Be patient.
As I said before, the end result can be well worth the wait.
Open Day: What to wear and what to bring?
The first impression is the most important and it's your chance to get the recruiter's attention.
Make sure you dress modestly but with the poise of a Flight Attendant.
Business attire is the dress code that will be asked by the company.
Do exactly as they ask in this regard, otherwise your interview will be very short if you get one at all…
Documents to print and carry with you
Applicant ID number
CV in English
Passport copy
Passport size photographs
Full-length photograph
Note: Photographs will need to be taken in a professional studio. The background has to be one color (white is preferred), your pose should be straight with open arms and your smile can be closed or open. It is preferable not to wear eyeglasses during this time.
Preparation is key.
We advise you to have all the required documents printed in advance and carry them in a folder that day.
Do not forget anything as one missing piece can disqualify you.
TIP: If you have one copy of each printed, why not have two? Put the extra one in a backup folder and have it with you on the day as well. Then, if a disaster happens, all you have lost is a few bits of paper and a thousand heartbeats.
Open Day: What to expect?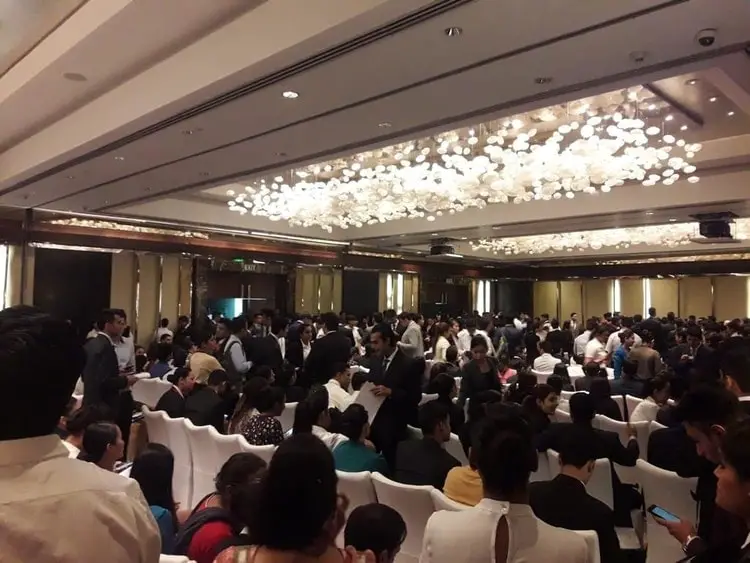 As mentioned before, there will be a lot of people waiting in line with the same hope as you.
In some cases, there have been 1000 attendees.
Patience is key, you will be given a number and get called eventually.
Use that free time to socialize with potential future colleagues.
This is not just a way to while away the time, consider it as part of your application process.
Friendliness and warmth are always being looked for.
Once called, you'll hand out your CV and photos to a recruiter and you will be able to talk briefly with them (only a few minutes).
Stand tall, make eye contact, and pay attention to what they are telling you.
Introduce yourself with a confident greeting.
Think before you speak and answer each question clearly.
Make yourself stand out from the crowd, not just be a part of it.
As they say, you only have one chance to make a good first impression.
They might start a casual conversation and ask you 2 or 3 questions like: How did you know about this open day?, What are you currently doing?, Why do you want to be a cabin crew?
And that's it!
Your 10 minutes of stardom will have passed and all you have to do now is wait until the end of the day and see if you are invited onwards to the Assessment Day.
Tips to stand out in your Open Day
Be yourself. Behave naturally and in a relaxed manner. Don't act as if you know all there is to know, that is not the way to progress to the next stage.
Act, walk and talk with confidence, but be careful not to make that confidence sound like arrogance
Don't forget to smile. Smiling and flight attendants come hand in hand.
Use the free time to make friends, share knowledge, and establish connections. Recruiters are analyzing you from the moment you enter and if you're friendly with other attendees, they'll notice it.
Be positive, your dream job might be waiting for you!
Related Posts