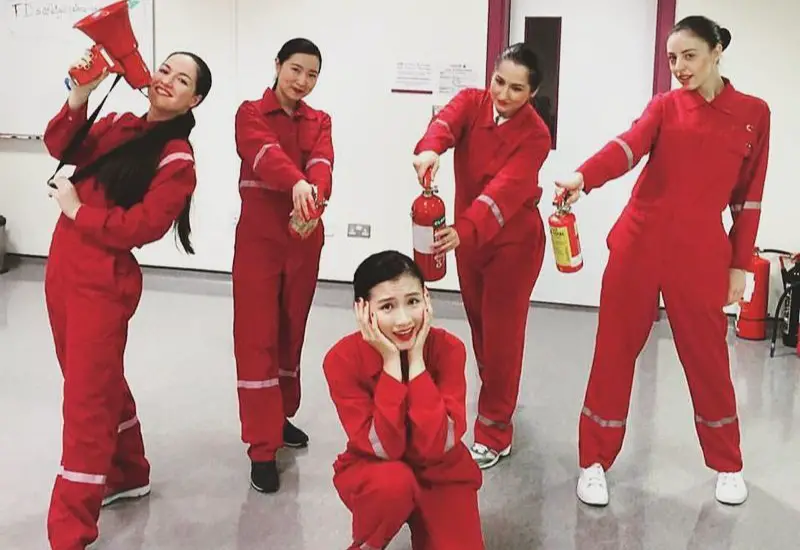 In order to become a cabin crew in Qatar Airways, you must go through an intense 6 to 8 week cabin crew training course.
So today, using my Qatar cabin crew experience, I'm going to share all the details that you want and need to know before receiving the acclaimed 5-star wings.
Your Very First Days in Qatar
Once you are set into your new home, you'll be assigned your accommodation and given a start date for your training within 3 days of arriving in the country.
Groups are classified with a Batch Number, they are same-sex only and are scheduled with different timings.
You can either attend a morning  (06:30 to 14:30) or afternoon (15:00 to 23:00) shift. Unfortunately, you cannot choose whether you start in the morning or afternoon.
Most of your batch will be living in the same accommodation buildings, so you won't feel alone at all and it will be easier and much more fun to share the experience.
Cost of Training
You've got nothing to worry about on that score, trainees don't have to pay any fees for the initial course.
In fact, the only expense you'll have is business attire (which you'll need to wear during the training until you get your uniform) and daily meals. 
As a matter of fact, you will actually get paid a starting bonus prior to beginning the training, which will help set you up for what's to come.
The Training Centre
Qatar Airways ground school (training) takes place in the Qatar Airways headquarters and has a cafe down the bottom with food and coffee, and a Starbucks nearby as well (if you feel like walking).
Qatar Airways headquarters is full of staff, management and security, so ensure you are on your best behavior at all times and abide by the rules.
If you follow procedures and are friendly to everyone who passes you by, you will be more than fine, even if it gets stressful at the best of times.
Duration of the Course
Training will take place in QR's facilities in Doha and will take approximately 8-9 weeks.
During this time you will have to commit to 6 days a week, with 1 day off and a curfew that starts at 22:00,  unless, that is, you are in the afternoon group.
Is the Job Guaranteed After Training?
Yes! In fact, the job with Qatar Airways is guaranteed from the moment the contract is signed.
Unless you fail the training altogether (in which case you'd have to redo it) you will graduate with wings to start your career as an international flight attendant!
The first step is passing the interview, so get those notes ready, smile, and know that you can achieve anything you have your heart set on!
Induction Period
These are your first 4 days on the course.
You'll get to know your trainers, learn about what is expected of you, be informed of the dress code, and what materials to bring while at the training academy.
You'll also be given the structure of the coming weeks – which module starts first, etc.
It's always a good idea to become familiar with this.
Dress Code
Since the training takes place in the company's premises, both males and females will have to follow strict grooming guidelines.
Think of smart business attire.
Remember the classy clothes you wore when you went to the Open Day?  That's the sort of standard that you are expected to keep while on the course.
Clothing can't be tight or revealing.
If a female decides to wear a skirt, this must reach below the knees, pants have to be loose, shoulders always covered, hair in a bun, make-up immaculate, and nails nicely manicured.
Males will wear a business suit and always have a clean-shaven face.
Grooming officers will check every person at the start of every training to ensure grooming is up to standard.
This is a strict check, and the grooming officers often notice little things you don't.
Therefore, the best piece of advice I can give you is to double-check your appearance every time you leave your apartment for training.
Studying Materials
Study materials are provided by the company and you'll have to take them home and bring them to classes every day.
It's a good idea to bring a large handbag, or even a trolley, which can store and easily tote all the manuals, a notebook, pens, markers and whatever other stationery you like to use.
You don't need to worry about studying in English as the trainers come from all over the world and can be understood easily.
Also, the way the exams are written is quite simple, so don't stress yourself about the language part of the course.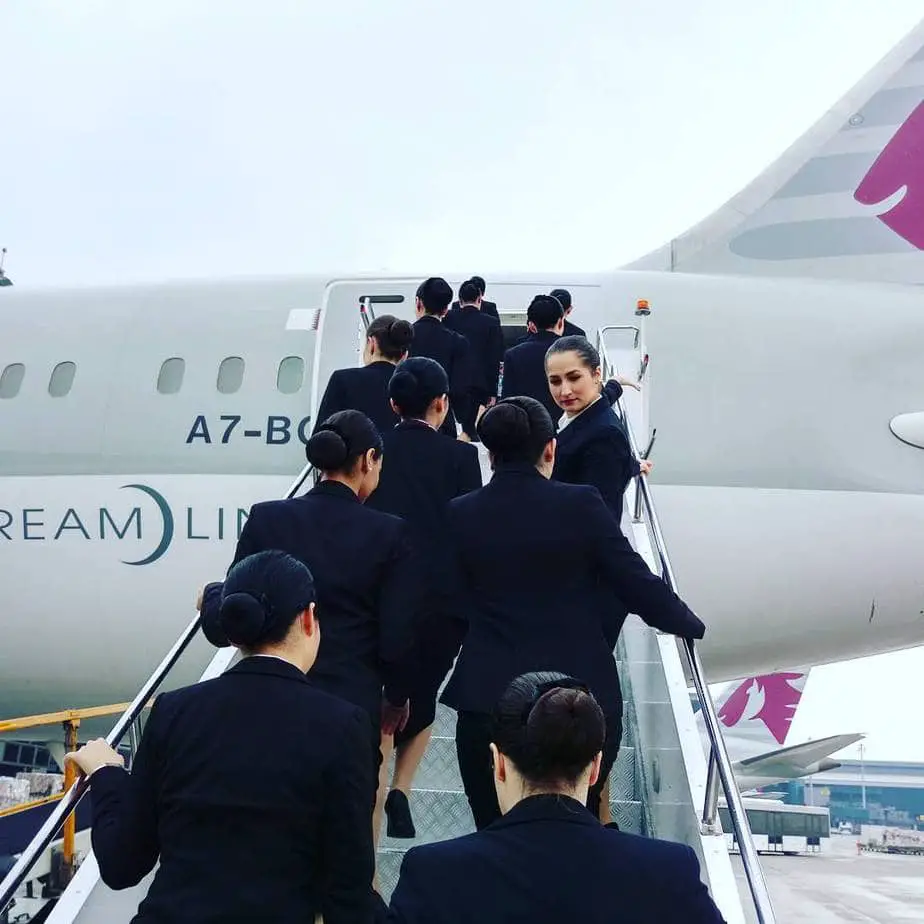 What is Qatar Airways Training Like?
Service Training
After the induction days, there will be  2 weeks of service training.
In this, new joiners will learn about:
the different services on a flight; breakfast, lunch, dinner, snacks, etc.
equipment used in the aircraft
types of meals; regular or special, such as vegetarian, gluten-free diabetic, and so on.
wines and spirits knowledge
how to serve and address customers
how to deal with complaints
communicate with people who don't speak English and other customer service scenarios
Service trainers will constantly assess a student's manner of communication and general attitude to hospitality.
Overall, this is considered the easiest part of the initial training. However, you'll still be assessed on this part of the training so it pays off to treat it as seriously as you treat other parts of the training.
Safety Training
Once the service part is done, the batches will start with an intense safety module for 3 weeks.
During this time you will learn about:
the airline's fleet and the type of aircraft they have
the differences between Boeing and Airbus airplanes
types of doors – and ones to use in certain emergencies
aviation terminology
emergency evacuation drills while on land or in the water,
what kind of safety equipment is carried on each aircraft
how to fight a fire/smoke in the cabin
how to deal with a hijack situation and other life-threatening situations
Trust me, loudly shouting out an evacuation drill for the first time, while being observed by your batch-mates and trainers really does get your heart racing (and will score you some major brownie points too).
Apart from the fact that you'll have to be able to respond correctly to the trainers' daily recap questions, write drills down from memory and know the safety manual in and out, there is also a real-life scenario where you'll be taken to a pool facility for what is known as a ditching drill.
So what is this ditching drill?
It's basically knowing what to do when an aircraft makes a planned or unplanned landing in water. This is a seriously hands-on, practical exercise: you'll have to evacuate your passengers, wear a life jacket, exit the plane, jump into the pool and swim towards an inflated raft which you will board with the help of other "survivors". After everyone has boarded, you will practice how to put the canopy (hood) on the raft as well as other survival techniques
As I said, it's seriously hands-on.
This experience can be a bit scary but it really does teach you a lot!
First Aid Training
Time passes quickly in this phase of the training and when Safety is over, First Aid training comes and next and this can seem like a breath of fresh air.
But don't minimize its importance, pay close attention because during the last days, you will have to understand how to deal with medical emergencies onboard the plane.
Usually, whoever teaches this module is a certified nurse, midwife, or paramedic and they always have useful tips to share.
First Aid is extremely important because at 35.000 feet you are the person who'll be responsible for someone else's life.
You will be taught:
which pills to give according to specific symptoms
how to deal with a heart attack and other life-threatening medical situations
a fainting spell
sprains, strains and fractures
how to perform CPR on a casualty
and how to  – this is absolutely true – prepare for a possible birth up in the sky!
Grooming Standards Module
After First Aid, there will be a few days in Grooming Standards where people will be taught how to look and prepare like a real flight attendant through the application of makeup, including shades to compliment your skin tone, and proper hair techniques.
This is the girls' favorite part as they get to experiment with makeup, learn how to make a bun or a French twist, and basically just glam up for the job!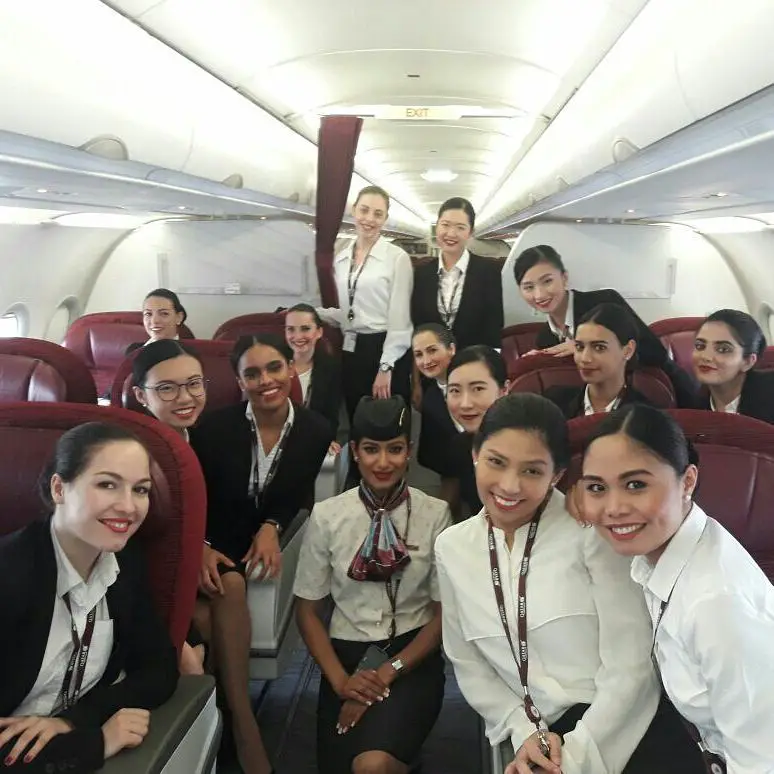 Exams and Passing Marks
During each module, exams will be conducted once a week.
These are about 50 questions long, each with multiple-choice answers.
You will also get diagrams of each aircraft you'll be trained on, and you're expected to know the location of every single piece of emergency equipment. In addition, you'll need to remember emergency drills and write them out exactly word to word.
In order to pass, you must finish the exam with a maximum of 4 to 5 mistakes.
If you fail once, you will be able to redo the exam again.
However, if you don't on a second attempt, you will have to undertake the whole course again with the next batch.
In general, training can be exhausting, overwhelming, and downright stressful, but it's worth it when you pass and get given your certificate to fly! 
The secret is to study hard and to memorize everything according to the way you have been taught.
Obviously, it can be easier for those with previous experience, so don't be afraid to ask for help and to share knowledge with other people in your batch.
Graduation Time
After clearing all the exams and finishing the modules, you will now proceed to the wings ceremony.
Here, you will become an official Qatar Airways cabin crew and you are ready to fly!
This is a very emotional day with lots of photos, wide smiles, and happy faces.
Observation Flights
Of course, nobody starts flying straight away, you need some time to relax from the previous weeks of hard study and training and you will have earned it.
So observation flights (better known as "supply" flights) will be scheduled 2 or 3 days after your graduation.
During this time you will observe how things are done during a real flight and you'll get to help the crew where required.
The Cabin Senior will also assess your knowledge about opening and closing doors, arming and disarming the slides (this is done to activate or deactivate the emergency slides) and some safety equipment knowledge.
"Supply" flights are 2;  meaning 4 sectors (2 takeoffs and 2 landings). They can either be a layover or a turnaround, so you must be prepared for whatever your roster indicates.
Once you finish these flights, you'll get your clearance to fly regularly, operate your own doors, and conduct cabin service.
This takes place within your probationary period of 6 months.
Tips for The Training (from a Qatar Airways Cabin Crew)
Studying in groups is an amazing way not only to learn but also to create future friendships with batch-mates who might become lifelong friends.
Organize your time, make studying schedules, and don't forget to have fun and enjoy the experience.
Follow all the rules and when you are through the other side of the training, prepare for take-off!
Oh, just one other very important thing: remember that you aren't an official flight attendant until you receive your wings,  so be respectful towards your colleagues and your trainers.
They certainly won't appreciate rudeness, lateness, or a lack of care.
Any misconduct will be noted and you may well be held accountable for it.
I wish you the best of luck!
Similar Posts: