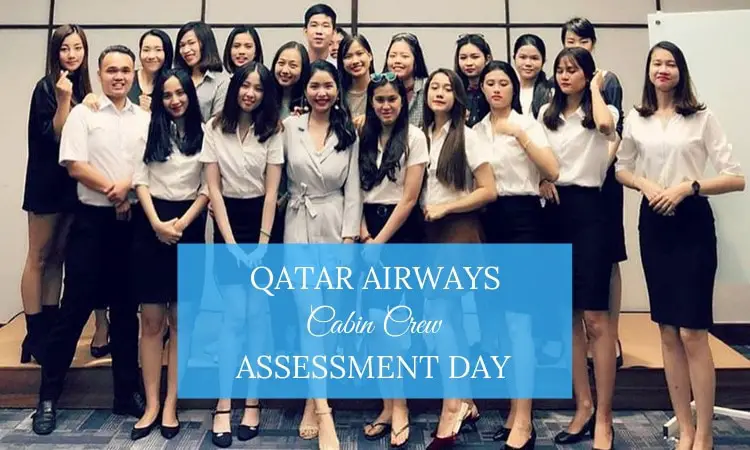 After successfully passing an Open Day at Qatar Airways, now comes the Assessment Day.
This is the opportunity where you either make it or break it in your quest to become a flight attendant.
What happens in an Assessment Day?
Stages and tips from a Qatar flight attendant
An Assessment day is where you will be tested and analyzed from the moment you walk into the room to the very end of the process.
It will be conducted in different stages where different exercises will demonstrate if you are a perfect fit for the role of Cabin Crew.
So always keep in mind your posture, pay lots of attention to the recruiters, listen carefully and be ready to give your best!
So let's start with the very basics.
What to wear on Assessment Day?
Let's be honest a Flight Attendant has to be well-groomed.
We have all seen how wonderful they look with their uniform while walking down an airport.
Even before you gain your wings, your looks have to be impeccable.
Well done hair, clean nails, clear skin and proper attire are a must.
Forget to attend to these things and forget about getting a job.
Example of what to wear during the event
Males:
A well-pressed clean work suit.
Polished shoes.
Socks in neutral dark colors.
Immaculate hairstyle. Not overly styled but rather classical.
Clean-shaven face.
No visible piercings or tattoos.
Discreet wristwatch. No necklaces.
One ring if you are married.
Females:
Can wear a knee-length skirt and blazer jacket.
Buttoned shirt, not revealing any cleavage or shoulders.
Women's pantsuits.
Patterns or attention-grabbing colors are not encouraged.
Stockings must be full length and skin color.
Shoes should be closed and modest height heels. (You will be asked to remove them during the Height Test).
Hairstyle is recommended to be in a bun with no loose hairs.
Classic makeup.
Clean manicure with neutral colors or French style.
No jewelry except a wristwatch, marriage ring and earrings such as studs (metallic or diamond) or white pearls.
Bear in mind that you do not want to wear any revealing nor tight clothing and excessive makeup.
In the end, you might be working in an Islamic country where conservative clothing is observed.
Be classy and elegant.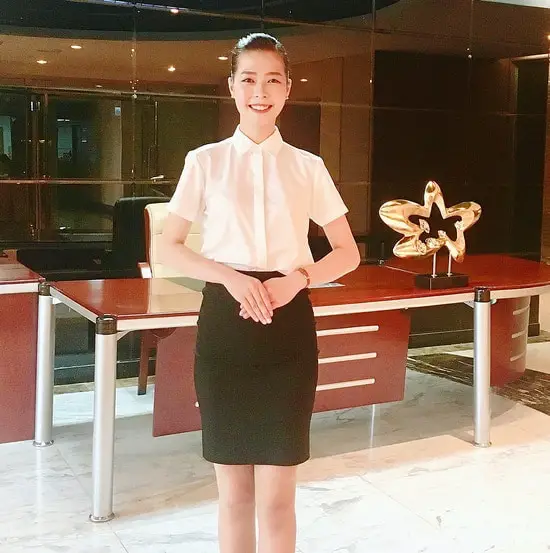 Breakdown of the Assessment Day
Introductory video
The event will commence with an informative video about the company and the country.
The screening has information on the airline, such as the date QATAR Airways was established, the number of destinations they fly to, the total number of nationalities they have in the cabin crew team, who is the CEO, latest company updates, etc.
Make sure to pay close attention, as questions might be asked at the end of the presentation.
This is followed by a brief presentation about Doha, the capital of the gulf country.
It sure is a great way to start the day motivated, as the video will present beautiful images of sky rise buildings and lush desert scenery.
Once the presentation is done, recruiters will ask if there are any questions about the video and might test you on your general knowledge about the airline.
This is where your research will come into play.
Please do some.
English test
This will be the first solo assessment you will have to complete. You will be given 45 minutes for the test, which it's usually a reading Comprehension text (Answer questions based on a given text)in a multiple-choice format.  It's very simple and there are no math questions. If you pass the English test, you'll do a height reach test and grooming check (to check your scars, skin, and birthmarks)
Height reach test and skin test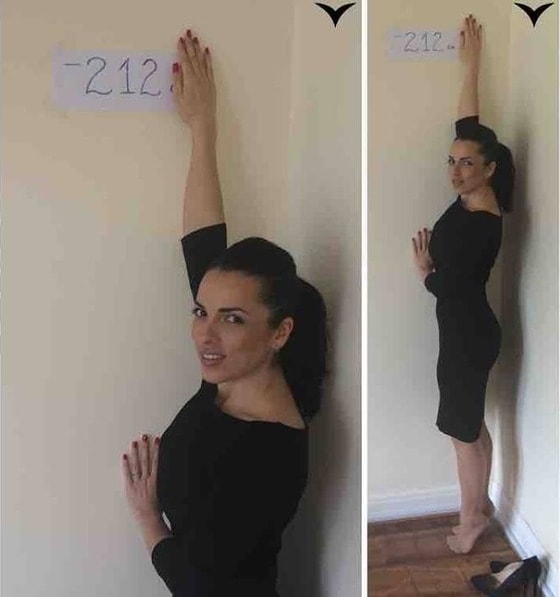 Each participant, male and female, will be asked to remove their shoes, stand on their tiptoes with arms stretched, and reach a mark on a wall.
Remember that you will have to reach 212cm.
During this stage, recruiters will ask about any tattoos, piercings, or scars that you might have and you will have to show your hands, arms elbows. Tattoos are strictly prohibited in the airline, regardless of them being visible or not.
Now it is for the first round of eliminations.
Unsuccessful candidates will be asked to leave immediately and encouraged to wait for a period of 6 months before applying again.
Other tests: Speaking test, Group Discussions
Some countries used to also have other tests: such as group discussions or speaking tests.
Successful candidates will be divided into groups and they'll have to complete a timed task.
An example of a scenario can be:
All of you are in a sinking boat. You have items such as a guitar, pen and paper, mirror, woman's lipstick, and crackers. The boat has 15 minutes to stay afloat and you have to pick which items will you take with you to the island where you are drifting. You must only take the items you believe are important for your survival. Explain why you have chosen them.
Each team member will have a role and everyone is encouraged to participate.
Recruiters will be circling the room analyzing each team member's communication as well as their individual way of speaking, presenting themself, their listening skills, and their overall participation.
Usually, this task will have to be completed in 15 minutes.
The target of this exercise is to find out if applicants are capable of working with other team members.
During the speaking test, each participant will choose a paper with a random word and will be given 1 minute to speak about that topic. It can be anything: beauty, health, the difference between good and excellence…
Use your creativity to try to build an interesting subject. Recruiters do this to see how you manage under stress and pressure.
A second elimination will then follow.
Hearts will begin racing as you feel like you're closer to the finish line.
Successful candidates from here on in will have their ticket to the Final Interview!
In this last stage, more detailed information about the company will be shared with you. Topics like the benefits package and accommodation will be explained, as well as an in-depth description of what is expected from a Qatar Airways cabin crew. This includes things such as decorum, rules and regulations, job description, and career development.
Final Interview
This is the last stage of the day.
Here you will sit one on one with a recruitment officer.
They'll discuss your previous work experience and ask you to explain things such as:
'Do you recall of a time when you had to go out of your way to make someone happy during your experience working at X place?'
'Why do you want to work for Qatar Airways and not any other airline?',
'What do you consider your best skills are?'
'Why do you want to become a Flight Attendant?'
Think about this stage as a conversation rather than an interview.
Recruiters are not there to look for your mistakes so DO NOT stress.
They are usually friendly and want to explore the best in you.
Speak clearly, with confidence and demonstrate that you are willing to go the extra mile in order to be successful in this career.
When the time is up, they will make you aware of this, and thank you for participating.
Also, they will explain that you will be notified about the outcome via email and in a time frame of about 2 weeks to 30 days.
Sometimes,  depending on the candidate, it might take longer than that to hear back from the airline.
Tips to stand out during the Assessment Day
Be yourself and do not pretend to be someone else! Recruiters have a lot of experience in sussing out who is genuine and who is not.
Act, walk and talk with confidence, but do not be arrogant. Arrogance is an interview killer.
Don't forget to smile. Smiling and flight attendants come hand in hand.
Use the free time during the day to make friends, share knowledge and establish connections. Recruiters are analyzing you from the moment you enter and if you're friendly with other attendees, they'll notice it.
Be positive! Your dream job might be waiting for you.
My personal tips on how to pass your Qatar Airways Assessment Day
Every individual is different.
Being unique is what matters and if you think this job is what you have always wanted, prepare for it!
Start building a list of all your skills and consider these your assets.
And on the days when you feel dispirited or a bit down, imagine a day in the life of a flight attendant. Keep the dream alive in your head and the motivation to succeed will come with it.
Want to join Qatar Airways but don't know where to start?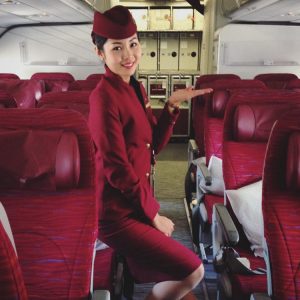 I can help you to get your dream job. This full video training covers everything you need to know to become a flight attendant in the Middle East. I will share the insider secrets that can help you gain a better understanding of the interview stages and teach you what the recruiters expect from candidates.
Learn with the best-experienced Middle East aviation trainer & recruiter!
Let me show you how to successfully pass your flight attendant interview →
Remember this job is not always easy. You will have sleepless nights, stressful situations and there will definitely be times where you will miss being away from your loved ones and friends. But think about the good and bad that comes with the job and do not give up!
There have been people who have tried 3 or 4 times before being successful and they finally made it.
Prepare yourself, make sure you have a strong set of mental and physical skills, and play to your strengths.
If you do have friends or acquaintances that have already started working as a Cabin Crew ask them for tips.
During the Assessment Day, the recruitment team wants to make sure they have made the right decision by choosing specific individuals.
It is not always the most good looking one who makes it, but the one who has a star inside themselves.
Final thoughts
This type of person knows what they are, values themselves, knows how to think and act in different situations, and will always give genuine care and attention to others.
Do not overshare information when you are participating in the exercises and give time for everyone to pitch in.
Smile and be humble.
Demonstrate your leadership skills as well as your ability to empathize with the other participants.
On this day you will have an opportunity that thousands of people worldwide would love to have, so keep that in mind and get ready to shine!
Related Posts