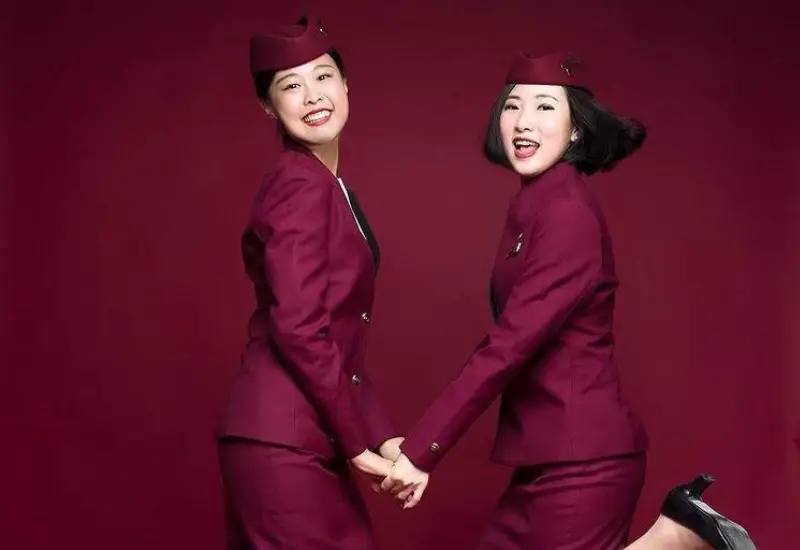 Qatar Airways Cabin Crew have always been known for their outstanding grooming. They are always perfectly uniformed with chic hairstyles and makeup (for the ladies), and carrying themselves with great posture and demeanor.
Heads turn their way as they get ready to board an aircraft, admiring these gorgeous ladies and gents.
So just how do they do it?
Today I'm going to share with you the Qatar Airways grooming standards secrets.
While we do this, keep in mind that Qatar are seekers of perfection in their industry and you should apply the same standards to yourself.
What are grooming standards for a cabin crew?
Basically, the airline produces a grooming booklet that contains the guidelines for all cabin crew.
This covers things like physical appearance, health and fitness, grooming, and how to conduct yourself whilst wearing the company uniform.
It's extremely important to follow this grooming policy as you are seen as a representative of the Qatar brand whenever you are in uniform. You must convey a professional and positive image while you are flying the company's flag, so to speak.
Grooming checks
Before each flight, and this could be in the middle of the pre-flight briefing or after, cabin crew are checked by the Grooming Officers.
Trust me, there really is such a position.
These officers require every single crew to remove their hats and jackets in order to check their appearance.
Hairstyle –  whether or not the hairdo is allowed, no stray and loose hair flying around, fringes to be above eyebrows, roots to be colored, proper length in case of short hair. In a word, everything about your hair must be perfectly in place and styled.
Nails polished up to the company's standard and having the correct length
Makeup to be properly applied and the correct shade of lipstick worn.
Facial skin to be clear –  no acne or cold sores.
Uniform fitting correctly  – not too tight, not too loose
Stockings or socks  – correct shade and color. No ladders in your tights.
Shoes – clean and polished,
Handbag and trolley – clean, free of stickers and in good condition
There will be times when spot checks might be conducted.
These are either inflight or on the ground post-flight, so remember that you will be required to look your best whether you are about to start a duty or you have just finished one.
If a cabin crew member is found not to be perfectly groomed and dressed, this will be written down by the Grooming Officer and the person will have to correct it before their next flight, or they may face a disciplinary action.
Why is grooming important for cabin crew?
Cabin Crew are the airline's ambassadors. They represent the company and are constantly in the public eye. It is very important that they act, look, speak, and behave in a way that portrays a positive image to the airline's customers.
That is achieved by following the company's Grooming standards which are all contained in the manual I mentioned.
Let's be frank here, there are different requirements for males and females.
In the case of the ladies, you are expected to prepare yourself slightly more than your male colleagues will be.
Grooming standards for ladies: Makeup & Personal Hygiene
Foundation and Powder
These 2 items are mandatory in order to maintain a smooth and even skin look. The color has to match your natural skin tone. When choosing foundation and powder make sure that the coverage is long-lasting, because you will be working long hours and still be expected to look impeccable.
My recommendation is: Bobbi Brown Skin Long Wear weightless Foundation SPF15
I love this foundation, it's light, stays on all day, and doesn't 'melt' when the weather is too hot. Plus it's so versatile!
Personally, I would say it's medium coverage, but you can layer it to full coverage if you need it.
TIP: To find out which foundation shade to buy you can use this handy tool. It tells you which foundation shades match the brands that you have used before. It's basically a tool to find the equivalent shades in other brands.
Mascara
This is an essential item that will make your eyes look bigger and bolder.
Who doesn't love beautiful long eyelashes!
The closest you can get to a fake lash look is by using, Benefit They're real Lengthening & Volumizing Mascara.
Eyeshadow
It is not part of the mandatory items, however, its use is encouraged.
Colors should be neutral, which means beige or brown tones, nothing too dark.
You can get a palette with a selection of tones such as URBAN DECAY Naked 2 Basics Eyeshadow Palette.
If you are into the natural look, this will become your everyday goto palette.
Blush
A blusher will bring color to your face.
This is important for arduous duties such as turnarounds or long haul flights.
Depending on how you use it, it can also help to contour your face.
Matte bronzers or pink are recommended here.
My favorite of all time is NARS Orgasm Blush and Laguna Bronzer.
The Nars Orgasm Blusher is the Holy Grail of blushers, perfect for all skin tones.
But if you are more into bronzers, you've gotta try Laguna Bronzer, it's a superb beautiful light brown neutral color that creates a subtle bronzy glow on your cheeks.
Hands and nail polish
Manicured, hand moisturized, nail polish color to be matching your red lipstick or French manicure.
The OPI nail polish Big Apple Red red shade is fabulous!
The perfect true red shade, it's bright and not too orange, dull, or dark.
Make sure you also get the OPI Nail Polish Fast Drying Top Coat Spray.
It's such a time-saving item.
Lipstick
This is a  MUST item in the world of Middle Eastern airlines.
In the case of Qatar Airways, the colors allowed are Deep Red, Red, Burgundy, or Pink. Not pale colors.
A good tip is to complement your lipstick with a lip liner as it'll define your lips and prevent the color from smudging.
Try to look for a long-lasting lipstick which will also keep your lips hydrated, such as Stila's Stay All Day Liquid lipstick, it's the longest-lasting lipstick I've ever used.
Perfumes
Smelling good is a very important component in a cabin crew's grooming.
Therefore, you should always have perfume handy for the times when you are running up and down those aisles.
You don't use anything overpowering but look for a scent that goes well with your PH and makes you feel fresh.
Dolce & Gabbana The One or Dolce Gabbana Light Blue are two of the most popular.
Hair for the ladies
Short hair is allowed, as long as it does not touch your collarbone.
A short haircut can be a lifesaver for those who don't like to spend time in the bathroom styling their hair.
So if you're into bob cuts, go for it!
You'll never have to pull your hair back in a bun or keep a hairdo styled, you just have to keep it neatly pinned away from your face.
It's much simpler and easier to wear your hair fashioned short, so it's well worth considering doing this. Your call.
Long hair must be tied back.
You can either learn how to keep it in a French Twist or in the classic cabin crew bun.
Donuts are a recommended accessory if you have thin hair, they are used to complement your bun.
The size cannot be overly big and its color has to be similar to that of your hair.
Hair Nets – used as a finish to your bun, to keep any loose hair in place. Look for those which will seem natural when blended with your hair.
Hairpins – only 3 hairpins are allowed, no more than that. The colors permitted are either brown, black, or light brown.
Earrings
Pearl earrings in white, gold, or plain silver.
If you have more than one set of piercings in your earlobe, you are not encouraged to have earrings in them.
Other information:
Fake eyelashes are not permitted.
Micro-bladed eyebrows & Tattooed eyebrows also not permitted. But if you've done micro-blading and it looks natural, it won't cause any problems. However, tattooed eyebrows are a BIG no, no.
Henna, whether it is in hands, feet, or hair, is not permitted. So don't use it. Simple.
A good skincare routine is very important because we can have skin breakouts due to different factors such as changes in weather, lack of sleep, poor nutrition, or stress.
Always remember to clean your face properly after removing makeup and to scrub it often. Get rid of all those dead cells and apply a good quality moisturizer.
Caudalie Micellar Cleansing Water is a great cleanser, leaving your skin feeling smooth and silky, and  & Caudalie Moisturizing Toner is its perfect match. Try out Clinique Dramatically Different Moisturizing lotion and you'll really seal the deal.
Using a face mask is also a good way to ramp up your skin routine. There are lots of face masks on the market that will help you revitalize your skin, making it look fresh and relaxed after exhausting flights. Check out Sephora's Collection. 
Grooming standards for men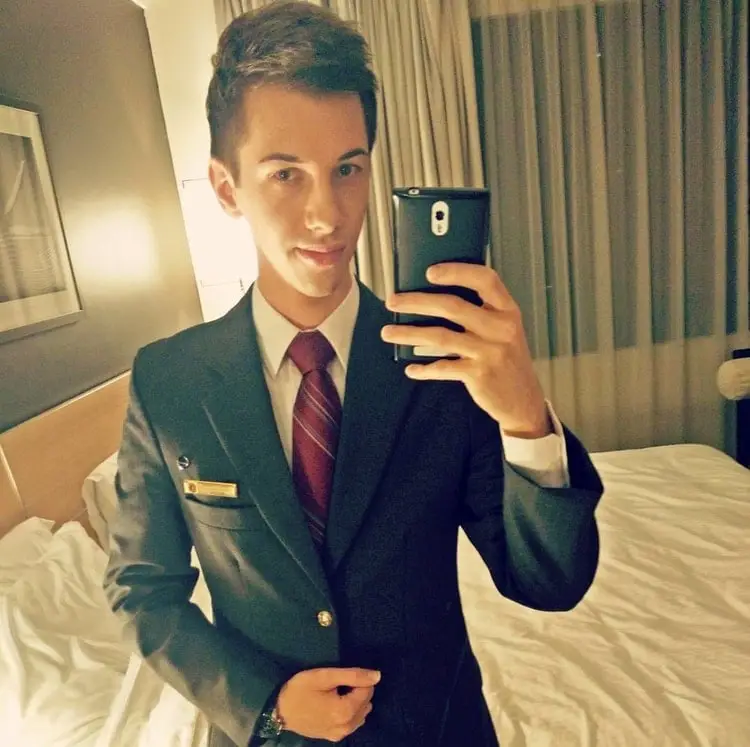 Makeup – not permitted. End of.
Hair – male crew hair must be neatly trimmed and styled naturally.
Only Classic haircuts are permitted.
Overdone hair whether spiked or in a way out modern style is discouraged. And it goes without saying that your hair must look clean at all times.
Facial hair– Beards or mustaches are not allowed in Qatar Airways. A clean-shaven face is to be maintained at all times. I'd recommend you use a Pre-shave oil – The Art Of Shaving, it will prepare and protect your skin from the chances of rash from frequent shaving.
Skin – clear skin is ideal. A good cleansing routine and a moisturizer are recommended, especially to prevent rashes after shaving. First, use  The Lab Series Multi Action Face Wash For Men to clean, and then Kiehl's Facial Fuel Energizing Moisturizer For Men to leave the skin hydrated, cool, and smooth. These products do exactly what is asked of them and will leave no greasy feeling on your face.
Hands and nails – nails must be kept trim and clean at all times. And, of course, your hands must be scrupulously clean.
Tattoos – not permitted. No argument, no discussion.
Piercings – exactly the same policy as with tattoos.
Conclusion
We'll cover the dress code, uniform, and accessories in the next article. But remember that all the standards in the Grooming Code Manual are also a good way for you to understand how to groom for your Qatar cabin crew interview.
So, if you can, get yourself a copy of these guidelines, study them in detail and this will help you succeed on the day of your interview.
Related Posts